4 LG Smartphones That Might Launch in February
At the end of February, the Mobile World Congress 2012 is set to kick off in Barcelona. MWC is similar to the Consumer Electronics Show (CES) but it's focus is strictly on mobile. Smartphones, tablets, you name it. One of the biggest players at this year's conference figures to be LG, a company that is currently rumored to be launching not one, not two, not three, but possibly four different smartphones.
As you may know, this year's conference figures to be centered around quad-core smartphones. HTC is rumored to be announcing one and LG, not to be left out, is apparently going to be doing the same.
LG is also rumored to be announcing a new Windows Phone and two new Optimus branded smartphones.
The company has sent out invitations inviting the press to check out its "New Revolutionary Smartphones for 2012" so we can assume that at least a couple of those will be announced in just a few weeks.
So let's rundown each of those four smartphones and take a look what you should expect from LG's press conference at MWC this year.
LG X3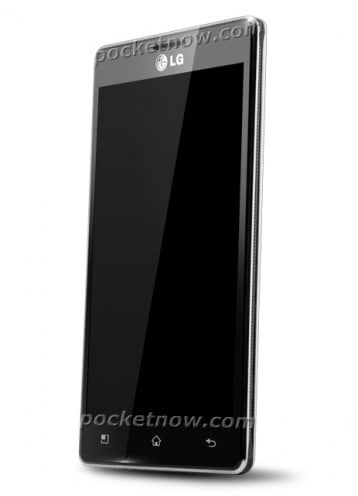 First and foremost, we believe that LG may be launching a quad-core smartphone which is currently codenamed LG X3. That will likely not be the name that the phone has when it hits shelves.
Spec wise, the X3 is a beast.
Its rumored to have NVIDIA's Tegra 3 quad-core chip on board along with a display that measures 4.7-inches and boasts 1280×720 resolution, 8MP rear camera, a 1.3MP front-facing camera, 16GB of internal storage space, and a massive 2,000 mAh battery.
The X3 is apparently going to be 9mm slim, boast NFC support for use with Google Wallet and other mobile payment platforms, and an HSPA+ radio. 4G LTE is also said to be in the mix as well.
As for software, it's apparently going to run Android 4.0 Ice Cream Sandwich, Google's latest and greatest operating system.
Thing is, even if the phone is announced at MWC, it's not rumored to be arriving until the third quarter of 2012.
Yikes.
LG Optimus 3D 2

Another Android phone that LG is rumored to be rolling out at MWC is the LG CX2 aka LG Optimus 3D 2. Those of you in the United States might be familiar with the first incarnation of the Optimus 3D which is known as the LG Thrill 4G for AT&T.
It's a phone that we think highly of, especially for its price.
As for the Optimus 3D, it's rumored to feature a 1.2GHz dual-core chip from Texas Instruments, a 4.3-inch NOVA display –  both of which are bumps over the original Optimus 3D, dual 5MP rear cameras for 3D photo and video, 8GB of internal storage space, and Bluetooth 3.0.
It's also rumored to have a sub-10mm design, NFC and Android 2.3 Gingerbread on board and not Android 4.0.
A shame.
Still, it's a fairly intriguing device, especially for those of you that are into 3D.
LG Optimus Vu

The last of the trio of rumored Android devices is the LG Optimus Vu which might be a competitor for the Samsung Galaxy Note. The device is rumored to have a 5-inch display which includes a 4:3 aspect ratio.
As we've pointed out, that aspect ratio makes it perfect for viewing PDF files, documents, and most of all, digital content.
Here is a quick video showing off the Optimus Vu:
The rest of the details are a bit murky at this point but it's possible that we'll hear more at MWC 2012.
LG Miracle

Last but not least, LG is rumored to be announcing a new Windows Phone called the LG Miracle which actually just leaked out in some new photos today. It's not a mind-blowing device spec wise but it does have some intriguing features on board.
The LG Miracle is rumored to have a four-inch WVGA NOVA display, 8GB of on-board storage space, a 1GHz Snapdragon processor, a VGA front-facing camera, a 5MP rear camera, an HSPA radio, and Microsoft's Windows Phone 7.5 Mango operating system.
No word on carriers or a release date but we should find out more when LG takes the stage in Barcelona.

As an Amazon Associate I earn from qualifying purchases.