4 Ways to Free Up Space on Windows 10
There are few commodities more precious in every day computing than storage space. How much free space your device has determines how many pictures you can keep and how much music you have. In some cases, it even limits how well your favorite programs can perform. Old versions of Windows forced you to do a lot of investigating on your own. Luckily there are easy to discover ways to free up space on Windows 10, Microsoft's latest software upgrade.
Windows 10 was built with finite storage space in mind. A storage utility scans your hard drive, then gives you a readout of how much total storage space you have and what's taking it all up. New options for choosing where new media is stored give you a great way to offload non-essential things to an SD card of flash drive.
Read: 36 Epic windows 10 Features to Upgrade for
Here are 4 ways to free up space on Windows 10, whether it's running on a notebook, 2-in-1, desktop or tablet. A few of these tips even work for Windows 10 phones.
4 Ways to Free Up Space on Windows 10: Delete Temporary Files & Old Updates
Any effort to free up space on Windows 10 should start with trying to clean up the temporary files and old updates that are sitting around on your Windows 10 PC. You may not realize this, but temporary files can be a huge drain on your system's storage, since your PC is always storing bits of websites for quick browsing or updates that you needed to install.
Tap or click on the Ask Me Anything bar and type in Storage. Select it in the pop-up menu.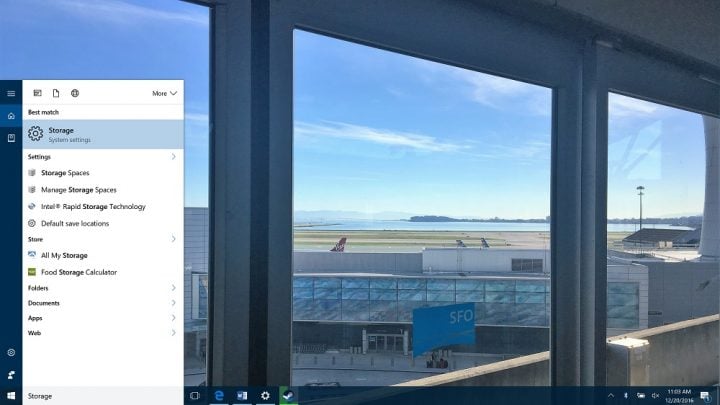 Now tap or click on This PC: C at the top of the window. This is the default drive that's installed in your Windows 10 PC.
Now let the Storage tool work. It could take some time, depending on how big your hard drive is and how fast it is. It'll scan your PC to see what storage is being used for what purposes. More on that later. Once it's done, tap or click on Temporary Files in the list.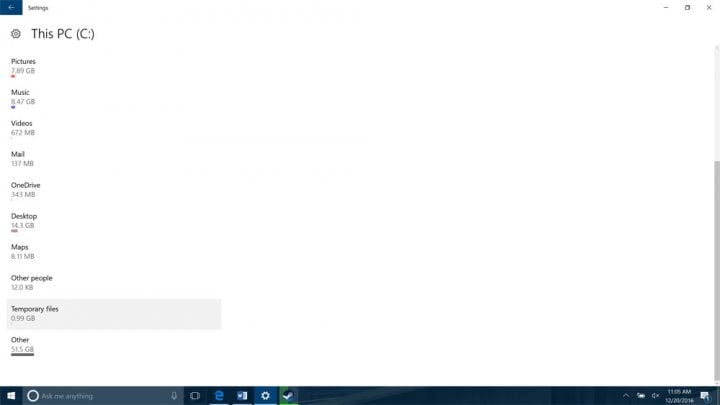 Select Temporary Files, Downloads Folder and Previous Versions of Windows. Now click Remove Files.
This should get you a little space back. On the PC used in this example, Temporary Files alone accounted for roughly 1GB of used storage.
Don't leave this tool just yet.
4 Ways to Free Up Space on Windows 10: Uninstall Unnecessary Programs & Apps
Also inside the Storage report you ran is an entry called Apps & Games. It's available outside of the storage tool with the Settings app under System too. Tap and click on Apps & Games.
What you should now have is a list of every app or game installed on your PC. By default, this list is sorted in alphabetical order.
Change it to sorting by size from the drop-down menu.
Now what you have is an extensive look at what apps and programs are taking up the most space. This makes it easy to free up space on Windows 10 by removing the unneeded apps and games that are higher up on the list.
If you have games or media editing programs installed on your Windows 10 PC, expect those to be at the top. For example, the top of the list is above is dominated by Planet Coaster, Cities Skylines and programs for working with video and photos.
4 Ways to Free Up Space on Windows 10: Get Some External Storage
If you've done those things and you're still tight on space, it's time to consider storing your files somewhere other than your PCs' built-in hard drive. This can be on a flash drive, a hard drive or an SD card, if your PC supports those. This is particularly a good idea for tablets and low-cost notebooks that have severely limited storage, like the Surface Pro 4 and the HP Steam.
Connect your external storage.
Type Storage into the Ask Me Anything search bar again to go back to the Storage tool.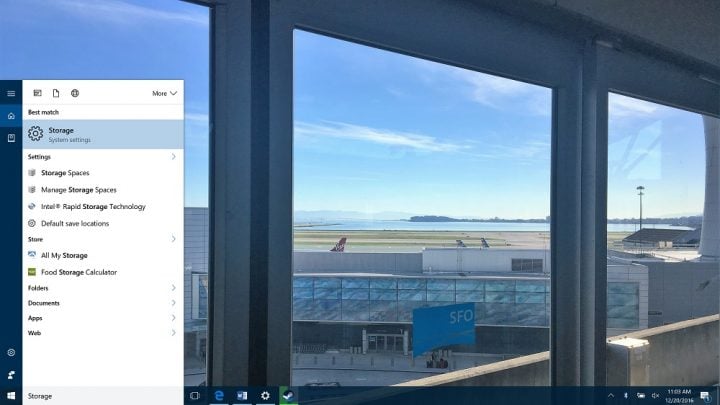 Use the drop down list to decide where Windows 10 puts your new files by default.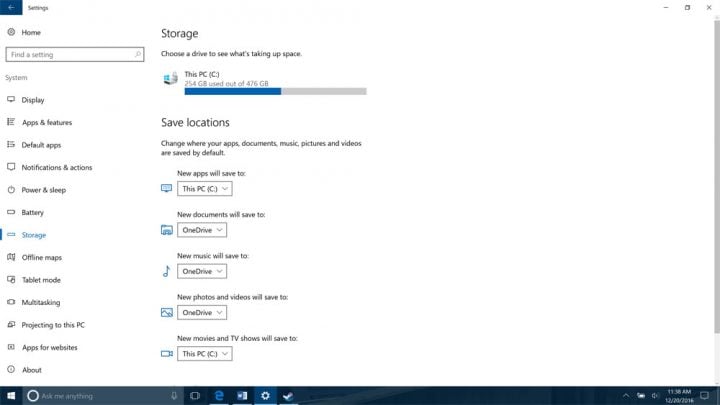 You can have Windows save new apps, music, TV show downloads and more directly to your external storage instead of internal storage. In our example, there's an option to store everything on an SD card, for example.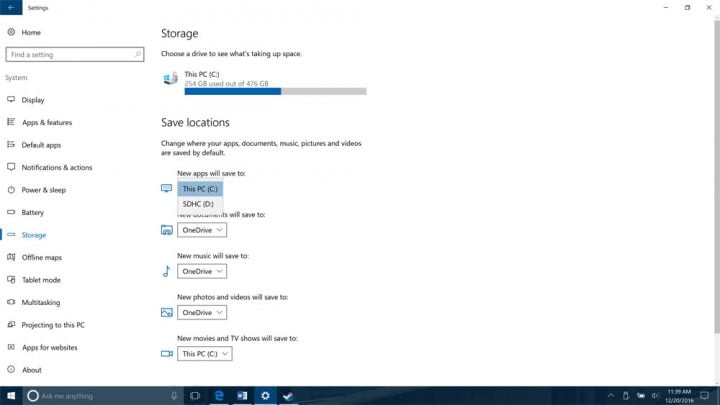 Once you've configured your Windows 10 device to store all new media on external storage, it's a good idea to move all of your old media there too. This should free up a decent amount of space for you, especially if you have tons of photos and music.
4 Ways to Free Up Space on Windows 10: Move Photos, Music and Documents to OneDrive
We don't hear an awful lot about cloud storage utilities anymore, but they're still out there helping people free up their local storage. Windows 10 has built-in support for Microsoft's own online storage utility, called OneDrive.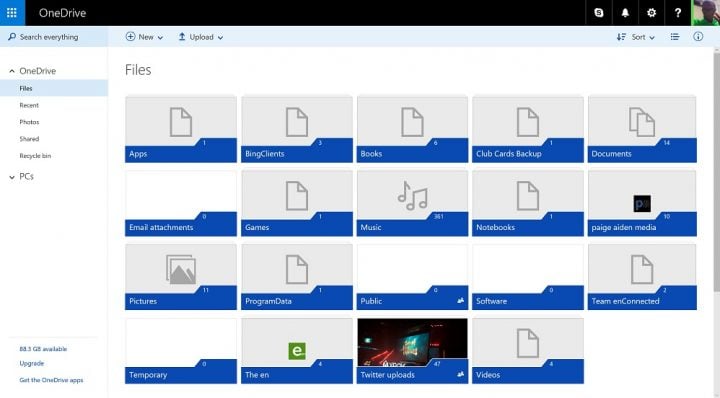 If you're using a tablet or notebook doesn't have a way to conveniently add storage without an external drive or cable, OneDrive is your best bet. You can move your music, home videos, documents there and save space on your local drive. There are other cloud storage options out there, but you'll want to go with OneDrive since all of Windows 10's most-important apps can see what's stored there without it being on your PC. Groove Music can stream directly from OneDrive. Office and Office Mobile see documents that are stored there. The Photos app sees videos and pictures stored there.
Read: Is Microsoft OneDrive Worth Using?
You'll need to use Microsoft's OneDrive app or website to move your stuff to OneDrive and manage your files. Everyone gets 5GB of OneDrive storage free of charge. Getting more storage costs extra.
Good luck trying to free up space on Windows 10.