5 Best Android Smartphones [April, 2014]
After months and months of waiting, the smartphone world is starting to heat up thanks to new devices like the Samsung Galaxy S5 and the all new HTC One. Their arrivals mean that those in the hunt for a new Android smartphone in the month of April are going to have a tougher decision than most. We want to help make the search a little bit easier and here, we take a look at our favorite Android smartphones for the month of April.
The new year got off to a bit of a slow start. Companies were content to fall back on their flagships from 2013, something that left consumers with some familiar names and some extremely enticing options. As we head deeper into the year though, we're finally starting to see companies put forth replacements for last year's top Android smartphones.
Those that utilized patience and opted not to buy a new Android smartphone in January, February or March will have a stacked lineup to choose from in the month of April. Two of the biggest names of the year are scheduled to battle head-to-head over the next month and likely, over the course of the next year or so. Companies tend to release one big name flagship per year.
While the arrival of these two big name devices is a good thing, it also presents problems for those that may not be in tune with the smartphone world. Picking and choosing a new smartphone is an important process but it's not an easy one. The Android world is chock full of solid options, new and old.
We want to help narrow things down for those that may not know what to look for. Here, in an effort to help those who might need some help this month, we breakdown the devices we think are the five best Android smartphones for the month of April, 2014.
Our list may differ from yours but these are the devices that Gotta Be Mobile editors have selected for recognition this month. We feel like they deliver the best, all-around package at the moment. Something else to keep in mind is that this list will change month-to-month as more devices get released.
Nexus 5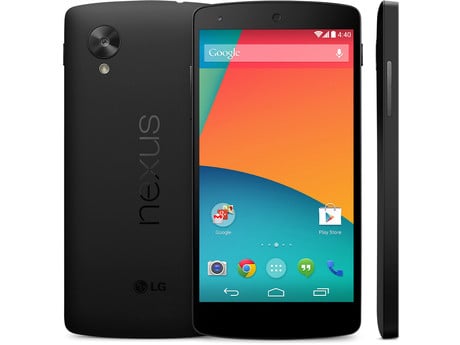 Google's Nexus 5 remains one of the best options for those looking to buy a brand new Android smartphone.
The Nexus 5 delivers a fantastic design along with a high-resolution full HD display, quad-core Snapdragon 800 processor, 8MP camera with Optical Image Stabilization, Android 4.4 KitKat, and an extremely cheap price tag as well. It's a device that should be on every Android shoppers radar.
Throw in the fact that it gets swift software updates from Google and features vanilla Android and the Nexus 5 is a device that should be a focal point for many months to come.

This article may contain affiliate links. Click here for more details.