5 Best Android Smartphones [June, 2014]
Consumers in the hunt for a new Android smartphone during the month of June are going to encounter a number of tempting options, among them, the Nexus 5, Galaxy S5 and HTC One M8. Some consumers will be quick to pull the trigger, others will need some encouragement. We want to help make the search a little bit easier and here, we take a look at the devices we think are the five best Android smartphones for the month of June.
As we've moved deeper into the year, we've finally seen a number of big time smartphones hit shelves. In March, the HTC One M8 hit shelves. In April, we saw the Samsung Galaxy S5 arrive in the United States and elsewhere, and since then we've seen Motorola release the Moto E and Moto G, cheap devices aimed at those that don't want to shell out a ton of money for a quality smartphone.
These joined an already loaded Android roster that includes devices like the Moto X, LG G2, Galaxy Note 3, Nexus 5, Galaxy S4, and a whole lot more. That's just the tip of the iceberg.
While it's nice to have a lot of choices, the sheer amount of options can be overwhelming for many consumers, especially those that don't keep tabs on the smartphone world.
With that in mind, we want to help narrow things down for those that may not know what to look for. Here, in an effort to help those who might need some help picking out a new device, we breakdown the devices we think are the five best Android smartphones for the month of June, 2014.
Our list may differ from yours but these are the devices that Gotta Be Mobile editors have selected for recognition this month. We feel like the devices listed here deliver the best, all-around package at the moment.
Nexus 5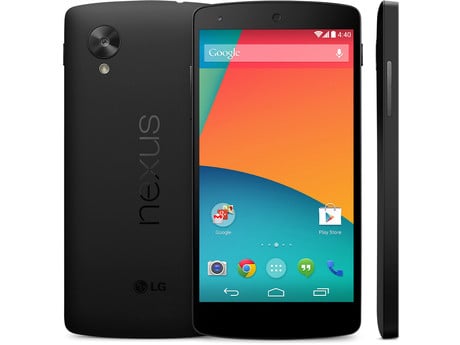 With a Nexus 6 release reportedly dead in the water for 2014, the Nexus 5 is going to be sticking around for awhile. And that's not a bad thing. This is one of the premier Android smartphones on the market.
The company's current Nexus flagship delivers a fantastic design along with a high-resolution full HD display, quad-core Snapdragon 800 processor, 8MP camera with Optical Image Stabilization, Android 4.4 KitKat, and an extremely cheap price tag.
It also gets updates directly from Google, a perk that doesn't come with many of the top Android smartphones on the market. The Nexus 5 is a device that needs to be on your radar in the month of June.

As an Amazon Associate I earn from qualifying purchases.