5 Best Cheap Smartphones May 2014
If you are looking for the best cheap smartphones on the market in May, this is the list you need to look at. These are not the cheapest smartphones for sale and some may not find them cheap enough, but these are the only cheap smartphones worth buying.
A smartphone doesn't need to cost $650 or $200 on contract to deliver a great user experience, a very good camera and good battery life, but you won't find this device just sitting on a clearance rack at your local carriers.
Earlier this month we shared the best smartphones for May 2014, and now we have a collection of five of the best cheap smartphones you can buy in May 2014. To deliver the best list of cheap smartphones we could find, there is a mix of on contact and off contract smartphones.
If you want to spend less than $100 on a smartphone with no contract, we have an option for you. If you want to spend a lot less, and are willing to lock in to a contract we have a nice collection of the best cheap smartphones that are as low as a penny. Mixed in with these devices are a few $200 and $300 smartphones that are off contract and should work on many pre-paid carriers.
$200 and $300 smartphones may not be cheap in everyone's books, but these devices are not tied to a contract and they are the best of the cheap smartphones that we recommend. Yes, this includes a flagship Nexus 5 for $350 that not everyone can afford, but it is still hundreds cheaper than an off contract Galaxy S5, HTC One M8 or iPhone 5s.
The best cheap smartphones of March don't include the $0 down iPhone 5s on T-Mobile, because you are still paying over $600 in the long run, but we do include one iPhone, several Android phones and a Windows Phone for users looking to buy one of the best cheap smartphones in May 2014.
You will not find most of these prices at a local carrier store. That's OK. For the off contract devices you don't need to go to your carrier unless you need a different type of SIM card. For the on contract cheap smartphones you can use your upgrade and sign a contract with your carrier with a purchase online.
There is no shortage of super cheap smartphones and free smartphones at retailers, but most of these devices are too old to make a list of OK cheap smartphones, let alone the best cheap smartphones you can buy in May.
Moto G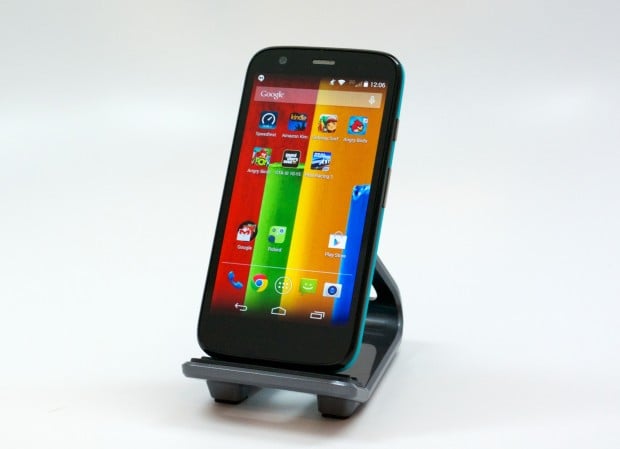 The Moto G is a cheap smartphone no doubt. At $99 off contract on a Verizon pre-paid option or $199 for an unlocked version it is the cheapest smartphone on our list.
For the price you still get a nice build quality, good collection of accessories and a decently sized screen. You do give up 4G LTE connectivity, but it's a tradeoff that some users will gladly make for the price.
The Moto G comes with a 4.5-inch 720P display and relies on a Snapdragon 400 processor which isn't as powerful as a top of the line device, but it is certainly good enough for many users. There is 8GB of storage in the base model and a 16GB model is available. The 5MP rear facing camera is adequate and can record 720P video.

Read: Moto G Review
Pick up the Moto G for $99 at Best Buy on Verizon or at Amazon for $99 on Boost Mobile. The unlocked 8GB model is $178 and the 16GB model is $199 on Amazon.

As an Amazon Associate I earn from qualifying purchases.