5 Best Galaxy S5 Battery Cases
When it comes to buying a case for your Samsung Galaxy S5 the options are almost unlimited. Every case manufacturer around seems to be offering an option for the popular flagship phone, but there are a few unique cases that can help you get better battery life while also protecting your new phone.
The Galaxy S5 is packed full of features, many of which are designed to save battery life, but many users are always looking for a little more juice. Picking a case for your $600 smartphone or 2-year investment is no easy task, and you'll want to select something that will protect your device, but hopefully also offer some added functions or features. There are cases with kickstands, wallet cases (as linked to below) and even cases with extended battery options built-in.
Read: 5 Best Wallet Cases for the Galaxy S5
The new Samsung Galaxy S5 has been available for roughly six months in the United States, so there are tons of accessories available for owners. Today we wanted to focus specifically on cases that will extend your battery life to two, or even 3 days if used correctly. We've already rundown 11 or so great Galaxy S5 cases, and below are our five favorite Galaxy S5 battery cases.
Samsung's Galaxy S5 is both dust and water resistant with an IP67 certification, and has a large 2,800 mAh battery to keep it charged all day. However, users may still want to cover it with a case. Protecting it from drops to break the screen, or daily wear and tear is on thing, but getting more battery life for business or personal needs is another.
If you're going to cover it with a case, you might as well get better battery life and additional protection, so here's our five favorite options.
5 Best Galaxy S5 Battery Cases
TYLT Energi Sliding Power Case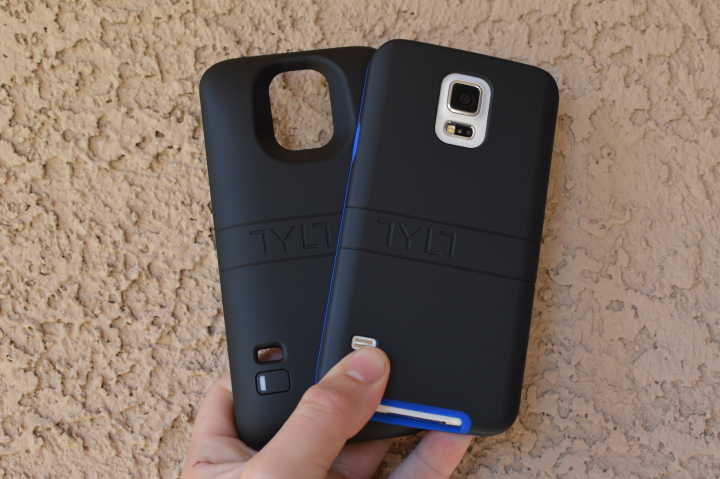 TYLT, the popular case, screen cover and accessory maker has tons of excellent options for Samsung's Galaxy S5. The Energi sliding power case however, offers two things you want. An excellent and low-profile case, and double the battery life for when you really need it.
What makes it one of the better options though, is these two pieces are separate so you only see and use the bulky battery case when you truly need it. It comes with a durable regular TPU and hard shell case, one that slides and locks into the 2,800 mAh battery case. This essentially doubles battery life.
Our only complaint is you'll need to take off the micro-USB cover that makes the phone water-resistant. Meaning you're sacrificing an important feature for better battery life. Double, in fact.
TYLT Energi Sliding Power Case - Buy for $79.99