5 Best High-End Windows 10 Notebooks Right Now
For all the endless speculation we hear about smartphones, the notebook is still king. When you need to get something done for work, you likely use a notebook PC. When you need to create images, write a paper or enjoy a movie that's not available on your set-top box, you still turn to your notebook. Windows 10 notebooks are a continuation of legacy that started decades again. They're the perfect mix of big-displays, physical keys and horse power. Every port, you need is in there too. It's ironic that notebooks aren't selling as well as they used to.
Some suspect that it's just market saturation causing Windows notebooks to sell less, but I don't think that explains the entire trend. In the modern computing era, designing devices that can hold up to anything is key. In the last few years we've seen notebooks steadily improving. They're lighter, faster and more durable than the notebooks we found ourselves replacing on a regular basis just a few years ago. They're worth keeping around longer.
Read: Windows 10 Review – A Love Affair
Here are 5 high-end Windows 10 notebooks that are worth investing in, especially if you're looking for something that'll hold up longer than your last notebook. All of them run Microsoft's Windows 10 operating system, but some leave the operating system's hallmark pen and touch experience for just a plain keyboard and trackpad. Others embrace touch and handwriting, but can still act as a no-compromises notebook PC.
All are incredibly durable and come stacked with upgrade options.
ThinkPad X1 Carbon - $1,269.99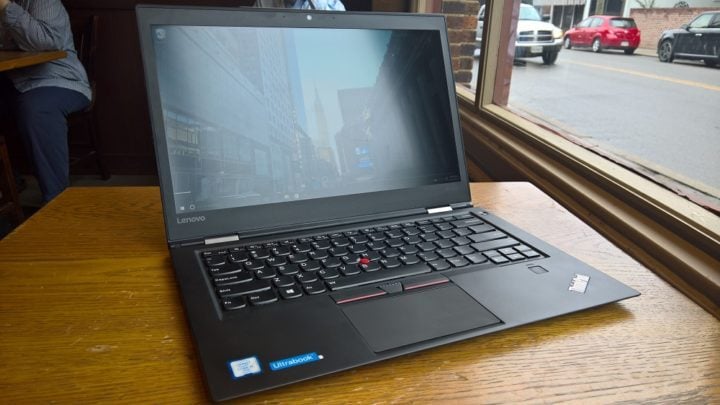 The leader of the thin, business notebook crowd is a name you're probably already familiar with. For years, Lenovo's ThinkPads have offered the perfect mix of terrific keyboards, TracPoints, spacious – if sometimes wonky trackpads – and durable exteriors that aren't too flashy.
The ThinkPad X1 Carbon is striking, but keeps every characteristic of the ThinkPad line. Lenovo has completely relegated 2-in-1 responsibilities to its ThinkPad X1 Tablet, leaving the ThinkPad X1 Carbon with a thin design, an amazing display, exceptionally good battery life and internals decent enough to get you through any long business day. It's just 0.65-inches thick and weighs 2.6 pounds.
Read: Lenovo ThinkPad X1 Carbon (2016) Review: Flawless Victory
Options include up to an Intel Core i7 vPro Processor, Intel HD 520 Graphics, Up to 16GB of RAM and a 14-inch WQHD display with a resolution of 2560 x 1440. There's even a finger print reader.
The Lenovo ThinkPad X1 Carbon starts at $1,269.99 on Lenovo's online store.

This article may contain affiliate links. Click here for more details.