5 Best iPhone 6 Wallet Cases
Now that the brand new bigger iPhone 6 is finally here, buyers are likely looking for some cases. And while your options are almost unlimited, today we'll be focusing on the best wallet cases for the iPhone 6. Every case manufacturer around seems to be offering an option for the popular flagship phone, but we have a few unique ones to share.
Picking a case for your new $600 (or more) smartphone or 2-year investment is no easy task, and you'll want to select something that will protect your device, especially with all the news of the iPhone 6 bending in users pockets. Hopefully you can find one that offers some added functions or features. Cases with kickstands, flip covers, and even wallet cases are a few that come to mind.
Read: Best iPhone 6 Screen Protectors
The new iPhone 6 has only been available for a week or so here in the United States, thousands of buyers probably haven't even received their pre-order yet, and tons of buyers will be looking for awesome cases in the near future. We've already rundown 11 great iPhone 6 cases, but below we have five more awesome wallet case alternatives.
The all-new completely redesigned iPhone 6 has a bigger and better HD display, a super sleek and thin profile, and is built of a durable aluminum unibody shell, but that doesn't mean you shouldn't still cover it with a case. Drop tests have shown the screen can still break relatively easy, so you'll want a case. Protecting it from drops or daily wear and tear is still something many will want to do. This means you may as well get added functionality at the same time. Lets take a look at five awesome wallet cases.
Again, the iPhone is extremely popular and you'll find cases from just about every manufacturer around, not to mention tons of terrible cheap options on eBay or Amazon, so choosing something that's of good quality will be key. There are so many options it's hard to weed through the bad ones, so selecting a respective brand is your best route, but we've done much of the work for you below.
5 Best iPhone 6 Wallet Cases
CM4 Q Card Case for iPhone 6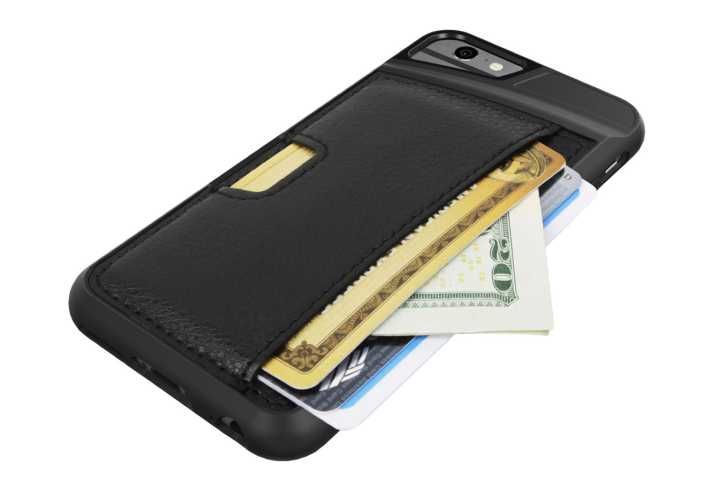 The Q-Card case shown above (and below) is probably our favorite iPhone 6 wallet case for a few reasons. For one, we've used them in the past on the iPhone 5, Galaxy S4, and personally on my Galaxy S5, and they're excellent cases. It isn't a flip case like almost everything else available. We're not fans of holding a flap open to use and enjoy our device, which makes the CM4 an attractive offer out of the gate. Secondly it's made of a durable lightweight plastic that protects the screen and camera, but then finished off with premium leather for the wallet aspect of the case.
The patented soft-touch rubber design is comfortable and easy to hold, not to mention it wraps around the camera for added protection, and extends beyond the display to protect your big screen while face-down. It's an awesome design that can hold 3 credit cards plus some cash. It comes in black, champagne, or pacific green.
CM4 iPhone 6 Wallet Case - Buy for $39.99

As an Amazon Associate I earn from qualifying purchases.