5 Best Scanner Apps for Android to Go Paperless
Smartphone owners can use their camera for more than taking snapshots to save memories or create art thanks to these great scanner apps for Android. Go paperless by using one of these excellent scanner apps for Android. Store documents, business cards, class notes from a whiteboard or scan documents to sign and send digitally. We'll show you the 5 best scanner apps for Android smartphones that will help you go paperless and become more productive.
Evernote
Evernote (Free with subscriptions available) users should look no further than the app they already use. It comes with a great scanning function built into the app. There's also a nice widget that Android users can place on their phone's home screen to quickly scan documents or business cards into Evernote.
Open the app and sign into an account or sign up for an account if you don't have one. Tap on the plus icon in the lower right corner (see left screen shot above). Then tap one of the new note types from the pop up list that appears above the plus icon (middle screen shot above). The right screen shot above shows a scanned image. This was a glossy document and Evernote gave me a warning that said it would not look good and that I should angle the camera to remove the glare. That's nice attention to detail built-in.
Users can place a nice widget on the Android home screen that gives quick access to the Evernote new note function. Above you'll see two different widgets. Place them on the home screen by pressing and holding on the home screen on most Android phones. Tap on widgets to open your Widget drawer. Some Android phones or Android launchers work differently. Follow your phone's instructions for placing widgets on the home screen.
In the widget above, the functions above work as follows:
Shortcut to open Evernote app.
Document camera scans documents and adds them to the default notebook.
New note starts a new blank note in Evernote.
Audio note opens a new audio recording note for voice memos.
Drawing note opens a new drawing note in Evernote, great for capturing visual ideas.
Search notes will search your Evernote account.
Text to speech single action widget will start a new note with text to speech so you can speak your note.
The first six functions show up in one Evernote widget after I customized the widget (see below). You can add other kinds of note functions like a business card scanner, if you get a lot of business cards. The seventh note is a separate widget. Evernote lets the user place a single function widget instead of the widget bar that holds functions one through six.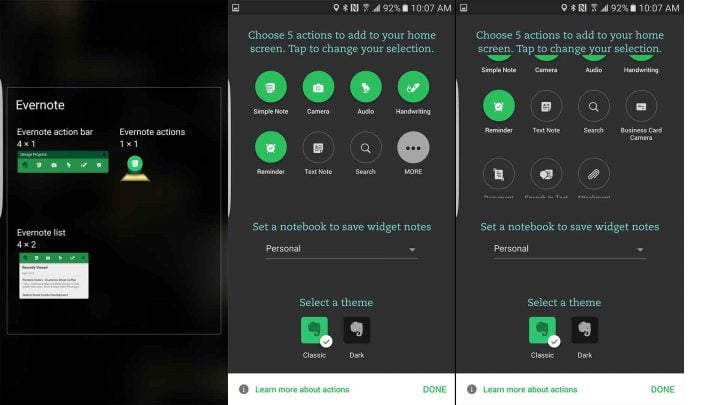 The Evernote widget will let the user customize which new note features to place in the widget bar in addition to the shortcut to open the Evernote app (see the numbered screen shots above). You'll need to customize it to do the things I placed in my widget bar. When placing the widget on the home screen, it opens the center screen shot above. Tap the MORE button to see all the available widget functions. Tap the ones you don't want first to remove them. Then, tap the ones you do want (up to five functions). Choose the green color screen or black color screen at the bottom of the customization screen.
Evernote's a great app and includes OCR for scanned documents or images with text in them. You get more features and storage with a paid subscription. They start at $25/year for the midlevel Plus plan. The Premium plan costs $45/year.
Many other scanning apps support export to Evernote as well. If they don't support it directly, Android puts Evernote in the Share menu. Any app that uses the OS Share menu can save content to Evernote.
Office Lens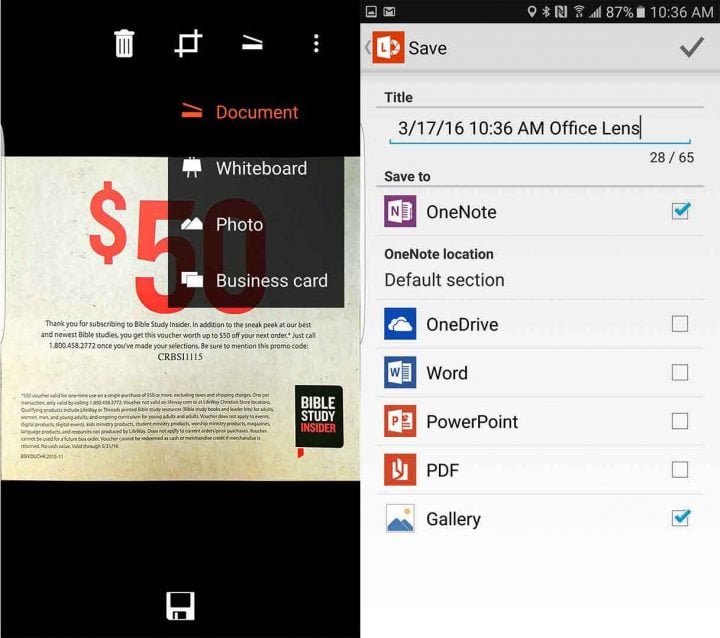 Those heavily invested in Microsoft Office and OneNote will want to give Office Lens (Free) a try. It works simply. Point the camera at a document or photo and it takes the picture. The user can tap on the save icon (at bottom of the left screen shot above) and it opens a screen asking where to save the image (right screen shot above). It will ask for a name and automatically selects OneNote and Gallery which saves the image to the phone's image gallery. It also offers to save to OneDrive, Word, PowerPoint or a PDF file.
The user can crop the photo before saving. I seldom needed to do this because the app does a great job of cropping documents.
Tap the scanner icon (see the left screen shot above) before scanning to see a list of kinds of scans. It will scan documents, a whiteboard in a classroom or meeting room, a photo or a business card. Select the right one for the best results. If you select business card, the save screen only shows Gallery and OneNote as optional places to save it. It saves to OneNote in a Notebook called Contacts. To see this notebook on the phone tap it from the recent history in Office Lens and it opens in OneNote automatically.
You'll need an Office 365 to get the most out of the app, but it will work with a free Microsoft account like Live, Outlook or Hotmail.
CamScanner
CamScanner (Free with optional subscription) is a good option for those that don't want use Office or Evernote. It works on both Android and iOS, so it's a good option for Android users who also own an iPad.
The CamScanner app for Android offers some rich and powerful features, even in the free version of the app. It handles document and image scanning as well as QR codes.
Point the scanner at a QR code and the resulting website link will pop up ready for the user to press Open URL to go to the site. The user will need to swipe left or right to switch between QR Code scanning and Docs scanning.
To scan a document, tap the camera icon and put the camera over your document. When ready, tap the camera icon again to snap the shot. The app will crop the shot so that it selects the document. This works best on a contrasting color background. To refine the shot, tap on the buttons at the bottom. Buttons for rotating and for changing the image exposures settings sit at the bottom of the screen. The check mark saves the shot.
At the top of the screen are buttons that set the captured shot to certain modes. It includes…
Auto – sets the exposure and color settings to automatic so the user doesn't have to change anything.
Original – uses the shot as the camera snapped it.
Lighten – takes a darker image and makes it lighter.
Magic Color – fixes any color problems automatically.
Gray Mode – turns the image to a grayscale document which handles things like newspapers well.
B&W – uses monochrome black and white color to better handle pure text documents.
You will have to scroll left or right to see all the buttons on some phones. On a Galaxy S7 Edge with a 5.5-inch screen, I couldn't see the two right buttons.
CamScanner works fine in the free version. Sign up for an account and the Basic Account version gives 200MB of cloud storage and auto OCR for searching scanned documents. It also lets users fax documents and add a customized watermark. Share with up to 10 people.
For $4.99/month or $49.99/year CamScanner adds up to 10GB of storage, editable OCR documents, document collages from scanned pages, upload to third-party sites (Box, Google Drive, Dropbox, Evernote, OneDrive) and downloading stored PDF files inside the app. Subscribers can also password protect and add expiration dates for shared access to a document.
CamScanner offers a $1.99 (normally $4.99) paid version of their app that takes higher resolution shots, removes in-app ads and lets  users upload to Evernote and OneDrive. It also removes the watermark added to PDF files that the user creates from scanned documents.
Tiny Scanner
Appxy makes another Android favorite called Tiny Scanner (Free with a paid optional version available for $4.99).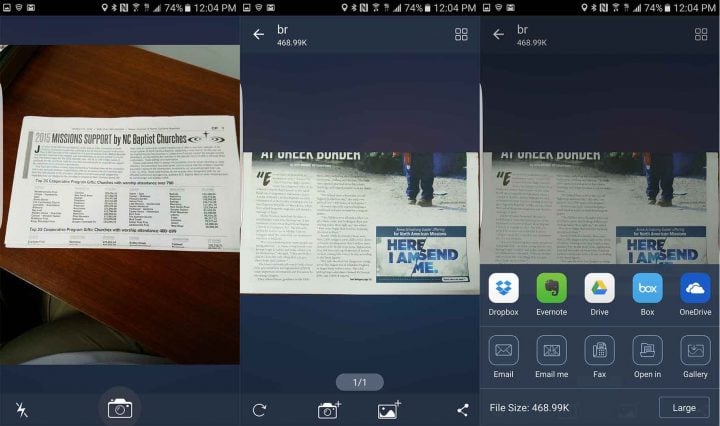 TinyScanner gives us the simplest of these document scanners. It snaps the image, crops out the document and then the user can share the document.There's no QR code reader.
A few features that set it apart include…
Speed – it's simple which makes it fast and easy to use.
Five levels of contrast with tap of a button.
No paid subscription required or signing up for a service. Use it on the phone only.
Add pass codes to exported PDF files.
With Tiny Fax you can send scanned documents to a fax machine (cost per fax ranges between $.15 to $.20/page.
Import photos already stored on the phone.
While the above scanners give us more powerful features, people who just want a very simple scanner should give TinyScanner a look.
Bing Search
While this doesn't technically help anyone go paperless, the Bing Search (Free) app does do barcode and QR code scanning to make it easy to find deals or QR linked websites. Open the Bing app on an Android phone and press on the large search icon until the camera and mic icons show up to the left and right of the search icon (a magnifying glass). Tap the camera and the barcode/QR code scanner appears. Aim it at a barcode or QR code and hold the phone still. It will either load the website or search for the product online.
Scanner Apps for Android Tips
Scanner apps import everything from documents to business cards to images into your phone for use in other apps or even on other devices. The following tips will help users get the most out of scanning with their Android phone.
Put documents or business cards on a background with a sharp contrast – black on white or white on black.
If the app supports it, don't save to your image gallery so you don't clutter up the Photos app with documents and business cards.
Hold you phone extremely still in a brightly lit room so you don't get blurry images. Blurry text makes OCR nearly impossible to get accurate results.
Hold phone in portrait mode to scan pages in portrait mode and in landscape mode to scan things in landscape mode.
Use rotation if the app supports it so your scanned images and documents end up in the right orientation.
If you can think of other tips add them to the comments below.