5 Best Sprint Phones [February, 2015]
If you are in the market for a brand new Sprint phone, do yourself a favor and wait a couple of weeks before buying. We realize there are people that can't wait a a few weeks for March to begin so with those people in mind, we want to take a look at the devices we think represent the five best Sprint phones for the month of February, 2015.
Right now is a horrible time to buy a Sprint smartphone. If you're wondering why, it's because we're just a couple of weeks away from two of the biggest Android smartphone launches of the year.
On March 1st, Samsung is expected to announce the Galaxy S6. On that very same day, HTC is rumored to have an HTC One M9 up its sleeve. If rumors are accurate, these should be two of the biggest devices of the year. There's a very good chance that both of these devices will be heading to Sprint's Now Network at some point in the future so if you can wait, wait.
If you absolutely must buy a new Sprint phone in the month of February, note that there are a number of solid choices to pick from. Last year's crop of Sprint phones was excellent. They're hard to recommend right now but if you must buy a new smartphone, we suggest taking a peek at these devices before making your move.
We are constantly bombarded with questions about the best Sprint phones money can buy. There are a number of different devices that we could recommend, the smartphone market is full of solid choices, but we want to narrow things down a bit and take a look at what we consider to be the top five Sprint phones available right now.
These devices represent the devices that we'd recommend to friends and family. And while our list may differ from yours, these are the devices that Gotta Be Mobile editors have selected for recognition this month. We feel like the devices listed here deliver the best, all-around package for this month and this month alone.
With that in mind, here are the five best Sprint phones for February, 2015.
Samsung Galaxy Note 4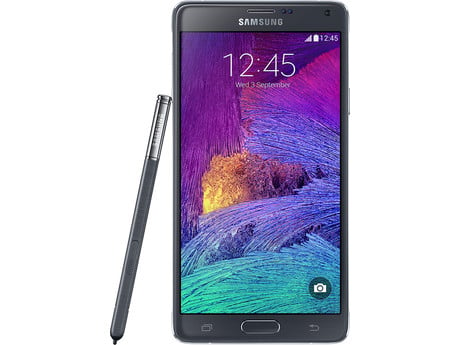 Sprint probably have a Samsung Galaxy S6 on the way but that won't knock the Galaxy Note 4 off this list any time soon. The Galaxy Note 4 is one of the best devices out right now and it will remain one of the top devices until Samsung decides to replace it.
Sprint's Galaxy Note 4 features a beautiful display with new S Pen features and a fantastic camera. While it's on the expensive side, it's a device that is in the top tier of Sprint phones in February. We actually like it better than the Samsung Galaxy S5, the current Galaxy S flagship.
The Galaxy Note 4 offers you a massive 5.7-inch Quad HD display, an improved design that combines plastic with metal, a camera with Optical Image Stabilization, and a speedy processor that's capable of providing excellent multitasking and gaming.
We haven't seen any huge Galaxy Note 4 deals arrive though you will want to keep an eye out going forward. It's not a cheap phone but it's one of the best that you can buy on Sprint's network right now. Do yourself a favor and give it a look.