5 Best Sprint Smartphones [July, 2014]
Sifting through Sprint's vast smartphone lineup will prove difficult for many consumers during the month of July. That's where we come in. In an effort to help consumers narrow their smartphone options down a bit, we take a look at the devices we think represent the five best smartphones on Sprint for the month of July, 2014.
Sprint's 2014 got off to a pretty slow start. We simply did not see the same volume that we normally see from smartphone manufacturers early in the year. Of course, most people appreciate quality over quantity and fortunately, that's what we've seen from the carrier's smartphone lineup since then. A whole lot of quality.
Like most carriers, Sprint is now carrying a number of fantastic smartphones from 2014. In the beginning of the year, we saw devices like the Samsung Galaxy S5, HTC One M8 emerge from the shadows and in just a few short days, we'll see another big name smartphone arrive on shelves in the form of the LG G3, LG's brand new flagship.
The Now Network is now home to an absurd amount of big name smartphone options and while that's great, it presents some challenges to those that don't keep their finger on the pulse of the smartphone industry.
For many consumers, picking out a new Sprint smartphone this month is going to be an easy task. You've done your homework and you know, heading into the store, which devices you'll be looking at. For others, coming to a decision is a difficult process thanks to the number of options that Sprint offers to its customers.
Every day we get asked questions about smartphones. About which device is best. About the five devices we like the best on carriers like Sprint. Because the landscape is always changing, we typically have different answers each month. And that's why we put together a list every month running down the top smartphones on all of the top carriers in the United States.
These devices represent the devices that we'd recommend to friends and family. And while our list may differ from yours, these are the devices that Gotta Be Mobile editors have selected for recognition this month. We feel like the devices listed here deliver the best, all-around package for this month and this month alone.
With that in mind, here now are the five devices we think are the five best Sprint smartphones for this month.
LG G3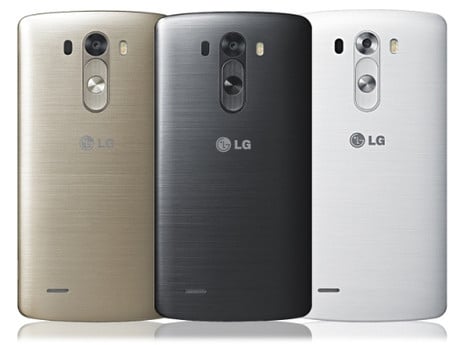 Sprint's LG G3 will arrive on shelves starting July 18th. And when it arrives, it will become one of the carrier's top smartphone options thanks to an array of solid hardware and software features.
We recently got our hands on the LG G3, the successor to the LG G2, and we can say without question that this is a device that lives up to the hype.
Simply put, this is one of the best smartphones we've come into contact with and it's a device that needs to be on the radar of smartphone shoppers during the month of July. From its stellar display to its useful and intutative software to its fantastic camera and battery life, the LG G3 is exactly what most people want from a smartphone.
Keep in mind, this is a new smartphone and that means that it will command an expensive price tag from the start. However, it's worth noting that retailers like Amazon typically play host to day one deals so those interested in this device should keep an eye out on release day and beyond.