5 Best T-Mobile Smartphones [April, 2014]
Consumers in the market for a brand new T-Mobile smartphone in the month of April won't suffer from a lack of options. However, those that don't follow the smartphone industry may have a tough time weeding out the best of the best. We want to do that heavy lifting for those people and here, we take a look at the devices we consider to be the five best T-Mobile smartphones for this month.
Many people are going to be looking for a new T-Mobile smartphone in the month of April. Some people are going to be looking because they're intrigued by the carrier's UnCarrier policies. T-Mobile doesn't require any contracts and offers some incentives to consumers coming over from rival carriers.
Maybe it's the carrier's high speed 4G LTE network that continues to expand. Maybe it's because of a broken phone, a contract that has ended or a sudden influx of cash. Maybe it's because of the Samsung Galaxy S5 and the all new HTC One M8, two of the latest flagships that will be available on T-Mobile's LTE network going forward.
We know there will be a ton of people looking at T-Mobile smartphones this month and we also know that many of those people are going to feel overwhelmed by the amount of devices that T-Mobile has available.
Picking a new smartphone can be a difficult task and the addition of those two new flagships doesn't make things any easier. So, in an effort to help those who might need some help this month, we break down the devices we think are the five best T-Mobile smartphones for the month of April 2014.
Our list may differ from yours but these are the devices that Gotta Be Mobile editors have selected for recognition in April. We feel like they deliver the best, all-around package at the moment. Something else to keep in mind is that this list will change month-to-month as more devices get released.
iPhone 5s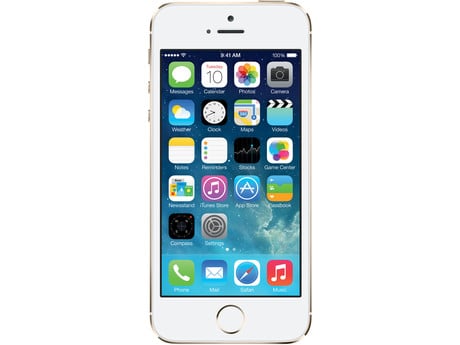 Apple's iPhone 5s remains a top option for T-Mobile's 4G LTE network and we are confident that the iPhone 5s that it will remain on this list until Apple releases this year's iPhone, presumably called the iPhone 6. Apple's new flagship is simply that good.
While the price of the iPhone 5s hasn't seen a significant drop since it was released back in September, it's still an attractive device that lives up to its premium price tag.
From its industrial design, to its Retina Display, to its camera, to its 64-bit processor, this is a device that is built to endure and endure it shall. We should also note that Apple keeps its devices updated for three years which means this bad boy should get three major iOS updates before it's done.
The iPhone 5s deserves to be near the top of T-Mobile smartphone shoppers lists for the month of April and beyond.