5 Best Tinder Tips & Tricks
The dating scene is different in the 21st century, and Tinder has made it easier than ever to find a date for the evening. Here are the 5 best Tinder tips and tricks.
Before dating website and dating apps, you kind of just had to try your luck within your circle of friends and network with people you knew in order to find a date. Technology has made it a lot easier nowadays to find a date.
Of course, Tinder is one of the most popular hook-up apps on the market (available for iPhone and Android devices), and it makes it really easy to find someone to go out with. All it takes is a swipe and a couple of sentences to ask someone out. However, as you may find out, it's not that easy, and many people may find it difficult to get matches.
Here are # Tinder tips and tricks for not only getting more matches, but how to use the app in the first place and take advantage of its features.
Don't Set Your Expectations High
The first tip to know before you even open the Tinder app and begin using it is to not set your expectations too high. Otherwise, you may come out the other end completely disappointed.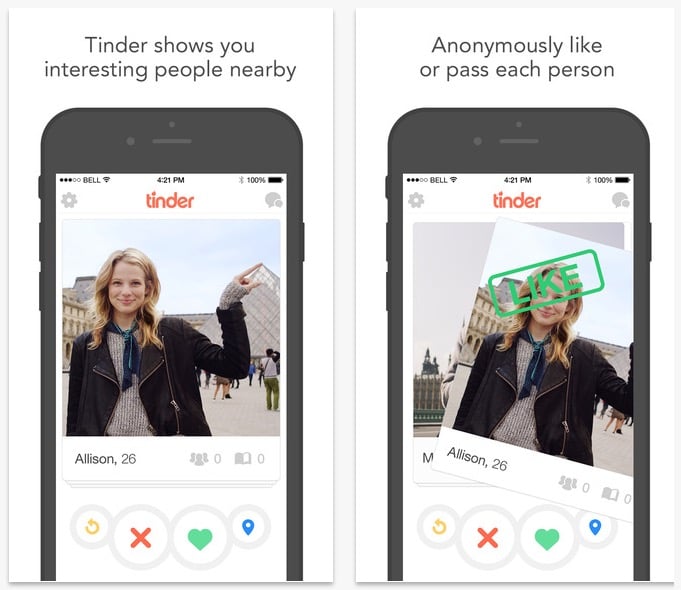 This is especially true for guys. The competition is fierce and if you expect to get a ton of matches, don't be surprised when you end up not seeing those kinds of numbers.
Plus, even if you do end up with a decent number of matches, the girl you matched up with probably has a ton of other matches of her own.
Overall, think of Tinder as just a fun app to play around with rather than a serious attempt at finding a date. It's a healthy attitude to adopt with these kinds of apps.
Your Profile Is Key
The first thing that potential matches look at is your profile, and just like your LinkedIn profile, you want it looking great.
First off, for your photos, pick 3-4 photos that you look the best in. Make sure they're not blurry and you can clearly see your face.
The first photo should be a simple photo of you. No sunglasses, no hats, nothing that covers your face. You want to provide a clear image of what you look like so that you're not hiding anything. And for God's sake, be dressed appropriately.
The other photos can be pictures of you doing your hobbies or other fun stuff. Many people will say shirtless pictures are off-putting, but if you have the body for it, I don't see why not, and if it's in the right context (at the beach and not a stupid mirror selfie) then shirtless photos are appropriate.
As for the description, don't leave it blank. Fill it up with your hobbies and interests and don't try to be smart with a clever quote. It's okay to be funny, but don't try too hard at it. For my description I put "Aviation geek, mediocre gamer, huge baseball fan, and introvert to the max." It's simple and it quickly tells potential matches about my interests and personality, with a little bit of humor sprinkled on. Don't go overboard with it.
Be Yourself
Since the competition is fierce on Tinder, you may think about bringing your A game and trying your hardest to get a date, but don't try too hard or else you'll end up on one of these lists.
The best approach is to just be yourself. Don't use any cheesy pickup lines, even if you're just using them ironically. And don't act all tough and macho when you chat — you'll come off as a jerk and egotistic.
When it comes time to chat with your match, just chat like you would with anyone else. Ask them how their day/weekend was. People love talking about themselves, so ask them questions and get to know them.
Use Tinder's Swipe Limits Wisely
Tinder has a free version and a pro version called Tinder Plus. The free version only gives you a certain number of swipes every 12 hours, which means you have to use them wisely.
Because of this, the best time to use Tinder is in the morning and in the evening. Wake up, do your thing to get ready for the day, get on Tinder, use up your swipes and wait 12 hours. During that 12 hours, you'll be at work anyway most of the time.
Once that 12 hours is up (which should be in the evening), get on Tinder again and use up your swipes. Then you can go to bed and spend most of that recharging time sleeping. Then, wake up in the morning and repeat.
Change Your Location for Free
Tinder Plus also has a feature where you can change your location in the app and find other users in a different city, which can be great if you're planning on traveling their over the next few days.
However, you'll have to pay the $9.99 per month for this privilege, but if you have a jailbroken iPhone, you can do it for free.
A Cydia tweak like LocationFaker is great for this. It replaces your device's own GPS location data with a fake location that you can choose yourself by using a map in the app to select any location you want.
You can also choose which apps will use a fake location (like Tinder) and which apps to use your real location so that Google Maps doesn't think you're in another state when you really aren't, as that could make directions an interesting experience.

As an Amazon Associate I earn from qualifying purchases.