5 Best Verizon Smartphones [May, 2014]
If you're looking for a new Verizon smartphone in May, you're going to encounter a number of smartphone options. Choice is a good thing but for those that don't keep up with the smartphone world, it can be problematic. We want to make the process as easy as possible for as many people as we we can and here, we help narrow things down by telling you about the devices we think are the five best Verizon smartphones for the month of May.
For the first part of 2014, Verizon's lineup was dominated by smartphones from 2013. Fortunately, it wasn't a bad thing given that 2013's crop of smartphones was excellent. However, as we've moved deeper into the new year, manufacturers have started to replace last year's models with new devices.
In recent weeks, Verizon has released two big name devices in the Samsung Galaxy S5 and the HTC One M8. Those two devices join a lineup that is already chock full of excellent options. While that's great and all, it means that some Verizon customers are going to now have an even tougher time narrowing down their shopping list. (It also doesn't help that iPhone 6, Samsung Galaxy Note 4, LG G3, and Nexus 6 rumors have already started to pick up.)
Verizon's lineup is full of big name devices including including Apple's iPhone 5s, Motorola's Moto X, Samsung's Galaxy S5, Galaxy S4 and Galaxy Note 3, the LG G2, and more. Those are just the tip of the iceberg.
We realize that picking out a new smartphone is not an easy task. So, in an effort to assist those who might be in need of some help this month, we've broken down the devices we think are the five best Verizon smartphones for the month of May, 2014.
Our list may differ from yours but these are the devices that Gotta Be Mobile editors have selected for recognition in May. At this time, we feel like these devices deliver the best, all-around package to consumers.
iPhone 5s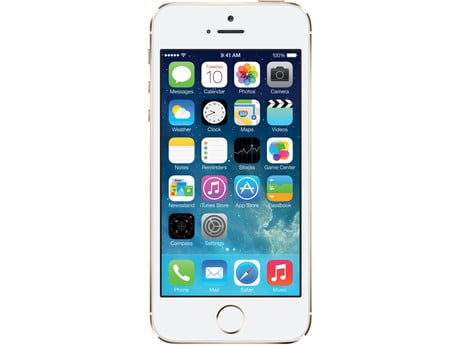 The iPhone 5s remains one of the top smartphone options on Verizon and we can't see the device moving off of this list until the rumored iPhone 6 arrives later on this year. Yes, it's still rumored but Apple will certainly release a new iPhone sometime this year.
Apple's iPhone 5s delivers an excellent package. It comes with an industrial design, solid Retina Display, 8MP iSight camera, 64-bit processor, and iOS 7 software. It will also receive software updates for the foreseeable future meaning Verizon customers can invest without having to worry.
Those who aren't keen on its expensive price tag would be wise to be on the look out for deals. We're starting to see iPhone 5s deals emerge on a more frequent basis and Verizon itself is currently hosting a Mother's Day deal that lasts until mid-May.

This article may contain affiliate links. Click here for more details.