5 Quick Car Chargers for the Galaxy Note 5
The impressive new Samsung Galaxy Note 5 and even the Galaxy S6 Edge+ employ a relatively new technology called Quick Charging. This technology essentially charges these new phones nearly 40-60% faster than older devices like the Galaxy Note 3 or Galaxy S4. It even does fast wireless charging too. However, for those who want fast charging in the car and not just at home, below is a list of some great quick car chargers.
Similar to Qualcomm Quick Charge 2.0 technology found inside the Nexus 6, Galaxy S5, HTC One M9 and even the LG G4, the Note 5 features Samsung's version, which they call "Fast Charging". Basically allowing the battery to turbo charge at an extremely quick pace when it's nearly depleted. Samsung claims the Note 5 can go from 0-50% in just 30 minutes, which we've tested to be fairly accurate.
Read: Galaxy Note 5 Fast Wireless Charging Hands-On
That's crazy fast, right? Quick charging is the latest in battery technology, as the actual sizes aren't getting any bigger, making this is the next best thing for now. Below we'll go over five awesome chargers that use adaptive, turbo, or quick charging technology to get your Galaxy Note 5 or the S6 Edge Plus charged just as fast in your car as it does at home.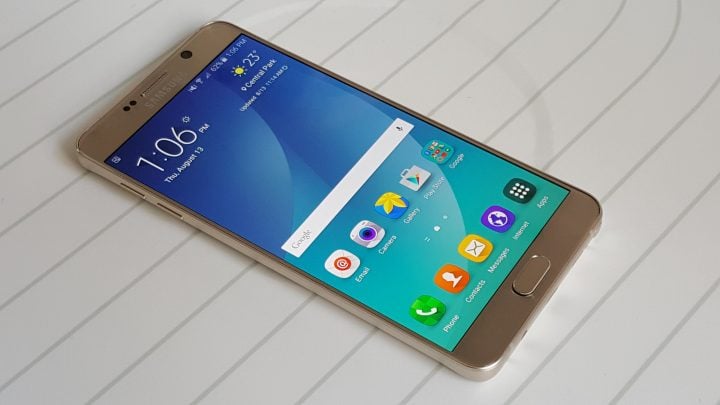 This new battery magic was originally called "Quick Charge" and announced by Qualcomm, and it was featured in the Galaxy S4 and Galaxy S5, allowing them to charge over 40% faster than older devices thanks to Qualcomm processors inside. With the Galaxy Note 5 though, the charging speed is 60% faster than older devices, and even faster than the Galaxy S5 or Note 4. Making it go from 10% to 50% in under 30 minutes.
After 30 minutes or so it slowly goes back to regular speeds to preserve and extend the life of the battery, and still get you fully charged. My Galaxy Note 5 actually went from 5% to 68% after only 31 minutes on the charger. Below is a preview of what quick charging does, shown by Qualcomm on the Nexus 6, which works very similar to the process and technology inside the Galaxy Note 5.
Originally quick charging was only for charging at home, and owners needed a special wall plug, instead of the typical wall wart that comes in the box with most phones. Now the Note 5 comes with it in the box, and you can get this same fancy fast technology while in the car.
Instead of only adding 10-15% of extra battery life from a 15-20 minute drive home from work or while heading to meet some friends, you'll now get nearly 40-50% of battery life. What we're looking for is "Quick Charge 2.0 certified" chargers. Buy one of the suggested options below for your car, and the Note 5 will always have more than enough battery to showcase its stunning 5.7-inch Quad-HD display.
Incipio Quick Car Charger
Incipio is an extremely popular case and accessory maker that also offers one of the best car quick chargers, and it's even on sale at Amazon. If you want a fast charge in a simple solution, this is it.
This charger delivers the same extremely fast charging speeds to the Note 5 while driving, as owners get at home. It's certified by Qualcomm for Quick Charge 2.0 and works the same way on the Note 5. Usually it's $34, but you can get it now for much less on Amazon.

As an Amazon Associate I earn from qualifying purchases.