5-Inch Dell Streak Gets Android 3.0 Honeycomb Port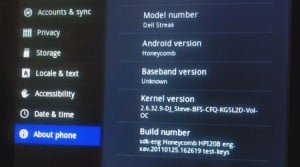 While the Dell Streak, which was launched with Android 1.6 at a time when Android 2.2 was starting to become en vogue, was hindered by a dated OS at the time of its release, enterprising developers and hackers have figured out how to port and hack Android 3.0 Honeycomb to the 5-inch slate device. The Streak 5, unlike the Streak 7 for T-Mobile USA, comes with both voice and mobile broadband data, giving the device the uncanny ability to straddle the smartphone and tablet form factor with its larger than smartphone screen size, but too small for a tablet display.
Not a lot of information is currently available, but for eager Streak 5 owners who want to migrate to Android 3.0, hopefully developers will post details on how to hack your own devices. For now, interested users can head on over to the forums at MoDaCo and follow the progress.
Via: StreakSmart

As an Amazon Associate I earn from qualifying purchases.