5 iOS 8 Features Apple Borrowed from Android
This morning Apple finally made the new iOS 8 and OS X Yosemite official. Taking the stage at its annual WWDC in California to reveal the latest and greatest Apple software.  While there's plenty of awesome new features, there are a few we wanted to highlight that stem from Android and the competition.
Tim Cook and Company took plenty of shots at Google and Android during the event. Skewing update and software release numbers, or saying iPhone users live a happier life, but lets look at a few other things. Those being five features iOS 8 will be stealing (okay borrowing) from Android.
Read: Here's Which Devices Will Get iOS 8
With iOS 8 Apple has reinvented the keyboard by delivering predictive text or contextual auto-correct, but Android's enjoyed this for years. Now I'm not one to call out the others and be on the defensive side as much as Apple was on stage today, but below are a few things we quickly noticed during the keynote.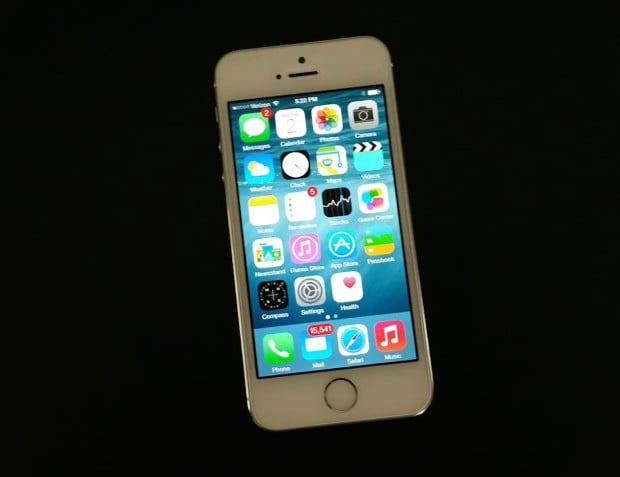 Apple had a lot of exciting announcements, not to mention we saw a few new features that surely many Android users would love to try, so this road goes both directions. That being said, here's five features that Apple's iOS 8 is stealing from Android.
Keyboard
We have to start with the keyboard. Apple has touted the on-screen keyboard of iOS for years as being the best, and in the early days took a lot of shots at Google for having an inferior and inaccurate typing experience. Over the past few years though Google and developers have changed that.
3rd party keyboards on Android continue to be some of the highest downloaded apps of all times. Users want options rather being stuck in a walled garden. Today Apple announced something called Extensions that allows everything below to finally be a reality.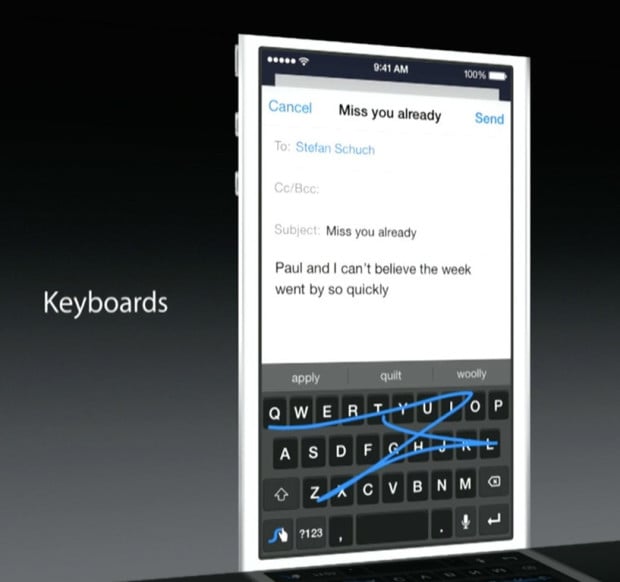 3rd party keyboards like Swype, Swiftkey, and dozens of others will all likely be coming to iOS. Swype was shown off on stage, as it was the original gesture and swiping-based keyboard that delivered a faster typing experience on mobile devices. Android users have been able to choose what keyboard they use for years, and with iOS 8 Apple fans will be able to enjoy the same.
The same goes for predictive text. While typing a sentence the new Quicktype iOS 8 keyboard will suggest words, and even read the context of a conversation (or who you're talking to) to deliver better suggestions. Ones that even match your language style based on who you're chatting with. They're finally catching up to Android on the keyboard front, and iOS users should be excited about the incoming options.
Active Notifications
Another headline feature iOS will deliver to the iPhone and iPad is active or actionable notifications. When you pull down the notification Center and see a missed call or an incoming text, users will be able to tap and instantly reply from the notification bar. This is called expandable notifications, and has been available on Android for a few years.
With Android users have expandable and actionable notifications, as well as ongoing notifications to control music and other features. This is a nice way to quickly interact with a notification to call someone back or send a fast reply, and now iOS 8 users will soon be able to enjoy it too.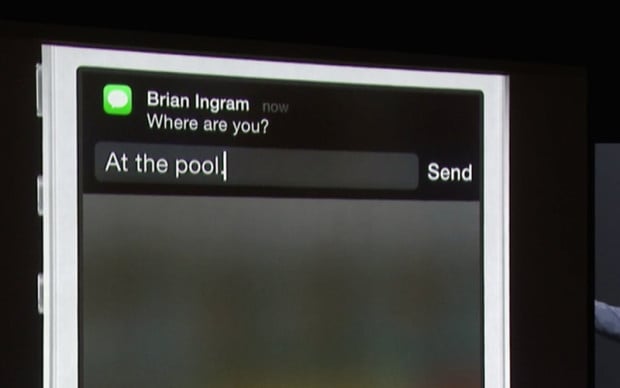 Hey Siri
Hey Siri was also announced today. A voice command that users can speak to instantly launch Siri completely hands free, then continue to ask about the weather, what's on the calendar, or any of the wide array of options available through Siri. This will allow all iOS 8 users to interact with Siri like never before.
"Ok Google" is the same always-listening voice command that we've been enjoying on Android for some time. Announced last year and made popular on Google Now Search, and the Nexus 5. It's a relatively new mode that doesn't take up much battery life, yet is extremely useful. The Moto X is another prime example of hands-free features using voice commands that are similar to the new "Hey Siri" command announced today.
Widgets
Widgets. If there's one thing nearly all iOS users I know wish they had that Android users have enjoyed since the beginning, it's widgets. Being able to essentially have apps running in a mini state on your homescreens. Widgets have been a useful, essential, and customizable aspect of Android for years, and iOS 8 now has them, sort of.
Widgets in iOS 8 wont' be on your homscreen like Android, but they'll be actionable and live right in the notification center on iOS 8. Download and add the SportsCenter widget for up-to-date sports news right below the weather, above your stock widget, or anything else. There were a few Apple-specific options before, but iOS 8 will fully open the notification center for app widgets. You can even bid on an eBay item right from the eBay widget, for example, which was one of many demos shown off on stage.
It's a start at least.
App Sharing
With iOS 8 users (and apps) will now have the ability to share directly to and from apps. We've seen this before where photos can be shared to Facebook, or the official Twitter app, but Apple's kept this to a minimum. Users will be able to share a file to Dropbox, share an image or audio clip from Dropbox, Pinterest, WhatsApp and tons of other 3rd party apps.
This will no longer be exclusive to a few specific apps like previous versions of iOS. This is certainly a feature Apple users have wanted for a long time, but remember, Android's had this ability from the very beginning. Being able to share anything nearly anywhere, as long as the developer has it integrated, is an extremely powerful feature iOS 8 users should be extremely excited about.
Final Thoughts
In the past Apple has been quick to "invent" features, or reinvent the wheel, but with iOS 8 they did a great job of simply showing what's new. While we still had plenty of attacks at the competition, mainly Google and Android, overall Apple was keen on just sharing what users can expect to see from iOS 8.
We won't mention the App Store for developer features like Google Play, everything in the cloud – especially photos – like Google+, or a few other things we noticed, as the five mentioned above are the big ones.
That said, there are tons of awesome new features, designs, and 3rd party options coming to Apple with iOS 8, and users will want to get it as soon as possible. While you may want to wait past the beta for the official release, here's how to get iOS 8 now if you absolutely have to.