5 Must See FIFA 16 Gameplay Videos
The FIFA 16 release date is slowly creeping closer, and we are looking forward to playing FIFA 16 on our own. Until you can play the new FIFA, we dug in and discovered five must see FIFA 16 gameplay videos that highlight new features and show off what the game will look like.
During E3 EA kept the game under tight wraps, but we finally have a good look at FIFA 16 gameplay videos on PS4 and Xbox One. Forget the official FIFA 16 gameplay trailers that show cinematic animations, this is a look at the real FIFA 16 gameplay that you will see on your TV in September.
We get a chance to see the smarter play in midfield, more aggressive team players and other changes to the FIFA 16 gameplay in the five videos below. This is also the best look at the new crossing mechanic and the ability to move freely without taking the ball with you to trick defenders.
The FIFA 16 release date is September 22nd in the United States and several days later across the pond. FIFA 16 comes to PS4, PS3, Xbox One, Xbox 360 and PC — but not all features will come to the older platforms.
[contextly_sidebar id="WVATDzkPeRKfI4ozrhSEDrNaJBsX0yBB"]
Here is a look at the new FIFA 16 gameplay videos that show off new FIFA 16 features, upgraded physics and new graphics.
Gamescom FIFA 16 Gameplay Video
This 11-minute FIFA 16 gameplay video from Gamescom is what EA showed off on stage, so you can get a good look at the overall gameplay in FIFA 16. This is an excellent introduction to the new crossing, smarter defenders and the vastly improved midfield. Pay attention as the ball comes through midfield to see new interceptions and when a player gets to the corner look for the controlled crosses.
Xbox One FIFA 16 Gameplay Video
In this second FIFA 16 gameplay video we get a look at what we know is Xbox One FIFA 16 gameplay footage. There are two regular players who have not played FIFA 16 before, which gives us an interesting look at a non-developer playing and learning about the new features or options. This match is only about six-minutes long and it cuts back and forth to people playing, but you do get a well-rounded look at the game, including an aggressive keeper coming out to grab a cross.
FIFA 16 Gameplay – FUT DRAFT
The FIFA 16 gameplay video above from IGN delivers a look at the FUT draft mode, which allows you to quickly create and play with a FUT team that you play through up to four matches with. You use coins to enter and choose your players. If you win multiple matches you can take home major rewards, but even if you lose the first match you'll get your entry fee back.
After a look at the FUT Draft, you can watch FIFA 16 gameplay, as the presenter plays through one of the FUT Draft matches. Unlike a traditional FUT team that you work on for the full season this focuses on shorter timed teams that allows you to sit down and see a series to completion in one go.
FIFA 16 Gameplay Between Top Players
https://www.youtube.com/watch?v=g2UuwezHExo
In this 10-minute FIFA 16 gameplay video on the Xbox One we get to see YouTube personalities behind FIFA channels play a full FIFA 16 match as FC Barcelona and Real Madrid. There is a good amount of scoring, crossing and a sweet backwards pass with a flick of the foot. The video quality is not as good as the others, but the gameplay is very exciting.
Women's FIFA 16 Gameplay
https://youtu.be/ow4Jw-ZRAoE
The first Women's International Team FIFA 16 gameplay is finally available to watch. This recording is of a screen, not a direct capture, so there is a little to be desired, but it is still one that FIFA 16 fans need to see.  After a short burst of Women's gameplay in FIFA 16, we get to see Penalty kicks and a team celebration for the win.
FIFA 16 Release: 9 Important Details
FIFA 16 Release Date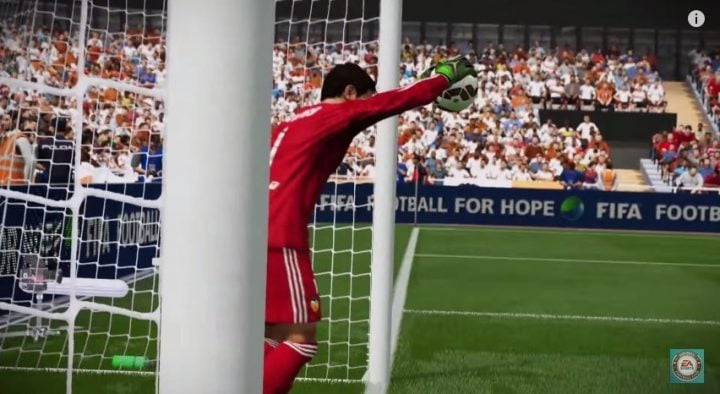 The FIFA 16 release date arrives September 22nd in the U.S. and a few days later on September 25th in the UK, Ireland and other countries. This short delay is common when for FIFA 16 games even though soccer commands more attention in other countries.
Once you get past these two FIFA 16 release dates there are no more coming, so the wait is minimal.
Gamers can buy FIFA 16 on disc or digital and with the digital version there will be an opportunity to download the game early to start playing as soon as 12:01 AM Eastern rolls around. In addition to PSN and Xbox Live, FIFA 16 is on sale on Origin.
We may see disc and digital sales officially start at 12:01 AM Eastern no matter the location, which could allow gamers on the west coast to start playing at 9:01PM on Monday September 21st.