5 New Call of Duty: Black Ops 3 Juggernog Edition Details
It is hard to find the Call of Duty: Black Ops 3 Juggernog edition with a working fridge that includes Black Ops 3 sound effects and special lighting, but it is not yet impossible.
The Black Ops 3 fridge is part of the Juggernog edition. This is a $199 Collector's edition of the new Call of Duty game that comes to stores later this year. At Comic-Con 2015 Activision and Treyarch announced multiple special editions, including this ultimate edition with a working refrigerator.
Juggernog is a special cola featured in Black Ops Zombie mode that provides a power up that many players rely on while playing Black OPs and Black Ops 2. We know that Call of Duty: Black Ops 3 zombies are back and expect that the Juggernog power up will make a return.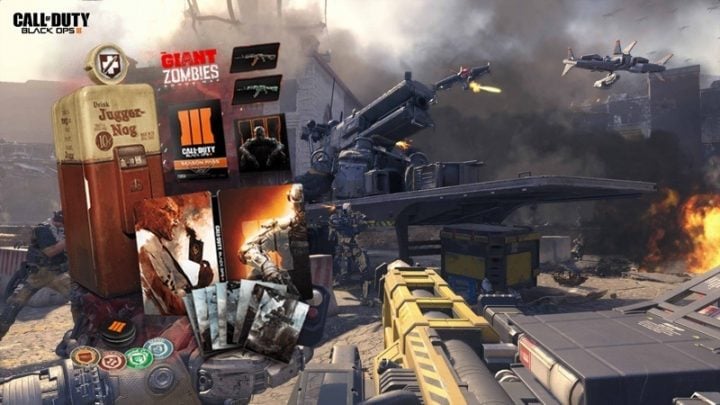 [contextly_sidebar id="8AdZNduXOYjbmRUXklqYMPKOV0OCfLDu"]The special Call of Duty: Black Ops 3 Juggernog edition includes a working refrigerator that matches the look and design of the in-game perk-a-cola dispenser, but this is a mini-fridge. The $199 version of the new Call of Duty includes more than this 12-can fridge, but it is definitely the selling point.
Gamers can store 12, 12-ounce cans inside the small fridge that lights up and makes Black Ops sound effects when opened.
It is very hard to find the Call of Duty: Black Ops 3 Juggernog edition in stock, but it's not yet impossible. Here are five important new details buyers need to know.
Target Now Selling Black Ops 3 Juggernog
After the first three retailers ran out of stock Target started taking Juggernog pre-orders. These are now sold out, but this is good news for gamers who still need to order. It is possible that all retailers will soon have more stock of the special Call of Duty fridge in the near future.
Walmart Black Ops 3 Juggernog Pre-orders
It is not confirmed yet, but NowInStock is tracking for Walmart Call of Duty: Black Ops 3 Juggernog pre-orders and can alert buyers when it is in stock. A search of Walmart reveals no way to pre-order the Juggernog fridge yet, but this is a good sign that there is at least one major retailer in the U.S. who has yet to start selling their stock.
EB Games Canada Taking Juggernog Pre-orders
Gamers in Canada or near the border can still place a Call of Duty: Black Ops 3 Juggernog pre-order through EB Games.
The presell is available for both PS4 and Xbox One versions that include the Juggernog fridge, but the price is $259, which is in Canadian dollars. It's not clear if you can place an order from EB Games Canada for delivery to the U.S., but if you live close to the border you should check this out.
Black Ops 3 Juggernog Unboxing
The production quality isn't up to snuff, but Treyarch delivers a dimly lit Juggernog fridge unboxing in a bar so you can get an idea of what it looks like and how big it is next to someone.
You can hear the Black Ops 3 Juggernog sounds, see the inside of the fridge and see the shelves inside it. While there is a coin slot on the front, this is not working. This is the best real world look at what is inside the Call of Duty: Black Ops 3 Juggernog edition.
Treyarch Remains Silent About Juggernog Stock
The biggest surprise so far is that Activision and Treyarch are not commenting on the future of Juggernog stock. When Bethesda announced the Fallout 4 Pip Boy edition the company followed up with multiple updates on the stock and status on the company blog and through posts on Twitter.
The official Activision, Call of Duty and Treyarch accounts are silent on when we can expect more stock of the Juggernog edition.
Black Ops 3 Fridge: 5 Things to Know About the Juggernog Edition
What Comes with the Black Ops 3 Juggernog Edition?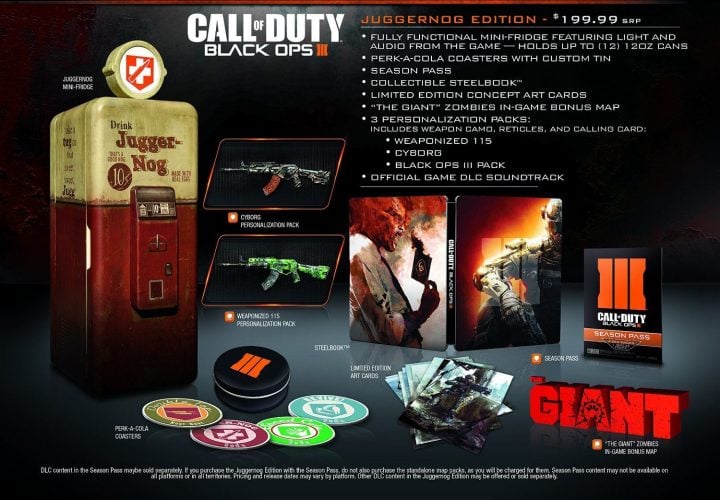 The most recognizable item in the Call of Duty: Black Ops 3 Juggernog edition is a Black Ops 3 fridge that can hold 12 cans of pop or beer. The call of Duty Fridge features a Juggernog logo and Call fo Duty lights and sound effects.
For the $199 price tag fans also get plenty of other items in this Black Ops 3 Collector's Edition. This includes Perk a Cola coasters in a Black Ops 3 tin, the Black Ops 3 Season Pass, a collectible Steelbook, concept art cards, an in-game bonus map shown in the video below.
There are also three personalization packs including Weapon Camo, Reticles and a Calling Card. The packs are Weaponized 115, Cyborg and Black Ops 3 Pack. This special edition also includes a Call of Duty: Black Ops 3 soundtrack as DLC.