As we wait for the FIFA 16 release date to arrive EA continues to share new information about the game. While the company continues to hold back on FIFA 16 gameplay footage in many areas, there is a lot of new and important FIFA 16 information that arrived over the last week.
In August a lot of attention is on Madden 16, but FIFA 16 is still a major game that is coming to consoles and PC this fall. Although it is not coming with the FIFA 16 name, there is an updated FIFA mobile game on the way to phones and tablets that is worth a look.
Here's a fast way to catch up with the latest FIFA 16 details from Gamescom and from EA's announcements so far in August.
The FIFA 16 release date is set for September 22nd with a base game starting at $59.99 and special editions up to $99 with added celebrations and special FIFA 16 Ultimate Team packs.
FIFA 16 arrives for Xbox One, PS4, PS3, Xbox 360 and PC — but not all the features will transfer to the older consoles, so that is something to keep in mind before you buy the new FIFA game.
Here is the latest information you need to know about FIFA 16 features, modes, playing early, new videos and other details.
FIFA 16 Career Mode
One part of the new Career Mode is the option to play pre-season tournaments where you can take your club to three tournaments in Asia, Europe, Latin America or North America. You can work on skills, lineups and tactics plus pad your budget if you win.
In this mode you can train five players a week by working through various practice drills that can improve player stats for enhanced performance on game day. As the manager you can choose to build on your superstars, work up younger players to keep or build someone up just enough to trade them off.
As part of the enhanced story and narrative in FIFA 16, the Career Mode includes commentary that follows the story taking place in your club. Other new FIFA 16 Career Mode features include.
Sign free agents outside of the transfer window.
Scout Reports – After scouting a player reports are available to you now for an entire calendar year before expiring vs three months in FIFA 15.
Transfer Budget -Transfer budgets are now more realistically tailored to the club you're using in Career Mode. Also, a percentage of the remaining budget from the previous season will carry over to the next. and will vary based on where your club finished in regards to season goals.
Loans – Short loans have increased from three to six months and there is now an option to issue two-year loans.
Friendly Subs – You will be able to issue an unlimited number of substitutions during friendly matches.
More Realistic Transfers – While the transfer window is open, we have tuned the number of 'high-profile' moves by big players to better match the number of changes that typically happen in the real-world.
Improved Player Transfer Values – We've addressed values of players to better match the real-world transfer market.
The FIFA 16 Career Mode is only available on the Xbox One, PS4 and PC, which is one reason to buy a new console and get the latest FIFA game on the new hardware.
Play FIFA 16 Early for 10 Hours
If you cannot wait until September 22nd, you can play FIFA 16 early with EA Access. EA confirmed that the FIFA 16 trial will arrive on September 17th, five days before the FIFA 16 release date.
This will allow members to play for 10 hours before the game arrives on store shelves. EA Access is $4.99 a month or $29.99 a year and also includes access to The Vault with many older EA games.
@NadirTekarli New games join The Vault regularly. You'll be able to play 10 hours of FIFA 16 starting September 17.

— EA Access (@EAAccess) August 8, 2015
The early FIFA 16 release on September 17th includes European fans who still have to wait until September 25th for the full release.
FIFA 16 Ultimate Team Draft
FUT Draft is a new version of FIFA 16 Ultimate Team that lets you build a team from a five player draw and then play in a series of four matches to earn rewards. You'll start with a formation, then a captain and from there you'll pick the rest of your squad.
The video above walks through the FUT Draft game mode in FIFA 16. You can play in single player matches or online with your squad in a four match season. Players earn rewards along the way. It costs 15,000 coins, 300 FIFA Points, or 1 Draft Token to start a FUT Draft season, but even if you lose you'll gain this back to play again.
New FIFA 16 Gameplay and Trailer
EA is keeping the actual FIFA 16 gameplay to a minimum for now, but there is a new FIFA 16 trailer that highlights some of the added realism and new FIFA 16 features.
In the video above we get to see 11 minutes of FIFA 16 gameplay from Gamescom, which helps highlight what you can do in the game and the enhancements made to passing, midfield and shooting.
FIFA 16 for Mobile
EA promises console quality gameplay on your smartphone and tablet with the new EA Sports FIFA game. This is basically FIFA 16 for iPhone, iPad and Android, but it no longer carries a yearly designator.
Players get better AI, new animations and a hybrid touch control system that isn't completely explained with the new game. There is also FIFA Ultimate Team for mobile with live events, new content incoming and no need to start from nothing each year.
The FIFA mobile game also includes player exchange to turn unwanted players into new random items that should match the ratings of those items exchanged. EA Sports FIFA arrives on iPhone, iPad and Android on September 22nd as a free download.
FIFA 16 Release: 9 Important Details
FIFA 16 Release Date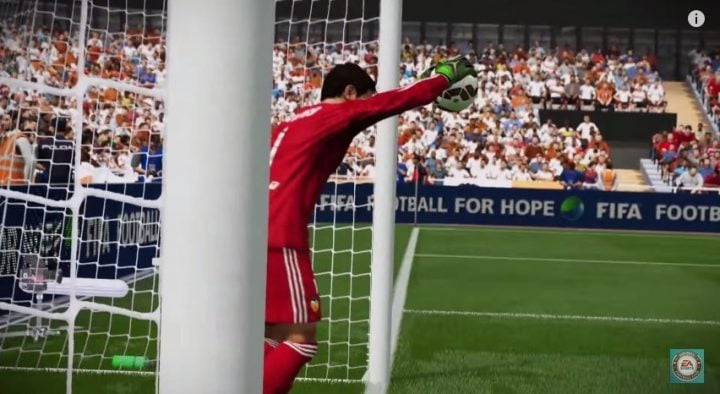 The FIFA 16 release date arrives September 22nd in the U.S. and a few days later on September 25th in the UK, Ireland and other countries. This short delay is common when for FIFA 16 games even though soccer commands more attention in other countries.
Once you get past these two FIFA 16 release dates there are no more coming, so the wait is minimal.
Gamers can buy FIFA 16 on disc or digital and with the digital version there will be an opportunity to download the game early to start playing as soon as 12:01 AM Eastern rolls around. In addition to PSN and Xbox Live, FIFA 16 is on sale on Origin.
We may see disc and digital sales officially start at 12:01 AM Eastern no matter the location, which could allow gamers on the west coast to start playing at 9:01PM on Monday September 21st.

As an Amazon Associate I earn from qualifying purchases.