5 Quick Chargers for the Galaxy Note 5 & S6 Edge Plus
Earlier this month Samsung announced the impressive new Galaxy Note 5, and a massive curved screen device called the Samsung Galaxy S6 Edge Plus. If you bought one of these new phones one feature you must know about and use is the "fast charge" or quick charging technology inside. While many of owners are frustrated by the lack of a micro-SD slot or removable battery, you won't need the latter one with Samsung's Adaptive Fast Chargers.
Both phones are available starting this week around the globe, and all carriers in the United States. Many have already shipped from AT&T, T-Mobile, and Verizon, and some users have the phones already. Whether you have it already, or it's coming soon, you'll want to use the Quick Charger in the box, and buy a few extras for every room in the house.
Read: Galaxy Note 5 Hands-on Video & Impressions
Similar to Qualcomm Quick Charge 2.0 technology found inside the Nexus 6, HTC One M9 and others (see the video below) the new Galaxy S6 Edge Plus and Galaxy Note 5 feature fast charging. This allows the battery to turbo charge at an extremely quick pace when it's nearly depleted. Samsung promises 4 hours of battery life after just 10 minutes on the wall charger. You'll go from 0-50% in only 30 minutes.
Battery technology hasn't been improved much over the years, so instead we're getting bigger batteries inside our phones, or more efficient software and chips to make our phones last longer. Fast or quick charging is the next best thing for now. Below we'll go over five awesome chargers that use adaptive, turbo, or quick charging technology to get your Galaxy Note 5 and Edge Plus battery charged up as quickly and safely as possible.
How does it work? Well, when the battery is below 10%, it charges at an incredibly fast rate and gets you nearly to 50% battery capacity in under 30 minutes. This is often enough for the rest of a busy work schedule, or to get you through a night out with friends after a long day at work. After 30 minutes it slowly goes back to regular speeds to preserve the life of the battery, and still get you fully charged. Below is a preview of what quick charging does, shown by Qualcomm on the Nexus 6, which works exactly the same as Samsung's Adaptive Fast Charging for those who have a Note 5 or Galaxy S6 Edge Plus.
As shown above, using a regular charger from older devices or cheap options bought on Amazon or a nearby gas station is just too slow. The way a phone would charge in 2012 or so. However, the device on the far end got to 50% in the same amount of time a regular charger delivered only 22% battery life. That's a huge increase, and something absolutely worth using. Any quality USB cable will work, and it's the wall outlet (wall wart) that does all the work, along with the processor inside these phones.
I plugged my own Note 5 in around 5% and after only 5 minutes it was at 14%, then after 15 minutes on the wall it was at 33%, and after only a half an hour we had 61% battery life. That's more than enough to finish the rest of a night out. In 50 minutes it was nearly full, and in just over an hour it goes from empty to fully charged. Old devices from previous years took 2-3 hours to fully charge. The Note 5 has great battery life from our initial tests, and this makes charging it up extremely easy.
This is one of the best new features for smartphones as of late, one that many don't know about. Thankfully the Galaxy S6 Edge and Note 5 have a Samsung "Adaptive fast charger" in the box, but if you're like me and want an extra for other rooms in the house, below are five excellent options to buy. Samsung's new Note 5 and Edge Plus even feature "Fast Wireless Charging" but we'll talk about that in the near future. Check out the five great fast chargers below that will work with your new Note 5.
Samsung Fast Charger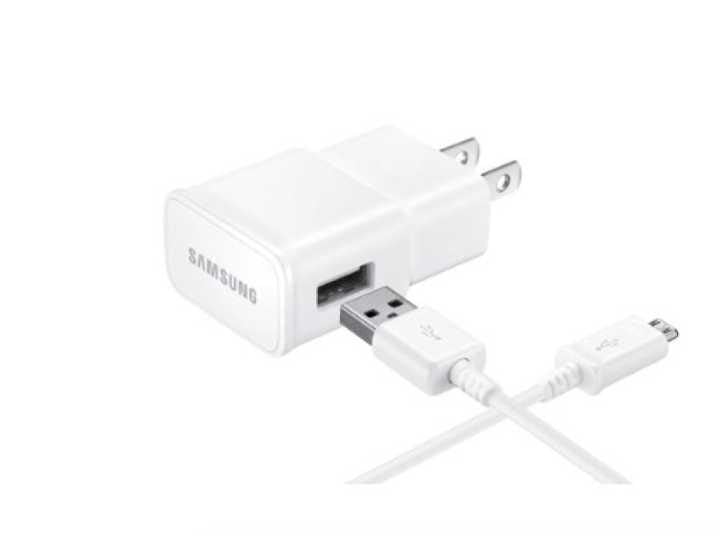 Everyone should do what I did, and that's just buy a spare "Adaptive Fast Charger" made by Samsung. This is the best possible route. This ensures you're getting the perfect charger made exactly for your smartphone. Samsung sells these on its own website, but they're currently on sale at Amazon for only $15.99. Now you can get one for every room in the house, extra cords and all. I buy 10ft micro-USB cables myself. They're wonderful.

As an Amazon Associate I earn from qualifying purchases.