5 Quick Chargers for the Galaxy S6 & Galaxy S6 Edge
If you're one of the millions of users still enjoying the Galaxy S6 or Galaxy S6 Edge, we have a tip for you. It's called fast charging, and surprisingly many owners don't take advantage of it. You may be frustrated by the lack of a removable battery, or want better battery life while waiting for the Android Nougat update. If so, read on for more details.
It's similar to Qualcomm Quick Charge 2.0 technology found inside many phones from the past few years. Which essentially allows the battery to turbo charge at an extremely quick pace when it's nearly depleted. Samsung promises 4 hours of battery life after just 10 minutes on the wall charger. Awesome, right? You just need the right charger.
Read: 5 Best Galaxy S6 Wallet Cases
Fast or quick charging is the latest in battery technology, simply because battery capacity tech isn't going anywhere. With that in mind, we'll be sharing a list of chargers that will give you the most battery as quick as possible. All either fast, adaptive, or Turbo charging compatible.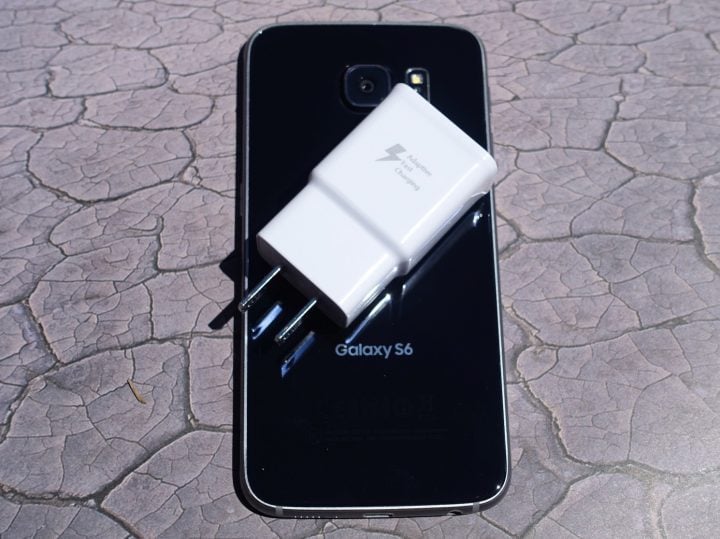 Essentially when the battery is below 10%, it charges at an incredibly fast rate and gets you nearly to 50% battery capacity in under 30 minutes. This is typically enough for the rest of a busy work day, or to get you through a night out on the town. It's an amazing technology.
Here in 2017 we even have Quick Charge 3.0 that does 50% in 15 minutes. Still, the Galaxy S6 recharges plenty fast. After the first 30 minutes it slowly goes back to regular speeds to preserve the life of the battery. Below is a preview of what quick charging does, shown by Qualcomm on the Nexus 6, which works nearly identical to Samsung's Adaptive Fast Charging on the Galaxy S6 and Galaxy S6 Edge.
As you can see, using a regular charger found at a gas station, or from an old device you pulled out of a box or closet, the device charges extremely slow. The way a phone would in 2012 or so. However, the device on the far end got to 50% in the same amount of time a regular charger delivered only 22% battery life. That's a huge increase, and something worth using. The power is in the wall-wart that you plug into the socket, then any regular USB cord will work.
On our own Galaxy S6 we plugged it on at 5% and after only 5 minutes it was at 15%, then after 15 minutes on the wall it was at 33%, and after only a half an hour we had 63% battery life. That's more than enough to finish the rest of a day. in 50 minutes it was nearly full, and in just over an hour it was 100% fully juiced up ready to go. This is something all owners can appreciate.
Oddly many still don't know about it, which is where we come in. Thankfully the Galaxy S6 has a Samsung "Adaptive fast charger" in the box. Whether you lost it over the years, or just want extras, here's a selection of the best choices available. These will hold you over until the Galaxy S8 arrives.
Samsung OEM Fast Charger
Your best bet is to just buy a second Samsung Adaptive Fast Charger directly from Samsung themselves. This ensures you're getting the perfect charger made exactly for your smartphone. Samsung sells these on its own website, but they're currently on sale at Amazon. In fact, get a three pack and extra charging cords for $23
Buy it Now on Amazon (3-pack)