5 Reasons To Think Twice About Buying the Motorola Droid RAZR HD
Earlier today, Verizon finally slapped official release dates on its two latest high-end smartphones, the Motorola Droid RAZR HD and the Droid RAZR MAXX HD. And while many consumers might be eying the devices, there are a few reasons why interested parties might want to think twice about buying the Droid RAZR HD and the Droid RAZR MAXX HD for Verizon.
There is no denying the fact that the Droid RAZR HD and Droid RAZR MAXX HD are intriguing Android smartphones. They boast massive batteries, 2,500 mAh for the Droid RAZR HD and 3,300 mAh for the Droid RAZR MAXX HD. They have speedy dual-core processors. Capable cameras. And finally, they have large HD displays, something that has become a norm in the Android smartphone world.
However, while all of that is nice, there are some features that might make consumers, who might be set on picking one up on their October 18 release date, question whether the Motorola Droid RAZR HD and Droid RAZR MAXX HD are the right phones to buy on a new two-year contract.
Here are five reasons why you might want to think twice about buying the Droid RAZR HD or Droid RAZR MAXX HD.
Android 4.0 Ice Cream Sandwich
First and foremost, both of these devices will be arriving with a bit of a disadvantage. While devices like the Galaxy Note 2 will be arriving with Android 4.1 Jelly Bean out of the box, Motorola has for whatever reason chosen to launch both the Droid RAZR HD and Droid RAZR MAXX HD with Android 4.0 Ice Cream Sandwich on board.
Android 4.0 ICS, while good, is an aging operating system. Android 4.1 Jelly Bean has taken its place and it has already started arriving for some devices on the market. Jelly Bean, in our opinion, blows ICS out of the water.
And while Motorola has promised Android 4.1 Jelly Bean at some point after launch, it has not given a specific release date which means that it could be a month or several months before the update arrives.
Motorola promised Android 4.0 ICS for the Droid RAZR MAXX and Droid 4 in the weeks after their launches and it took around four months for the updates to arrive.
Something else to keep in mind is the fact that these phones have 1GB of RAM and dual-core processors. Motorola has had trouble with updates for devices with similar specifications. Case in point, the Droid RAZR and Droid RAZR MAXX ICS updates that were plagued with bugs.
It will want to ensure Jelly Bean is perfect and that could mean a long wait.
Update Track Record
Motorola is trying to clean up its Android update image. When it announced both devices, it revealed a new Android update program wherein if any devices released in 2011 and beyond didn't get Android 4.1 Jelly Bean, Motorola would credit owners with $100 towards a new Motorola phone. Problem is, it's not clear whether this promise along with a leadership change will actually be able to change anything.
In the past, Motorola has been extremely slow in getting its devices updated to the latest version of Android. In addition, it has made promises it wasn't able to keep. Examples include the delayed Droid Bionic ICS update and the cancellations of the Atrix 4G, Photon 4G and the Electifiy Android 4.0 updates.
Read: Motorola Promises Jelly Bean Updates for Droid RAZR, RAZR MAXX, Droid Bionic and More.
Adding to the problem is the fact that these devices are attached to Verizon's network. Verizon is notorious for its high-standards when it comes to testing Android updates and that means long waits for software.
We're not saying long waits and delays are in store for the Droid RAZR HD and Droid RAZR MAXX HD, but we're saying, given the manufacturer and carrier track records, they appear to be possibilities.
Bootloader
When Motorola finally announced a new bootloader program, Android enthusiasts rejoiced. The manufacturer had long kept its device locked down which not only prevented users from installing custom ROMs – which translates means leaked Android updates, but it also hindered the development community as a whole.
Motorola continues to add phones to its bootloader program but at this point, we aren't sure whether it will add the Droid RAZR HD and Droid RAZR MAXX HD. In fact, we highly doubt that it will which means that the bootloaders on these phones will be locked preventing owners from installing custom ROMs.
It's not Motorola's fault though, it's Verizon's. Verizon is strict about its bootloader policy and even phones like the Samsung Galaxy S III could not escape its wrath. So, the chances that the bootloaders are ever unlocked on these phones are slim.
Instead, those who want one will likely have to shell out a ton of money for a Droid RAZR HD Developer Edition that will probably cost somewhere around $650.
Nexus
Those looking to buy the Droid RAZR HD and Droid RAZR MAXX HD at launch will want to hold off, at least for a few weeks. That's because Google will be taking the wraps off of its new Nexus smartphone on a date heavily rumored to be October 29th. While it may not be the phone that you ultimately end up buying, it's certainly worth a look.
That's because the new Nexus phone, presumed to be from LG, might come with a new version of Android, a quad-core processor, a massive 4.7-inch HD display, and a cheap off-contract price tag.
Throw in the fact that it will have all of the benefits of a Nexus smartphone – fast updates, unlocked bootloader – and this rumored LG Nexus 4 smartphone is a phone worth waiting for.
But that's not all either.
There is still a distinct possibility that Motorola might release a Nexus smartphone. We know that it's interested in doing so, it has said so itself, and there are rumors that Google might be offering multiple Nexus devices this year.
A Motorola Droid RAZR Nexus could be one of them.
It's Motorola
Plain and simple, Motorola has absolutely screwed some of its customers with its smartphone launches. For instance, right after the Droid 2 launch, it launched the Droid 2 Global. Then, right after it launched the Droid Bionic to lots of fanfare, it revealed the Droid RAZR. Then, if that wasn't enough, it announced the Droid RAZR MAXX a few months after the Droid RAZR.
With CES coming up in January, Motorola could use the event as an opportunity to show off future devices, and maybe, even launch them.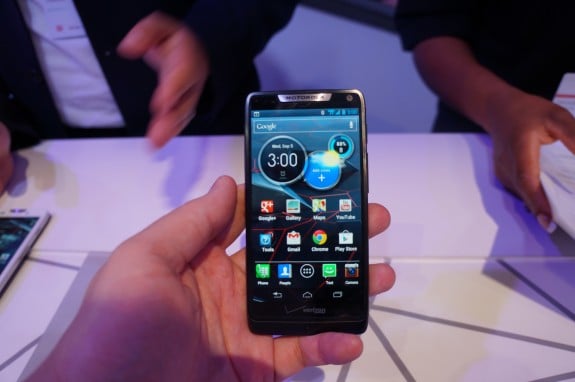 The company still hasn't proved its going to release one high-end smartphone per year like Samsung and the Galaxy S III, and until it proves otherwise, we could see the Droid RAZR HD and Droid RAZR MAXX HD trumped sooner than a year.
—
These are the reasons that I would stay away, at least for now. Anyone going to take the plunge on day one?

As an Amazon Associate I earn from qualifying purchases.