5 Reasons Why You Should Buy the Motorola Droid Bionic
The Motorola Droid Bionic is finally official and Verizon will be releasing it tomorrow, September 8th, for $299 on a new two-year contract. Many of you have been waiting for the entire duration of 2011 for this phone to arrive and now that it's finally here, you have a pretty big choice to make.
Do you throw down your cold hard cash for the Droid Bionic? Or do you wait?
Well, I've given some reasons why you might consider waiting but there are also some equally as good reasons as to why you should consider picking up the Motorola Droid Bionic right now.
Here they are.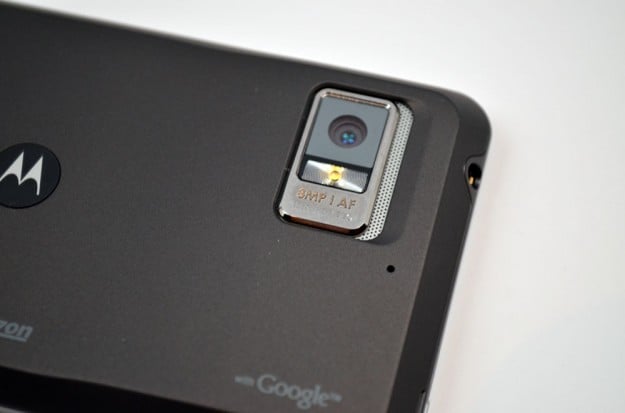 If You Want 4G LTE
If you have a full blown 4G LTE network in your neighborhood, the Motorola Droid Bionic is alone at the top of the 'Best 4G LTE Smartphones' list. By a mile. If you have been craving 4G LTE speeds for Netflix and web browsing, this is the phone that you're going to want to pick up.
Yes, it's expensive, but I guarantee you have a better experience using this phone then you will with any of the other offerings that Verizon has right now.
Yeah, the HTC ThunderBolt and Samsung Droid Charge are cheap at the moment, but you will regret buying these a year from now.
The Form Factor
The Droid Bionic is a lightweight device even with its massive battery and it also feels absolutely fantastic to hold.  Oh, and I should also mention that it's noticeably thinner than the Samsung Droid Charge. It's just a hair thicker than the Motorola Droid X2 which has a design that I absolutely love but doesn't have a nearly as big a battery as the Bionic or the 4G LTE speeds.
In other words, the delay of the Droid Bionic worked wonders for this device. Moto was able to pack a ton into a fantastic, durable design which is something that should make the expensive price tag a little easier to swallow.
After all, no one wants a phone that isn't going to be able withstand the normal physical punishment that a smartphone tends to endure.
It Will Last
Unlike the other 4G LTE smartphones on the market, the Droid Bionic is a smartphone that is built to last. It also has a ton of RAM (1GB), a speedy dual-core processor, a high resolution screen, and 4G LTE capabilities. All of those mean that this phone is going to be serving you well two years down the road when your new or renewed contract expires.
No sense buying a phone that is going to fail you a month or two down the road.
Buy for the future.
Great Battery Life (For An LTE Smartphone)
One of the biggest gripes about 4G LTE and the smartphones not called Droid Bionic was that they possessed terrible battery life. Well, we speculated that the delay behind the Droid Bionic had to do with ensuring the device had great battery life and it appears that Motorola was very successful in making sure that the Bionic could withstand the rigors of daily use on Verizon's 4G LTE network.
It won't be as good as a 3G smartphone but it will do the job well enough where you won't have to be running back to charge the Droid Bionic every five seconds.
Personally, great battery life is the number one thing I look for in a phone – one reason why I love the iPhone – and the Droid Bionic does this well for a phone with these specs on a next-gen mobile network.
Tons of Accessories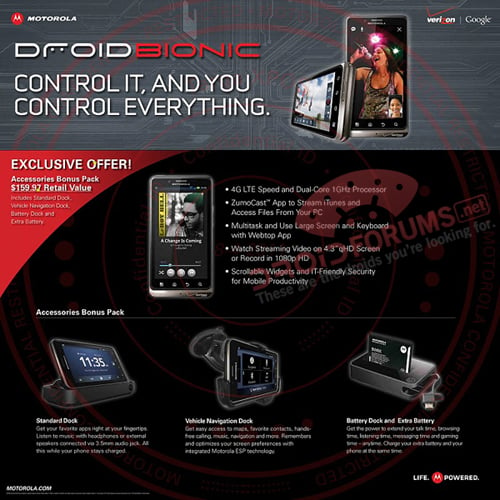 And lastly, the Motorola Droid Bionic is a phone that has a ton of accessories coming with it. This isn't just your ordinary phone. Verizon has absolutely piled on the gear for this beast and the most unique accessory for the Droid Bionic is surely its $300 Lapdock which transforms the phone into a laptop akin to the Motorola Atrix 4G. Only, the Atrix 4G isn't a 4G LTE phone which makes this even more attractive for the Droid Bionic.
We've also got a Wireless Charging Battery Cover for (sort of) wireless charging, a Battery Dock that can charge your phone and a spare battery at the same time, a Vehicle Navigation dock for the car, an HD Station for accessing the webtop application when docked, and an Adapter for Webtop Application which should be a less expensive way to access the webtop application. $300 for the Lapdock isn't cheap for most people.
So there is no shortage of accessories here and all of them enhance the power of the Droid Bionic in some way.
Not many Android phones have as many accessory choices as the Bionic.

As an Amazon Associate I earn from qualifying purchases.