5 Samsung Galaxy Note 2 Features You'll Actually Care About
Today at IFA 2012, Samsung finally unveiled its new 5.5-inch phablet, the Samsung Galaxy Note 2. The Galaxy Note 2 will replace the company's original 5.3-inch Galaxy Note when it arrives in October and in the United States later this year.
At Samsung's Unpacked event, the company went over lots of features that will be coming aboard the Samsung Galaxy Note 2. From its new 5.5-inch display, to its quad-core processor, to its 2GB of RAM and finally to its 8MP rear camera and 1.9MP camera, the Galaxy Note 2 features some tantalizing specifications.
While those are all great features, we feel like they aren't at the top of the list in terms of what we think consumers will truly care about. That being said, here are five features from the Galaxy Note 2 that we think that prospective Galaxy Note 2 customers should really care about.
Read: Samsung Galaxy Note 2 Release Date, U.S. Carriers and Price Predictions.
Android 4.1 Jelly Bean
While initially we thought Samsung was going to go the route of the Galaxy Note 10.1 and release the Galaxy Note 2 with Android 4.0 Ice Cream Sandwich, the company instead decided to put Android 4.1 Jelly Bean on board, the likely reason why it's not going to launch until October in Europe and in the U.S. later this year.
However, Android 4.1 Jelly Bean will be well worth the wait as it's a vast improvement over Android 4.0 Ice Cream Sandwich.
To start, Jelly Bean features a host of new features including Google Now, offline Voice dictation, an improved Gmail application, new camera settings, more Face Unlock functionality, and a whole lot more.
In addition, Galaxy Note 2 owners will appreciate and love the new user interface that is both quicker and smoother than the one found in Android 4.0 Ice Cream Sandwich.
Samsung Galaxy Note 2 owners will also appreciate not having to wait for Samsung to bring the Galaxy Note 2 up to speed with Android 4.1 Jelly Bean, much like its doing for Galaxy S III and Galaxy Note 10.1 owners.
4G LTE Data Speeds
Armed with its tablet-sized screen, its smartphone functionality and its S-Pen stylus, the Galaxy Note 2 is the ultimate companion for folks who are on the go. However, something needs to power those phone calls and that data and fortunately, the Galaxy Note 2 has the power of 4G LTE connectivity behind it.
4G LTE is quickly becoming the new cellular standard. It offers data speeds that are up to 10 times faster than those found on normal 3G which allows for smoother streaming of video, faster downloads, and a better overall mobile experience when Wi-Fi is not available.
AT&T, Sprint and Verizon all have high-speed 4G LTE networks in place and T-Mobile will have its network up and running in 2013.
New S-Pen Functionality
The old Galaxy Note's S-Pen has been redesigned for the Galaxy Note 2 and it comes with a host of new features that should delight those who wish to take full advantage of the Galaxy Note 2's different screen inputs.
The Galaxy Note 2's S-Pen stylus is now both taller and thicker than the original while also boasting a new rubber tip. And while the design looks improved, its the new S-Pen features that future Galaxy Note 2 owners should care about.
Samsung has included a new feature called Quick Commands that easily lets Galaxy Note 2 users access a collection of commands by simply holding down the button of the S Pen and swiping up.
From there, a box will open up allowing Galaxy Note 2 owners to write a command to open email or contacts for instance.
In addition, the S-Pen now comes with two other new features including AirView and Pop Up Note. AirView is a way to view information without actually opening any content. Users can simply use the S-Pen to hover over something like a date in the S Planner for example and see all of the events for that day.
As for Pop Up Note, users will be able to open a small S Note window by just taking the S Pen out. Samsung used the example of taking notes while on a phone call though we expect that the feature will be available in other instances as well.
Massive Battery
One of the issues many people had with the original Galaxy Note was its battery life. It was decent, but it wasn't good. Samsung heard the pleas from Note owners though and decided to pack a massive battery inside the Galaxy Note 2, even managing to slim down the design in the process.
The Galaxy Note 2 will sport a massive 3,100 mAh battery. That's a little less than the 3,300 mAh battery found in the Droid RAZR MAXX, but still one of the biggest batteries ever to come inside a smartphone.
This means that it will be able to provide ample talk time and adequate battery life for tasks being done while away from the house. It may not offer true all day battery life but it will be substantial nonetheless.
16:9 Aspect Ratio
At the event, Samsung focused on the size of the Galaxy Note 2 display (5.5-inches) and its resolution which is 1280×720. Samsung only briefly touched over the 16:9 aspect ratio which we think is something that those looking into the Galaxy Note 2 will really like.
The Galaxy Note 2's 16:9 aspect ratio is going to make movie watching on the Galaxy Note 2 a fantastic experience. It's a widescreen format and it will allow for Galaxy Note 2 owners to view a much bigger picture then they are used to.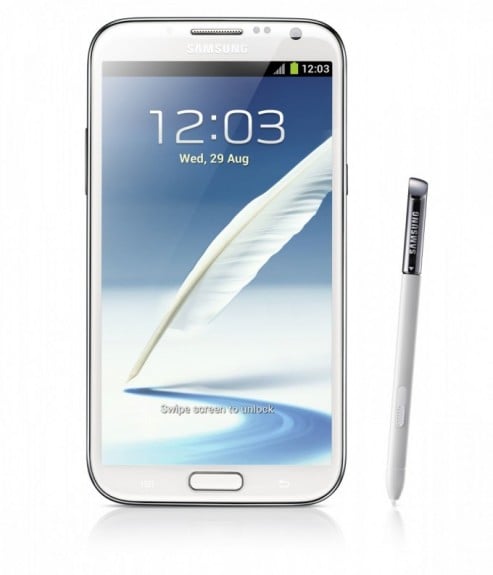 Often times, devices that don't have this ratio – say for instance, Apple's iPad – will display black bars when content is encoded in 16:9. A device like that the Galaxy Note 2 which sports this ratio will not only see smaller black bars when its displaying content but the picture should be much crisper and nicer to look at.