5 Thoughts on the HTC Rezound Ice Cream Sandwich Update
So, the worst nightmare of HTC Rezound owners has been realized. HTC and Verizon have missed the promised roll out window for the HTC Rezound Ice Cream Sandwich update, leaving owners wondering when the update will be rolling out.
HTC had imposed a July deadline on the Rezound's Ice Cream Sandwich update and here we are, in August, without a Rezound ICS update.
Worse, the companies involved, which includes Verizon, have yet to say anything about why the update was delayed and when owners should expect it.
Read: HTC Rezound Ice Cream Sandwich Update Misses Deadline.
We have heard that today might actually be the day that the software rolls out, this according to someone who apparently talked to Verizon corporate, but we can't confirm this yet. So, that means that the HTC Rezound Ice Cream Sandwich update remains a mystery and will continue to be one until someone announces something.
That being said, this mystery, like those of the HTC ThunderBolt ICS update and the Galaxy Nexus Android 4.1 Jelly Bean update, has got me thinking.
So here are five thoughts on the HTC Rezound Ice Cream Sandwich update.
It'll Be Out Soon
I think the HTC Rezound ICS update will be out soon. Maybe today, maybe tomorrow, maybe sometime this weekend. I can't say for sure, but the fact that HTC and Verizon missed the deadline without saying anything leads me to believe that something is close.
Why is that? Simple. If it were going to be delayed for awhile, I think we would have heard from one of them. I think they would have said, "Hey, we're working hard on this update but it's going to take until the end of August." I don't think either one of them wants to go a whole month listening to the frustration from Rezound owners.
A few days is more doable.
And I Bet It's Relatively Bug Free
If I had to guess, I'd say that the reason that the software missed its deadline is because HTC and Verizon are still ironing out bugs. Both companies likely wanted to make sure that the software was more stable than the Droid RAZR and Droid RAZR MAXX ICS updates that were released at the deadline, filled with bugs.
Yes, they missed the deadline but hopefully it's because they are trying to get this software as bug free as possible.
Imagine the backlash if they missed the deadline AND release software riddled with issues.
Don't Make Promises You Can't Keep
HTC is zero for two over the last few weeks when it comes to Android 4.0 Ice Cream Sandwich promises. First, it struck out with the HTC Desire HD ICS update that it promised for 2012 but ultimately cancelled.
And now, it missed the HTC Rezound ICS deadline.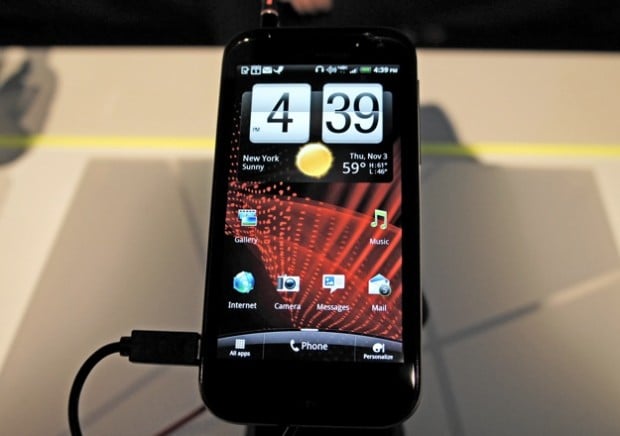 It's also rumored to be in danger of leaving ICS off of the HTC ThunderBolt, another one of its Android devices that was promised Android 4.0 Ice Cream Sandwich.
I know companies like HTC want to please their customers but don't make a promise you can't keep. Don't announce an update or a release window when there is even a sliver of doubt.
Customers are happy when companies keep their word.
Don't Expect Android 4.1 Jelly Bean
At this point, it's clear that the HTC Rezound ICS update has an issue or issues. Maybe it's bugs, maybe it's how the software runs on the device. I don't know. But those issues likely wont make HTC and Verizon keen on working on an Android 4.1 Jelly Bean update for the HTC Rezound.
I'm not saying it won't happen, the Rezound has powerful hardware, but I could definitely see the companies taking a pass in favor of upgrading and releasing newer devices.
So at this point, don't expect Android 4.1 Jelly Bean to arrive. That way, when and if it does, it'll be a nice surprise.
When Will This End?
I honestly wonder when this Android upgrade nonsense will end. If it will ever end. The Android PDK should help manufacturers become quicker at getting out Android updates but ultimately, it's up to the carriers to push out the upgrades and clearly, American carriers haven't figured it out.
Until they do, this cycle of promised upgrades and missed deadlines and frustrated owners will continue. Hopefully, companies learn some lessons from the HTC Rezound ICS mess and apply it to the Android 4.1 Jelly Bean upgrade.
I am not optimistic.

As an Amazon Associate I earn from qualifying purchases.