5 Thoughts on the Verizon Galaxy Note 2 Release Date
Yesterday, the Verizon Galaxy Note 2 went up for pre-order, right alongside the AT&T Galaxy Note 2. However, unlike the AT&T Galaxy Note 2, Verizon didn't bestow any kind of a release date for its device, only saying that it would be launching at some point in the coming weeks. Not the best of situations to be sure and one that certainly has Verizon customers, myself included, on edge.
Read: Samsung Galaxy Note 2: AT&T to Verizon – Which U.S. Carrier is Best?.
The Samsung Galaxy Note 2 is one of the most anticipated devices left in Verizon's 2012 arsenal, and one that we like so much, that we included in the 5 Best Verizon Phones for November. It boasts a massive 5.5-inch HD display, sports a S-Pen stylus that offers some unique capabilities, powerful multitasking, a speedy quad-core processor, good cameras, and it runs Android 4.1 Jelly Bean out of the box.
It's also going to be running on Verizon's 4G LTE network, the largest in the country by a long shot. Needless to say, it's a highly anticipated device and one that folks were hoping to get their hands on soon after its October 24th launch.
Read: 8 Ways the Samsung Galaxy Note 2 Beats the iPhone 5.
That unfortunately didn't pan out and now folks are wondering when it might be released. Currently November 29th is the rumored Verizon Galaxy Note 2 release date but that's still unconfirmed. We also know that it's supposed to be shipping out by November 27th to those that pre-order. It's a bewildering launch and one that I have been thinking about a lot lately.
Here are my thoughts.
Really, Verizon?
Frankly, this whole situation stinks. It would have been a little easier to swallow had Verizon gone the AT&T route and announced an upcoming release date but the fact that Verizon didn't say anything specific is a bit disheartening. "Coming weeks" will allow the carrier to pretty much do whatever it wants in terms of the device's release date.
Read: Verizon Galaxy Note 2 Release Date Looks Good for November 29th.
If it doesn't think November 29th is good enough, it could move it. Back or forward. Obviously, we're hoping for the latter but there is always a chance that we could see it launch in December.
Verizon should never have left that window open. It should have said November. Better yet, it should have given a specific date like the rest of the U.S. carriers. Yes, people will buy the Verizon Galaxy Note 2, but I think there will definitely be some people that look elsewhere because of the lack of information and the lengthy wait.
I'm one of them.
November Release
That being said, I don't think Verizon will release the phone in a month outside of November. Yeah, we may have to wait until the end of the month, but there is just no way that the carrier launches this phone in December, after Black Friday and long after all of the other carriers have launched the device.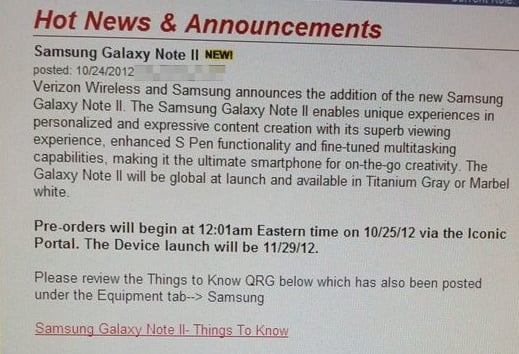 November 29th is what we heard before the leak surfaced and that's the date that's looking extremely likely. We expect Verizon to some how work this phone into a Black Friday offer but what that offer might be remains a mystery at this point.
Massive Launch?
If I had to guess, I'd say that Verizon might be gearing up for some kind of massive launch at the end of November. Remember, we've heard that the Droid Incredible X aka HTC DLX aka Droid DNA might be launching around Thanksgiving and it could be that Verizon is going to pull off some kind of massive launch that features both of these, maybe even Windows Phone 8 as well.
The HTC DLX is a phone that is rumored to sport a 5-inch display that quite possibly will offer 1080 resolution, making it an enticing phone to say the least.
Read: Verizon HTC DLX Rumors: Release Date, Price & Name.
The launch would certainly match up well with the kick off of the holiday shopping season so it could be that this is why Verizon decided to wait this long to release the Galaxy Note 2.
If that's true, that could be a huge splash. Well, that is if potential Galaxy Note 2 customers haven't bought other devices already.
In the Meantime…
Hopefully, in between the pre-order date and the launch of the phone, Verizon decides to have a change of heart and release a Galaxy Note 2 that not only doesn't feature a ridiculous carrier-branded home button but an unlocked bootloader as well so that customers can customize to their hearts content.
I think both are probably out of the question, but a guy can dream, can't he?
It Will Still Sell Well
Even with all of this madness surrounding its release date, the Verizon Galaxy Note 2 is still going to be the device that many, many people pick up over the other four options from AT&T, Sprint, U.S. Cellular and T-Mobile.
Verizon offers the largest 4G LTE network, good customer service, dependable service (read: few dropped calls) and the same $299.99 price point that the others, minus T-Mobile, will be offering.
It's the Galaxy Note 2 that many people will buy, lengthy wait or not.

As an Amazon Associate I earn from qualifying purchases.