5 Ways the iPhone 6 Could Beat the Galaxy Note 4
With an iPhone 6 launch date all but confirmed for September 9th, an iPhone 6 release date rumored for September, and a Samsung Galaxy Note 4 release confirmed for October, consumers are starting to weigh their options. With that in mind, we take a look at some ways the iPhone 6 could beat the Samsung Galaxy Note 4.
All year we've been hearing about two top smartphones set for arrival this fall. One, the Samsung Galaxy Note 4, a successor to the Galaxy Note 3. The other, the iPhone 6, a successor to the iPhone 5s. After months of rumors, we've finally closed in on both the iPhone 6 release and the Galaxy Note 4 release, the latter of which is confirmed to be just a few short weeks away.
Today, Samsung took the stage and announced the Galaxy Note 4, its all new Galaxy Note that's set to join the Galaxy S5 in October. As expected, the Galaxy Note 4 arrives with a number of high-powered specifications including a 5.7-inch Quad HD display, speedy quad-core processor, 16MP camera with Optical Image Stabilization, 32GB of storage, Android 4.4.4 KitKat, an improved S Pen, and more.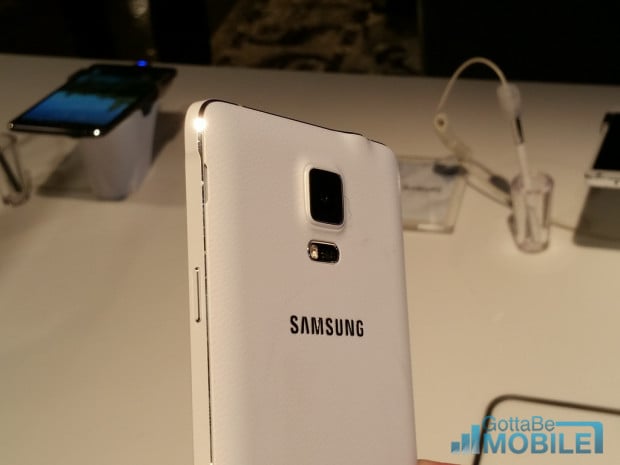 Samsung struck first but Apple is expected to strike next as the company has scheduled a media event for September 9th wherein the company is expected to debut the all new iPhone 6. The iPhone 6 release, like the Galaxy Note 4 release, has been rumored for nearly a year and it's clear that we're closer than ever to Apple's iPhone 5s successor.
With the Galaxy Note 4 specs now confirmed and iPhone 6 rumors firmed up, we want to take a close look at how these two flagships might compare. We've already taken a look at 10 ways the Galaxy Note 4 could beat out the iPhone 6 and now, we want to reverse gears and take a look at five ways the rumored iPhone 6 could beat out the Galaxy Note 4.
These expectations are based on the most credible iPhone 6 rumors we have in our possession though we caution that the iPhone 6 is still very much a rumored smartphone.
Build Quality
iPhone 6 design leaks have been rampant in recent months and they seemingly all point to a redesign. That redesign is expected to include a number of fine details with its build quality expected to be one of the key selling points.
Leaks point to a all-metal iPhone 6 design that actually includes more metal than the iPhone 5s. It's a premium look, and build, and one that could benefit from sapphire material in the front for added protection against scratches.
In addition to using premium build materials, it looks like the iPhone 6 will be extremely slim (rumors point to it being 7mm thin) with a form factor that's easy to hold with one hand and store away in a pocket. This is important because the iPhone 6 is expected to feature two large screen sizes including one that could match the Galaxy Note 4.
Samsung's Galaxy Note 4 design is improved over the Galaxy Note 3's and it features a textured back with metal around the edges. The metal is a nice touch but it's no match for an all aluminum design that's thin, durable, and easy to use with one hand.
To put this all into perspective, here's how the dimensions might stack up:
Galaxy Note 4: 153.5 x 78.6 x 8.5mm, 176g
4.7-inch iPhone 6: 138 x 66 x 6.9mm (Rumored)
5.5-inch iPhone 6: 158 x 78 x 7.1mm (Rumored)
Display Size Options
And this leads us into our next point. The Samsung Galaxy Note 4 comes with a beautiful and spacious 5.7-inch Quad HD display. And while it's both spacious and beautiful, it's the only option that consumers will have. That is, unless you count the Galaxy Note Edge, the gimmicky looking Galaxy Note that comes with a curved display.
The iPhone 6 will rumored to be coming in two new sizes, 4.7-inches and 5.5-inches. Both are larger than the 4-inch Retina Display on the iPhone 5s and the iPhone 5. These new displays are expected to feature high-resolution with a widescreen aspect ratio that's perfect for watching television shows, movies and content online.
Now, what's important here is that both of these options are expected to feature high-powered specs. This probably won't be a repeat of the iPhone 5s and the plastic iPhone 5c. They're rumored to feature a new camera, processor, and more.
In other words, consumers could have two iPhone 6 options to choose from as opposed to one. The Galaxy Note 4 comes in on size only. Those looking for something smaller will be forced to look at the 5.1-inch Galaxy S5, a device that doesn't come with the same bells and whistles.
Fingerprint Sensor
Samsung's Galaxy S5 features a number of big time features including a fingerprint sensor baked into its home button. The feature arrived just months after Apple put a fingerprint sensor of its own inside of the iPhone 5s' home button. And while the inclusion of a Synaptics fingerprint sensor brought added security to owners of the Samsung Galaxy S5, the Galaxy S5's fingerprint sensor was, and still is, far from perfect.
Here's what we said about the Galaxy S5′s fingerprint sensor in our full Galaxy S5 review:
The home button includes a fingerprint scanner that can unlock the phone, but it is not as reliable as the iPhone 5s' Touch ID feature and I stopped using it after two weeks. You need to slide a finger across it just right, which leads to many failed attempts.
So why are we mentioning this? Well, we're mentioning it because the Galaxy Note 4 comes with the same fingerprint sensor. Samsung's swipe-based fingerprint sensor is difficult to use with one hand which makes it far more inconvenient than the iPhone 5s' Touch ID fingerprint sensor that requires users to put their thumb on the home button.
Apple's brand new iPhone 6 is rumored to have an improved version of Touch ID, something that could potentially put the Samsung Galaxy Note 4 at a disadvantage.
Software Support
While Android software support is getting better, Android manufacturers still aren't able to provide what Apple provides. Take Samsung's Android 4.4 KitKat roll out for example.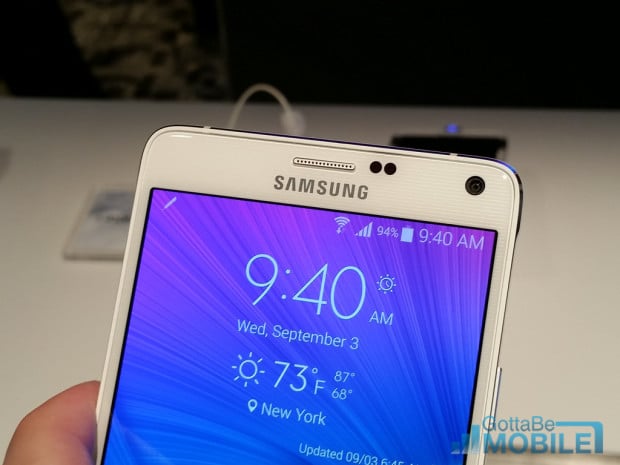 Android 4.4.2 KitKat was first released by Google in November of last year. Samsung started rolling out its first Android 4.4.2 KitKat update to the Galaxy Note 3 in January. That update is still hitting devices right now, in September. Samsung is also still pushing out Android 4.4.2 KitKat to a number of other devices including the Galaxy S4.
In June, Google pushed out Android 4.4.3 KitKat and Android 4.4.4 KitKat to tackle bugs that had been lingering on Android 4.4.2 KitKat for many months. Galaxy users of all shapes and sizes have been complaining about Android 4.4 KitKat problems for months. It's now September and Samsung is just now getting around to rolling out Android 4.4.4 KitKat to the Galaxy S5. We still haven't heard about bug fixes for other devices.
Samsung is known for killing software support after 24 months or so. This falls in line with Google's recommended 18 months of Android software support. None of this is in line with what Apple offers for the iPhone.
Apple typically offers at least three years of iOS software support to its mobile devices. This is important because it allows consumers to buy the iPhone with confidence. It also allows users to keep the device beyond the duration of a two year contract.
What's more is that Apple's bug fixes come much quicker than Android bug fix updates. Android bug fix releases are littered with red tape while Apple is able to push them out quickly and efficiently. The iPhone 6 should continue this tradition.
Carriers
We now know that the Samsung Galaxy Note 4 will be limited to the five major carriers in the United States. This fall, the Galaxy Note 4 will arrive on AT&T, Sprint, T-Mobile, U.S. Cellular, and Verizon. For a flagship smartphone, that's extremely limited. Most flagship smartphones, Galaxy S5 included, arrive for a number of pre-paid and regional carriers as well.
We know that Sprint and other U.S. carriers are prepping for the iPhone 6 release date. We also know that Apple's iPhones typically come to a wide swath of American carriers including destinations like C Spire Wireless, Bluegrass Wireless, and others. While nothing is confirmed, we expect the iPhone 6 to debut on a large number of carriers not just in the United States but abroad as well.
Choice is absolutely huge these days with network speeds and data speeds mirroring one another so this could be a huge advantage for the iPhone 6 when it arrives later this year.

This article may contain affiliate links. Click here for more details.