$50 Off Nook Color Via Barnes & Noble's Official eBay Channel
The Nook Color was launched as Barnes & Noble's push into the color space with an Android-based e-reader touchscreen tablet, but the device has gained more versatile uses thanks to an enterprising developer community, including root access, Android 3.0 Honeycomb port, and the ability to run apps from Android Market, which was restricted by Barnes & Noble at launch. For $250, the Nook Color was seen as an affordable Android tablet, but now Barnes & Noble is offering $50 off the price, bringing a capable Android 3.0 Honeycomb tablet–via rooting–the the masses to a mere $200 on the company's official eBay channel.
To get the discount, enter the coupon code CBARNESDD.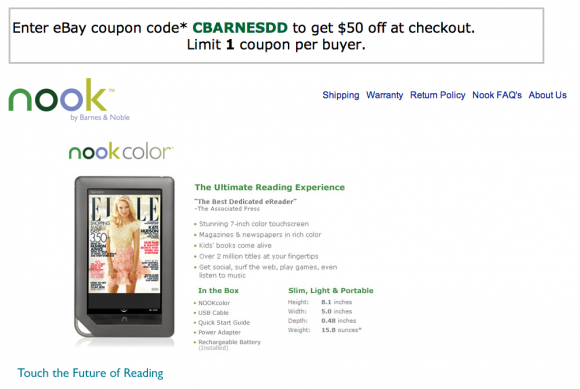 Despite having an underlying Android 2.1 operating system–and a promised to Android 2.2–Barnes & Noble had essentially locked down the Nook Color at retail sales to include their beautiful custom user interface that's centered around reading. You'll barely find traces of Android on the system and users of the Nook Color cannot install third-party apps as Barnes & Noble wants to define their Android tablet as a tablet for the reading experience. However, with rooting, users are able to gain Android Market access to install and download third-party apps, potentially even running the rival Amazon Kindle and Borders eBook apps on the device as well for access to more storefronts. Since then, users have even ported the latest Android 3.0 Honeycomb tablet OS, which Google says has been designed and rebuilt from the ground up for tablets and had debuted on the Motorola Xoom. At $200-$250, the Nook Color is significantly cheaper than the Xoom, though the Nook Color is WiFi-only and lacks mobile broadband 3G or 4G access.
Via: Android Central

As an Amazon Associate I earn from qualifying purchases.