6 Ways the Samsung Galaxy Note 2 Beats the Nexus 4
In just a few short weeks, both the Nexus 4 and the Samsung Galaxy Note 2 will complete their launches in the United States. And come November, both devices will be pitted against each other in a battle for consumers this holiday season.
The Samsung Galaxy Note 2, a 5.5-inch phablet that marries features of a tablet with the features of a smartphone. The Nexus 4, Google's latest Nexus smartphone made, for the first time, by LG. Both, extremely attractive devices in their own right.
Read: 6 Ways the Nexus 4 Beats the Samsung Galaxy Note 2.
Each possesses some features that are different from the other and because of that, each beats the other some areas. Starting with the Samsung Galaxy Note 2, it is not a perfect device, but there are certainly several areas where the Galaxy Note 2 phablet beats Google's new Nexus 4. And those thinking about picking either one up should definitely think about the advantages the Galaxy Note 2 offers over the Nexus 4.
Read: iPhone 5 vs. Nexus 4.
That being said, here are six different ways that the Samsung Galaxy Note 2 beats the Nexus 4 from LG.
4G LTE
First, and maybe foremost, the Samsung Galaxy Note 2 is outfitted with a 4G LTE radio which allows it to work in conjunction with the 4G LTE networks of AT&T, Sprint, T-Mobile, U.S. Cellular and Verizon. T-Mobile's Galaxy Note 2 doesn't yet have 4G LTE capabilities but it will once T-Mobile decides to activate its dormant 4G LTE capabilities in 2013, probably with a software update.
What this all means is that the Galaxy Note 2 can get data speeds that can reach up to 10 times faster than 3G. The best way to describe it is like having Wi-Fi on the go. So that means streaming video, surfing the web and doing any kind of activity that requires data is as seamless as it would be on a home Wi-Fi network.
The Nexus 4 does not have 4G LTE capabilities. Instead, LG and Google shunned it in favor of HSPA+, which, while fast, is not as fast as 4G LTE.
In the video above, we can see AT&T's 4G LTE network besting T-Mobile's HSPA+ 42 network, the same network that the Nexus 4 will call home. The unlocked version of the Nexus 4 will also work on AT&T's HSPA+ 4G network but again, it's not as fast as 4G LTE.
Bigger Screen = Better for Video
Yes, the Nexus 4 display is 4.7-inches. That's pretty big for a smartphone. However, the Samsung Galaxy Note 2 takes it a notch up and offers a massive 5.5-inch HD display that offers widescreen support which makes it amazing for watching video on-the-go. Watching content like movies or television shows on-the-go is absolutely amazing on a device with this size display.
With widescreen support and the size, it also makes it a perfect device for sharing video. Two people can easily watch a movie on the Galaxy Note 2 while riding in the car or on an airplane.
The size of the display also means that it will be able to, unsurprisingly, display more content. That means more to consume with less time spent scrolling to find the content that users enjoy.
Amazing Multitasking
The Nexus 4, like the Samsung Galaxy Note 2, will feature a quad-core processor and 2GB of RAM. But, unlike the Samsung Galaxy Note 2, there aren't any unique on-board features that take advantage of the display size and that kind of powerful hardware.
Samsung's Galaxy Note 2 offers powerful multitasking including a feature called called split screen multitasking which allows users to run multiple apps at the same time, a feature that takes full advantage of not only the Galaxy Note 2′s 5.5-inch HD display but also the processing power of the device.
https://www.youtube.com/watch?feature=player_embedded&v=hOX3HYDwTCY
Galaxy Note 2 owners will be able to split the screen in half and on one side, have Facebook open, while on the other, be browsing the web. And thanks to the hardware, all of that is done flawlessly, without any lag.
In addition, the Galaxy Note 2 will be outfitted with a feature called Popup Video, a feature directly from Samsung, that allows users to open a video and move it around the screen, set it somewhere, and perform other tasks while it's still playing.
These multitasking features won't be found natively on the Nexus 4.
S-Pen
One of the unique features of the Samsung Galaxy Note 2 is the device's S-Pen, a stylus that benefits from some unique software that Samsung has included on the Galaxy Note 2.
Those familiar with the previous Galaxy Note will find that the Galaxy Note 2's S-Pen is much improved over the last version, featuring an ergonomic design which comfortably allows users to write and draw directly on the screen.
Beyond that though, there are some unique applications that are native to the Galaxy Note 2 and won't arrive for the Nexus 4 or any other Android device.
The Galaxy Note 2 features an S-Pen holder, so that users can easily store their S-Pen. Better yet, when a user takes the S-Pen out of the holder, the device will automatically open an S Pen menu where users will find a number of S-Pen specific apps.
Some of those applications include Air View which allows users to hover over things like e-mail, calendar or an image to get a preview of the content before actually having to open it, a feature called Easy Clip which lets users crop content on screen including images to save for later use, and finally, the ability to use the S-Pen to draw out Quick Commands for tasks like email.
These are powerful applications that won't become available on the Nexus 4.
Removable Battery
The Samsung Galaxy Note 2 sports a massive 3100 mAh battery, that rather conveniently, can be removed should the user choose to remove it. So, if at any point, the battery needs to be replaced or a user just decides to use a different battery, swapping the stock battery out for another one will be an extremely easy process.
The Nexus 4 does not possess this kind of luxury. The back of the Nexus 4 does not have a removable back which means that users are going to be stuck with the Nexus 4's 2100 mAh battery. So the Nexus 4 won't support any kind of upgrade and it will be difficult to replace should the battery go bad.
microSD Support
In addition to the battery limitations, the Nexus 4 doesn't feature a microSD card slot which means users are stuck with the on board storage. That means either 8GB or 16GB of space which, with increasing app sizes, can be difficult to manage.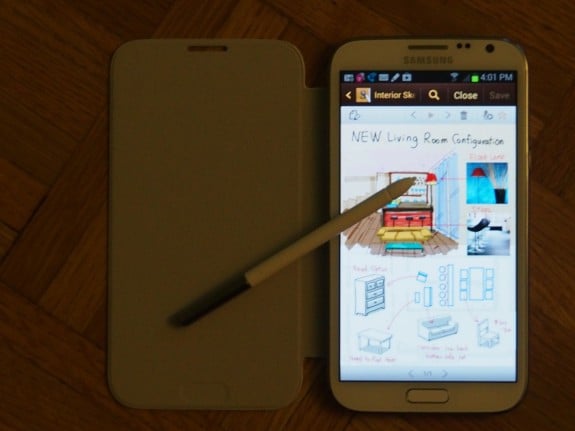 The Galaxy Note 2 features only 16GB of storage space in the U.S., at least for now, but it also features a microSD card slot. That means that users can buy up to a 32GB microSD card which will make the Galaxy Note 2 into a 48GB beast.
That means more space for apps, more room for games and movies and less reliance on the cloud.

As an Amazon Associate I earn from qualifying purchases.