6 Ways the Samsung Galaxy S4 Could Beat the HTC One
No smartphone is perfect as even the iPhone 5's and the Samsung Galaxy S4's of the world have their drawbacks. The same goes for the HTC One (HTC M7), HTC's newly announced smartphone that will be coming to the market to compete with the likes of the iPhone 5 and the Galaxy S4. We've already touched on the HTC One features that are worth caring about, now it's time to look at some of the perceived flaws of HTC's new device.
Read: 8 HTC One Features You'll Actually Care About.
The HTC One is HTC's brand new flagship smartphone for 2013. The device, which was rumored as far back as 2012, finally made its way to the stage at an event in New York City where HTC showed off the smartphone that it hopes will bring the company back to the place that it once was in the world of Android. Before the Samsung Galaxy S series took over.
On paper, the HTC One has all the components of a fantastic smartphone release. The device features a gorgeous 1080p display with 468-pixels-per-inch, best in class thus far. It comes with a quad-core processor as well to go with a 4-Ultrapixel camera capable of delivering gorgeous looking photos, a sleek metal design, front-facing speakers and high performance voice quality on calls.
The HTC One is also powered by Android 4.1 Jelly Bean and the new HTC Sense 5.0 which features a number of powerful additions including BlinkFeed and will be bringing a new look from previous versions of HTC Sense.
Despite all of those features though, the HTC One is indeed missing some components that smartphone buyers might covet. These perceived flaws which are both hardware and software in nature might not be deal breakers for some people but for others, they may be reason to pause before buying the HTC One when it arrives later this year. Or worse yet, a reason to not buy the HTC One at all and instead opt for another phone.
One of those options is the Samsung Galaxy S4, a device rumored for March and one that could best the HTC One in a number of areas, now that we know the HTC One's specifications.
Here now are six ways that the Samsung Galaxy S4 could beat the HTC One.
6 Ways the Samsung Galaxy S4 Could Beat the HTC One
Wireless Charging
The HTC Droid DNA, a high-end 1080p Android smartphone that arrived on Verizon back in November, included a feature that many smartphone buyers have been lusting after. Namely, built-in wireless charging.
For whatever reason, the HTC One isn't listed as having wireless charging support, and according to Droid-Life, a representative from HTC said that wireless charging is not in the HTC One and that it's a "Verizon thing."
This means that those who are looking to charge the device without wires may never be able to do so. One because the wireless charging isn't built in and two because the device doesn't have a removable back that can work with a wireless charging kit.
The Galaxy S4 will almost certainly have a wireless charging kit which means that it will likely have a removable back and removable battery as well.
Removable Battery
The HTC One utilizes a full metal design. Unfortunately, this means that the device does not feature a removable battery and instead, features an embedded one that that checks in at 2,300 mAh.
That's a decently sized battery for a smartphone of this caliber but because it's non-removable, it could be a deal-breaker for some buyers. That's because a non-removable battery means that uses won't be able to attach an extended battery onto the HTC One in order to give it more juice.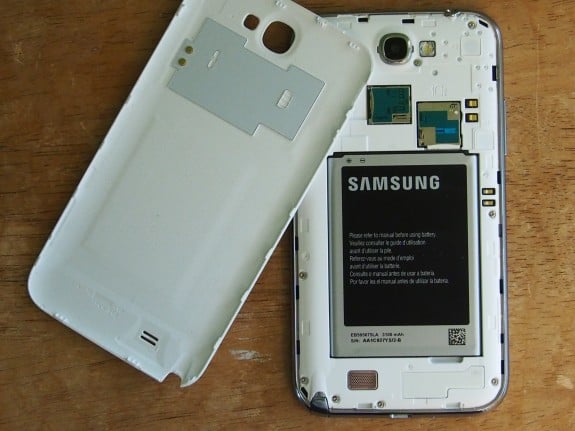 It also means that it will be much more difficult to replace if and when it goes bad. Instead of just taking off the back flap and installing a new battery, the process will be much more difficult.
Again, the Galaxy S4 will almost certainly come with a removable battery since rumors suggest Samsung will provide an official wireless battery kit.
MicroSD Slot
Indeed, the HTC One will be coming in both 32GB and 64GB variants which is going to be more than enough storage space for some users. But for those that wish to go beyond those limits, it won't be possible as the HTC One won't come with a microSD card slot.
What this means is that those who fill up the 32GB or 64GB of storage space, and there are people who will exceed this space, will need to start deleting content or becoming more reliant upon cloud storage.
This won't be as big of a problem as it was when the HTC One X arrived with its starting model containing 16GB of storage, but for those who eat up a lot of space with photos, videos and apps and who desire more space, it might be a turn off.
There is a reason why there have been rumors of 128GB smartphones. Some users simply need a ton of space or want to have the option to have more space.
Samsung is known for putting microSD card slots on its smartphones and we can't see the Galaxy S4 being any different, especially if it does keep a design similar to the Galaxy S3 as is rumored.
The company has been hard at work on perfecting and offering software so it's possible that it will offer a microSD card slot on its Galaxy S4 for power users.
Verizon at Launch
While there are rumors of an HTC One for Verizon, the carrier with the largest 4G LTE network in the land, the carrier did not emerge as a launch carrier today. Instead, AT&T, Sprint and T-Mobile will be the trio of big name U.S. carriers that house the HTC One when it arrives later this year.
Not having Verizon as an option is a big deal. For one, Verizon's 4G LTE network is the most attractive with its 400+ 4G LTE markets across the United States. That dwarfs the networks of AT&T, Sprint and T-Mobile by a long shot with AT&T boasting under 200 markets at the moment.
Verizon also consistently is rated at the top in terms of network reliability and customer service making it an enticing destination for those that have had issues elsewhere.
Furthermore, Verizon customers who may have wanted to keep their unlimited data plan by buying the HTC One at an unsubsidized price can't do that.
There is talk of a Verizon HTC One, but it likely won't arrive until after the Samsung Galaxy S4 and quite possibly the iPhone 5S as well. Speaking of that, there is word of a Galaxy S4 on Verizon already.
This could mean that the HTC One has to compete not only against the Galaxy S4 on AT&T, Sprint and T-Mobile, where it will also likely end up, but on Verizon and probably U.S. Cellular as well.
Software Updates
HTC and American carriers are notorious for delaying updates and being slower than competitors. For instance, while other carriers and regions have the HTC One X Jelly Bean update, the AT&T HTC One X is without it with no release date in sight.
HTC may try and change this in 2013, but based on its track record and the massive feature additions to Sense 5.0, updates could roll out much slower with the HTC One.
Samsung on the other hand has proven that it can deliver fast updates, even while delivering a host of new features. We saw it with the Android 4.1 Jelly Bean update which rolled out to U.S. models relatively quickly.
Android 4.2
Finally, the HTC One comes with Android 4.1 Jelly Bean which is not the latest version of Jelly Bean. For whatever reason, and maybe partially due to the development of HTC Sense 5, the HTC One is launching with Android 4.1.2 Jelly Bean, something that the company only briefly mentioned during the launch event.
Android 4.1 is a great operating system but it's also an aging one. Android 4.2 Jelly Bean has already replaced it and Android 5.0 Key Lime Pie may be on the way in May.
While it's certainly possible that HTC will skip Android 4.2 altogether, it's also entirely possible that it may need to roll out Android 4.2 first and then move to Android 5.0.
If that's true, Android 5.0 Key Lime Pie wouldn't likely roll out until much later in the year. The Samsung Galaxy S4 is expected to launch with Android 4.2 Jelly Bean on board which would give it a distinct advantage.
Those who don't wish to wait for the newest Android features will definitely want to factor that in when choosing whether to buy the HTC One.