7 Best Shark Week Apps for Fans
The Discovery channel is back on the attack with Shark Week 2014. An entire week of Jaws-filled fun and shark news to keep us all entertained and sitting in front of our TVs being reminded of what lies underneath the calm ocean surface.
If you're like many of us and can't get enough of Shark Week, below we've gathered an array of apps, games, and even a live wallpaper for your Android smartphones and tablets. Giving fans all the tools they'll need to keep up with Shark Week while on the go.
For the 27th year straight Shark Week is back for an entire week giving fans all the content they can handle. Many consider this the TV event of the summer (I'm waiting for a Breaking Bad spinoff myself) and if you want Shark Week apps and games to keep you busy while you're not at home, we have you covered.
Below you'll find plenty of educational content, addicting Shark games that have been popular on Android and iOS for years and years (including a rather new release) and a few other apps like Great White Shark tracking and more. You'll be able to get your Shark Week fix whether it's educational, gaming, or just casual fun while sitting back waiting for the next episode.
Discovery Channel App
The Discovery Channel will be showing shark related content all week long, as we've come to expect, but if you're out or on the go and want to tune in, they have an app for that. Sadly the Discovery Channel Android app isn't the best when it comes to live video playback, as it often is laggy and crashes for us, but they still offer tons of content.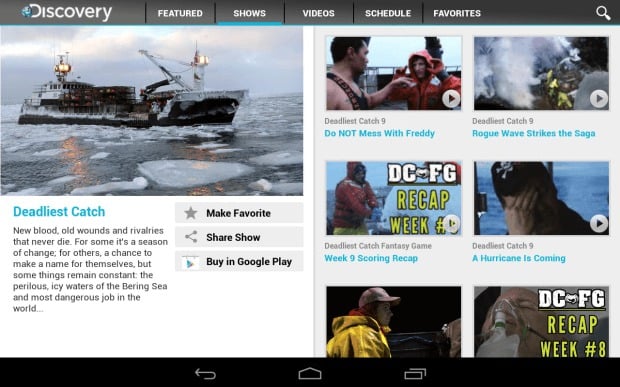 The Discovery Channel app is loaded with content, and will be focusing most of it around Shark Week for the next few days, as well as their usual content of Deadliest Catch, Sons of Guns and more. It has more than enough to keep you entertained, so give it a try. Discovery Channel App – Download
Hungry Shark Game
Hungry Shark is an extremely popular and addicting game that first debuted years ago on iOS, but has since released multiple versions across both Android and for the iPhone. The latest game, Hungry Shark Evolution is quite possibly their best yet. It offers stunning graphics, awesome gameplay, and it's plenty of fun.
It was one of the "Best Games of 2013" according to the Google Play Store, and you'll see why once you download it and give it a spin. You'll be controlling sharks, top secret robot sharks, and much more while patrolling the waters eating anything in your path. Whether that be humans, boats, or other fish in the sea. The Shark is the deadliest of them all, so watch out.
Hungry Shark Evolution is more than just an arcade game too. You can start as a little scary shark that eats small turtles and other sea animals and slowly grow into a huge 10 ton Great White Shark killing machine. Yup. You should probably download this app if you like Shark Week. Hungry Shark Evolution – Download
Sharks Live Wallpaper HDHQ
There are multiple low-quality Shark live wallpapers for Android, but this free option is the one you'll want. If you'd like to get into the Shark Week spirit by having Great Whites roaming the waters on your smartphone background, give this a try. Sharks Live Wallpaper HDHQ has bubbles floating around, and a few customization options.
There's also a Shark Aquarium HD app that isn't the best, but will have the sharks actually swimming in and out of your screens view for that eery feeling, if you're into that. Interactive Shark is another decent option. Try out Sharks Live Wallpaper – Download
Global Shark Tracker
As most shark fans probably know, many of these creatures have been tagged for tracking or science reasons, and lucky for us there's an app to track where they're all at. It's called the Global Shark Tracker, and you'll be able to check out nearby waters for fun, or before you head to the beach during a last minute summer vacation.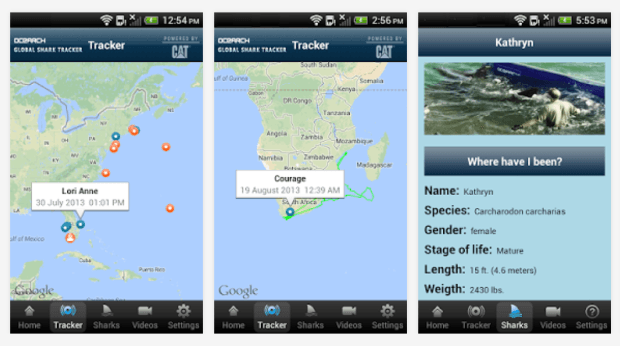 With this global tracker you can see each individual sharks name, type, and even their travel habits as they roam the huge ocean. They've all been tagged and given cute names for the purpose of shark conservation, but we get to enjoy the benefits too. Global Shark Tracker – Download
Shark Trivia
If you've been watching Shark Week for years and years and think you know plenty of information about these powerful creatures of the dark seas, test your knowledge with the Shark Trivia Android App.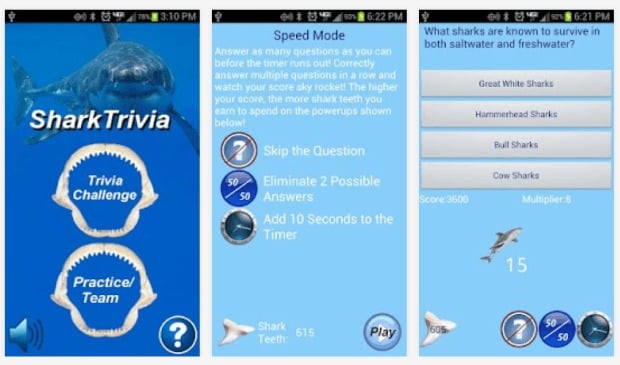 It features regular trivia mode, team and practice modes, and offers tons of tough questions for the Shark fan in you. Sadly the app hasn't been updated since just before Shark Week 2013, but it's still plenty of fun for those interested. Shark Trivia – Download
Shark Escape
We have one more game worth checking out called Shark Escape. This is an endless runner type game similar to Temple Run, only it has a few twists, not to mention you're swimming away from hungry sharks.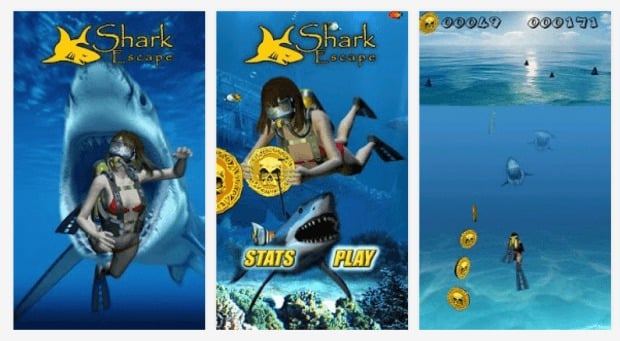 The graphics are fairly decent as you control the marine explorer Jane as she tries to swim for her life and collect coins along the way. It does have some cool sound effects, and may keep the kids entertained while you're busy watching Shark Week on TV. Shark Escape – Download
Shark Fingers 3D Game
Last but not least we have one more game for all you shark fans. This one is called Shark Fingers 3D Aquarium, and you'll be able to simply tap the screen to unleash some blood for the hungry sharks to hunt and attack. The graphics are decent, the game is free, and you can even upload custom backgrounds and make them attack anything you'd like.
Anything from a picture of your friends or kids to cover with blood and get attacked, to even Justin Bieber, the game has it all. Let these truly 3D sharks attack your fingers and have some fun. Shark Fingers 3D – Download
Much More
Of course users can always head to the Google Play Store, or get most of these apps for iOS, as each app store has hundreds and hundreds of shark-related apps that are all available or being updated specifically for Shark Week. Oh, and don't even get me started on Sharknado. That said, give all these apps a try, and enjoy one of the best weeks of Discovery Channel TV.

This article may contain affiliate links. Click here for more details.