7 Tips for HTC One Max Buyers
In just a few short days, HTC is expected to debut a brand new smartphone that will join the HTC One and the HTC One Mini. The device, currently known as the HTC One Max, looks like it will be a solid Samsung Galaxy Note 3 competitor. Better yet, it appears that it's headed to the United States. Here, ahead of its release, we offer some tips for those thinking about snagging it.
For weeks now, rumors have suggested that the Samsung Galaxy Note 3 won't be the only device this fall to arrive with a massive screen in tow. No, rumors suggest that HTC, one of Samsung's biggest rivals, is going to be delivering a brand new smartphone dubbed HTC One Max, a "max" version of its HTC One flagship that arrived earlier this year and remains one of the top options on the smartphone market.
The device appears to be aimed at taking on the Samsung Galaxy Note 3 in the phablet realm of smartphones, a realm where smartphone collides with tablet. It's a smartphone market that Samsung has long dominated and HTC is hoping to attract some of that market with its new big-screen smartphone. On paper, it looks like the HTC One Max will give the Galaxy Note 3 a run for its money. It's supposedly going to be coming with a 6-inch display with 1080p resolution, quad-core processor, Ultrapixel camera, Android 4.3 Jelly Bean and a new version of Sense dubbed Sense 5.5 that will, among other things, allow users to shut HTC BlinkFeed off.
The main attraction of course is going to be its sleek design that will be combined with a massive display. And rumor has it, the device will be heading to the United States at some point later this year, meaning, buyers have likely started to weigh the device as a potential option for themselves or for a loved one. Here, ahead of its rumored October 16th launch date, we offer some tips for those thinking about buying the big-screen HTC One Max.
Start Saving
The first thing that prospective HTC One Max buyers will want to do is start saving for the device. It doesn't look like the device will come with a stylus like the Galaxy Note 3, but that doesn't mean that the device is going to be cheap. At the very least, consumers should expect a $199.99 on-contract price tag, but we wouldn't be surprised if American carriers jack up the price a bit, maybe to $250 or possibly, even $300 to compete with the Galaxy Note 3. $300 seems a little out of the question but don't be shocked to see $250.
Large, high-resolution displays are not cheap to source which means that its 6-inch should only push HTC and carriers to look at upping the cost to offset the costs of the display and the other big name features that should come on board the final version of the device. Whether it's $199.99 or $299.99, consumers would be wise to start setting some money aside as the device's release date is likely just a few weeks away.
Many buyers will likely be tempted by accessories, particularly cases aimed at protecting the behemoth from harm when it leaves the house. Accessories cost money, so buyers will want to be prepared.
Plan for Major Carriers
Rumors suggest that the HTC One Max will be heading to Verizon at the very least, and very early on, we heard that AT&T and Sprint might be in the mix for the device as well. Only the Verizon branded model has leaked out thus far, but given AT&T's partnership with HTC and Sprint's need to stay competitive, we wouldn't be surprised to see it land on those two as well.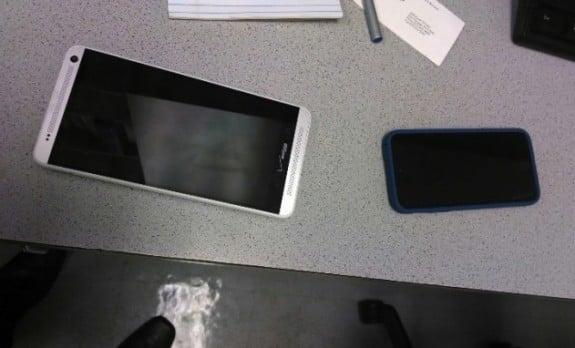 Beyond that, it's hard to say. T-Mobile is a possibility but we haven't heard anything that puts the HTC One Max on the UnCarrier's 4G LTE network. U.S. Cellular, the nation's fifth largest carrier, is in the same boat. HTC's One and HTC One mini were selective about their carriers and so we expect the HTC One Max to stick with a small selection of U.S. carriers.
This means that those who are holding out hope for a smaller regional or pre-paid carrier will want to temper expectations and plan on buying the HTC One Max through one of the major carriers as that may be the only place to do so.
Go Hands-on With the HTC One
Before settling on the HTC One Max, we highly suggest that prospective buyers go in and spend some hands on time with the HTC One, HTC's current flagship handset. Not only will it give buyers an idea about the HTC One Max's camera and its overall feel thanks to a similar design, it will also allow buyers to go hands-on with the HTC One's software which will likely share many of the features found on the HTC One Max.
The HTC One Max will be coming with Sense 5.5, a new version of HTC's UI, but from the looks of things, it will add features and won't change the overall look of HTC's software. So while there certainly will be some differences on board the HTC One Max, putting in some time with Sense 5 will not only allow users to decide if they like the overall feel of the software but also help to acclimate those who have never used a Sense-powered device before. It's a vastly different experience from say, a Nexus or a Samsung Galaxy smartphone.
Some love Sense, some hate it, and prospective HTC One Max buyers would be wise to figure out which camp they belong to before the HTC One Max arrives on shelves. Check out our HTC One reviews if heading down to a store isn't possible.
Check Out the Samsung Galaxy Note 3
We also advise those interested in the HTC One Max to go check out the Samsung Galaxy Note 3. The Galaxy Note 3 figures to be the HTC One Max's closest competitor and it, like the HTC One Max, is comprised of powerful hardware and software. The Galaxy Note 3 offers a number of differences including a bundled S Pen, a smaller display, a vastly different software than the Sense experience on the rumored HTC One Max. Like Sense, some love Samsung's TouchWiz UI, some hate it, and it's wise to get that sorted out ahead of time.
At the very least, getting some hands on time with the Samsung Galaxy Note 3 ahead of the HTC One Max's release will allow some owners to either keep the Galaxy Note 3 around as a possibility or strike the Galaxy Note 3 off of their shopping list and hone in on the HTC One Max as their next smartphone. It's always smart to check out the competition.
Nexus 5
The HTC One Max is going to launch later this month, possibly on October 16th. If true, it could be that the device launches a day after the Nexus 5 which is rumored to be arriving on October 15th. That date is not set in stone but it's possible. The Nexus 5 is going to be coming with powerful hardware including a 5-inch 1080p display, Snapdragon 800 processor, Android 4.4 KitKat, LTE, and an 8MP camera with OIS. It will likely come with a cheap unlocked price for AT&T. Sprint and T-Mobile.
If it doesn't emerge by the time the HTC One Max is out on shelves, wait for the Nexus 5 to compare it to the HTC One Max. If its out before the HTC One Max, go hands on with it as well as it has the potential to be one of the best and most affordable Android smartphones of all time. It's also likely to be the last big Android smartphone of the year.
Look at These Photos
Leaked photos often provide prospective buyers with an idea in regard to how the device will look. However, often times, they don't really tell the whole story. Fortunately, HTC One Max photos have told most of the story, including a big chapter: Size.
Buyers need to know that this phone is an absolute monstrosity. In the photo above, buyers can get an idea as to how large the HTC One Max actually is. It's 6-inch display is simply massive.
Another photo shows the device next to the Galaxy Note 3, which has a 5.7-inch display, and the Galaxy Note 3 looks small compared to the HTC One Max. This is a crucial piece to the buying process because buyers need to know just how big this smartphone is.
No Need to Order Early
Don't feel the need to order the HTC One Max early. Carriers may offer pre-orders but buyers won't need to place one in order to get this device when it's released on shelves. This isn't the iPhone 5s or the Galaxy Note 3. Even the Galaxy Note 3 didn't sell out. So buyers won't want to panic or invest any time in preparing for a hectic release date. The HTC One Max will be widely available from start to finish, we have no doubts about that.

This article may contain affiliate links. Click here for more details.