7-Inch Galaxy Tab Getting a Refresh This Fall?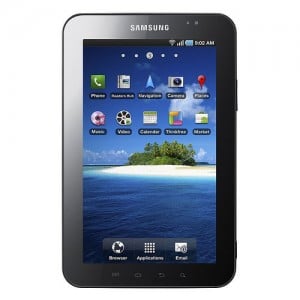 It looks like the original 7-inch Galaxy Tab may be getting a hardware refresh this fall to bring it in line with the rest of Samsung's tablet lineup and make the more portable form factor competitive against the Galaxy Tab 10.1 and 8.9.
Samsung was among one of the earlier companies with a tablet entry running on Google's Android operating system to compete against the Apple iPad. The company chose to release a 7-inch form factor last year since it was mire portable, highlighting that it was easier to carry. However, the original Galaxy Tab debuted with Android 2.2, a version of Android that was not tablet optimized and appeared to be a stretched out smartphone. Though the Galaxy Tab 7-inch was available on all four major U.S. carriers, the lack of a WiFi edition at the time of the tablet's debut made it one of the more expensive tablet options available on the market.
The refreshed 7-inch form factor would bear Samsung's new dual-core 1.2 GHz Exynos processr, and the device should have 1 GB RAM for multitasking along with 2 GB of ROM and 16 GB of internal memory. Like the 7-inch unit that's currently available, there will also be a memory card slot, which would be a departure from the fixed storage memory that's on the company's thin and light Galaxy Tab 10.1.
Video: original Galaxy Tab 7-inch
Rumors point out that the new 7-inch Tab will also get video and voice calling as well as the ability to send SMS and MMS. It's unclear if the calling features will make it to the U.S. as the 3G-enabled original 7-inch Tab was stripped of the phone features when the device hit the U.S. market; those features were still available on international editions of the 7-inch tablet.
Also, Samsung may also enable USB host capabilities through an adapter that plugs into the tablet's proprietary docking connector.
Unfortunately, though, as the original 7-inch Tab lacked a dedicated tablet UI that was afforded by Google's subsequent release of Android Honeycomb, it looks like the refreshed Tab will get Android Gingerbread, and not the tablet optimized Android 3.x operating system when it is speculated to get refreshed this fall.
Via: IntoMobile

As an Amazon Associate I earn from qualifying purchases.