7-Inch Xoom Coming By End of Year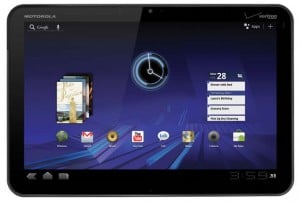 Motorola CEO Sanjay Jha hasn't been secretive about his love for the 7-inch form factor and the head of the Xoom-maker told an audience at the Morgan Stanley Technology, Media & Telecom Conference today that other Motorola tablets will be arriving on the market before the end of the year. While Jha wasn't explicit in mentioning a 7-inch form factor, given the CEO's prior statements about wanting to deliver a smaller slate Engadget postulates that a smaller Xoom may be hitting by the end of the year.
In terms of the smaller form factor, Jha has said that the size was both fun and portable in the past. He referred to the 10-inch form factor as being more for professionals.
Jha also says that he expects tablet prices to come down, which may stem from heightened competition in the market. Rival Apple had stated that it expects the market to be fiercely competitive as competitors will range from traditional PC-makers to smartphone manufacturers.
The Xoom, according to Jha, is doing pretty well: "sales have started relatively well."
Via: Engadget