7 iOS 7 Features Stolen From Android
As much of a revolution as iOS 7 is for Apple, it's still an OS that is created in the presence of competitors. And given that Android is one of Apple's toughest competitor to date in the mobile ecosystem space, no report of iOS 7's novel features would be complete without having a comparison between Apple's and Google's work. In this editorial, we'll examine 7 of the cool iOS 7 features that may have taken liberal inspiration from Android. And if you think about it, a comparison between Apple and Android makes sense given how much the former alleges that the later steals from it.
1. Call Management
Apple finally now allows users to block certain contacts from trying to contact you. Calls, FaceTime, and Messages all give users more fine tuned control, allowing users to blacklist certain contacts from ever reaching their phones. Got a friend who loves to SMS inappropriate messages? You can block messages from said friend. Don't want to hear from a frenemy anymore? Block their calls.
While the feature is very much novel on iOS, this one has been part of Android for some time. The latest Android flagships, Samsung's Galaxy S4 and HTC's One smartphones, all offer call management of some kind, though neither phones offer blocking at the system level for Google Hangouts or Google+ video calls.
Additionally, through jailbreaking apps, users have been able to block calls and SMS from unwanted contacts for a while now, though this method does void your warranty.
2. Cards-Based Multitasking View
Samsung leads the space with its Multi-View windows allowing for simultaneous multitasking on Android, but a cards-based multitasking view where you see a live preview of the apps and can flick it off the screen to close the app has been a part of Android and was most recently refined with Android 4.0. On many Android devices, you swipe left or right to close the app as apps are presented in a cards view that allows you to scroll vertically, like a list.
The previous generation of HTC's Sense UI, Sense 4.0, actually most closely resembles Apple's implementation of multitasking. Here, you're presented with a panoramic wide view of opened apps where you scroll left and right to see what's opened and in use. Swipe up and down to close. This is what Microsoft is doing as well on Windows Phone 8.
3. Control Center
Apple is touting quick access to some popular settings control as something that's novel and will improve the life of iPhone owners, but Android owners have enjoyed this feature for some time now. LG is doing on its proprietary user interface and Samsung has baked in a lot of these widgets and controls as part of its TouchWiz Nature UI. Whereas Apple allows you to swipe up from the bottom of the screen to access the widgets in Control Center, Samsung's widgets are built into the top drop-down Notifications bar.
I think Apple has a better design here as it opens up more space for the drop-down notification bar on iOS, which also by the way was inspired by Android. On Samsung's implementation, the widgets take up space on the notification drop-down, forcing users to scroll more if they have a long list of notifications awaiting them. At the end of the day, however, both offer similar functionality: a way to toggle settings quickly without having to dive into the settings menu.
4. Enhanced Sharing Options and Peer-to-Peer WiFi Sharing
Samsung's tried this. Samsung's done this. And now Apple's implementation of iOS's AirDrop, while fresh looking, is a tired idea. Though Samsung makes this nearly seamless thanks to NFC to enable WiFi Direct peer-to-peer sharing without having to enter in complicated passcodes through S Beam, Apple does essentially the same thing over a local peer-to-peer WiFi setup allowing nearby users to swap files, photos, and videos.
WiFi makes it more convenient to share larger files, like HD videos, according to Samsung, as it's a much faster protocol than Bluetooth. That's why Samsung implemented the feature a year ago on the Galaxy S3. Called S Beam, this WiFi Direct sharing method is better than the Bluetooth-based Android Beam protocol.
Additionally, now there are more options when you tap on a photo to share. While is new UI looks fresh, Android has had easy ways to share and allow third-party apps to connect into the OS to enable easy sharing, whether you want to upload to Facebook or Dropbox.
5. Camera Collections and Photo Management
Various smartphone manufacturers have added customization to make it easier for users to organize their photo collection on the go. I still think that Mac users who use iPhone have the best with desktop-phone photo management as photos synchronized from your desktop to your iPhone via iTunes are scaled down to a decent size to preserve space on your iOS device. On the phone, Android smartphone-makers like HTC, LG, Sony, and Samsung have made it easier thanks to automatically create albums out of events and photos taken around a similar location. Now, these features are also coming to the Photo app on iOS 7 so you're not flicking through a huge repository of photos on your camera roll. Photos are instantly tagged and can be organized into events by date or where they were captured based on GPS location metadata.
And speaking of the camera, the camera with its blue shutter button is very much reminiscent of the Nexus camera. Additionally, the fun new photo filters and art effects have been available with the camera app on the HTC One and Samsung Galaxy S4 as well as on the BlackBerry 10 native camera on the Z10 since early this year. Apple is late to this game, though the company is showing it is recognizing the photo and sharing experience as an important part of the smartphone experience.
6. A New Safari
Apple's new mobile Safari web browser has gotten a major design uplift. Now, there's one bar where you can search and enter in URLs, something that is present on the Android browser, Chrome desktop and mobile browsers, as well as the Internet Explorer browser on Windows Phone. The prior version of Safari mobile had two bars, one to enter URL and one to enter search terms. Now, they are combined into one bar so users don't have to think if they're entering in GottaBeMobile.com or searching for a website called GottaBeMobile. It definitely makes things easier.
And Safari's new tabbed browser management also goes visual. It's surprising to see Apple late to implementing more visual tweaks, like the Safari tabbed browser management as well as the multitasking cards, but it's a good move none the less. I must admit that the tabbed browser's visual design looks a lot like the Samsung Browser on the Galaxy S4 with its cards layout, though Apple tops Samsung with a more 3D visual versus the Galaxy's 2D cards.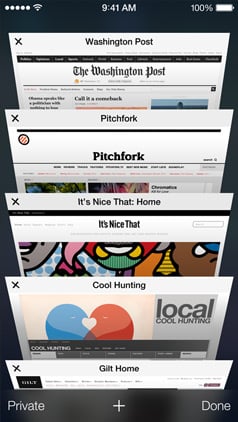 7. iCloud Keychain
Apple's now relying more on its cloud-based infrastructure to make things both easier and secure. One feature is called iCloud Keychain, which serves to not only remember passwords, logins, and credit card information when you're browsing the Internet through the mobile Safari browser, but can also generate complex passwords when you're signing up to new sites. The passwords are synchronized across all iOS and OS X devices as a plus.
Part of what iCloud Keychain does has been available for some time now. Google has allowed users the ability to synchronize bookmarks, recently visited webpages, login information, and more as part of its Chrome browser service, which like iCloud Keychain works across devices including desktop and mobile editions of Chrome. You just have to log into Chrome with your Google ID, similar how you'd need to log in to iCloud Keychain with your Apple ID.
…And a Few More Things: Customization and Sleek UI Tweaks
Live wallpapers are finally making it to iOS, though this feature has been available for a very long time now on Android.
Synchronized notifications where you can dismiss notification on one device and it would be dismissed across all devices was recently introduced last month as part of Google's new vision for Android and Apple is now bringing it to iOS 7.
There's also streaming radio. While Google is charging for this premium feature as part of Google Music All Access, iTunes Radio, formerly rumored as iRadio, is available for free for iOS users. iOS users who sign up for Music Match will get an ads-free experience with iTunes Radio, however.
There are probably more features that Apple has carefully borrowed from its rivals. What are some of your favorite features from Android that are now embedded to iOS 7?