7 Mobile Trends for 2012: NFC, Nokia, Apps and HTML5
During the last year we have seen great growth in smartphone ownership, apps and the types of mobile websites that bring information to professionals and consumers.
2011 has been, and continues to be exciting, 2012 promises to bring us more progress in the mobile space thanks to increased attention to the user experience, more advanced tools for developers and a focus on bringing apps to multiple platforms.
While much of the focus is on Android and iOS devices, a recent finding from comScore shows that Windows Phone and Blackberry still control market share, and there is still a massive section of users without smartphones.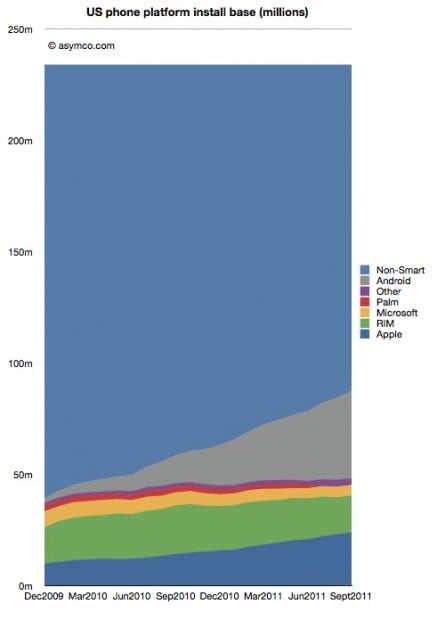 Given the importance of apps to the overall success of a phone and a platform, and this wide number of devices, we invited Bjorn Hildahl, VP of Product Management at Kony to fill us in on what to expect in 2012.
Kony is a 5 year old development services company that enables companies to write apps once and turn them into native apps for 7 platforms, the mobile web and tablets. Kony boasts a collection of clients like SouthWest and Citi, and focuses on delivering apps that feel like they were written specifically for a platform rather than wrapping a mobile webpage in a shell and calling it native.
7 Mobile Trends for 2012
More Optimization for Mobile Devices
Many of today's applications are what Hildahl calls, "online light", meaning they take some portion of a desktop web experience and bring it to a mobile app or browser. He believes that 2012 will mark a growth in apps that tap into device specific features, with greater thought put into what the apps can do for the end users.
We should also expect tablet apps to mature; delivering more focused experiences and access to real time information in healthcare, education and financial services.
Apps On All Platforms
Hildahl has a vested interest in promoting the importance of cross platform apps, but it's hard to argue with the need to be on all platforms, including the mobile web and oft neglected platforms like Symbian and J2ME.
Expect the leadership in this area to come from mature industries such as banks and financial services that want to reach all of their customers and looking to acquire customers in developing markets.
BYOD Arrives in Mass
As purchase cycles end, and IT managers get frustrated with providing work owned phones, expect to see an uptick in the number of large corporations going to a Bring Your Own Device (BYOD) model for employee phones.
This will include sandboxing of corporate data and enterprise app stores, as well as the need to cede some control to IT for remote locking and wiping, but employees will just be happy to pick their choice of phone.
HTML5 Gives Growth to Web Apps
HTML5 will become a bigger force in the mobile space, powering single page apps and offering a snappier mobile web experience.
This will help fuel an explosive growth of web apps that deliver a better user experience.
Kony is rolling out support for this in December, but expects an even bigger interest in Hybrid apps.
Hybrid Apps
Because there are benefits to HTML5 and Native elements, Hildahl expects to see a large number of Hybrid apps. These are native apps that include HTML5 elements alongside native elements.
An example of this would be using HTML5 to display standard content, but reverting to the native elements for smoother scrolling.
By using HTML5 and Native elements of the mobile OS, developers can use the elements that make the most sense throughout the app.
NFC = Not Fully Cooked
Don't expect to see significant advances in NFC technology in 2012, at least not in any manner that will benefit the average consumer or provide them with additional value.
Hildahl tells us that NFC needs to open up for us to see meaningful growth. We'll see many players test the waters, but don't go planning your next app around NFC just yet. It doesn't help that NFC enabled phones are still in the minority in the U.S.
Nokia and Microsoft Arrive, Again
Perhaps the most surprising prediction for 2012 is the arrival of a powerful Windows Phone 7 device from Nokia that Hildahl believes will help Nokia enjoy success in the U.S. once again.
While we know that there are Windows Phone 7 devices coming to the U.S. in 2012, like the Lumia 800 and Lumia 710, it will be interesting to see if Nokia can become a big player in smartphones in the U.S., like they were with cell phones in the early years.

As an Amazon Associate I earn from qualifying purchases.