7 Things to Know About the New Apple TV Release
New Apple TV Orders Shipping This Week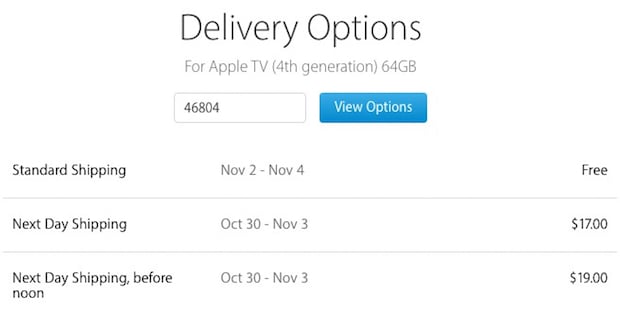 There's no need to panic. The new Apple TV 4 isn't sold out on the Apple Store and if you put in an order today your new Apple TV will ship out later on this week.
Apple's website is still showing shipping times that stretch from October 30th to November 4th. If you go with Apple's free standard shipping option it'll land on your doorstep between November 2nd and November 4th. If you pay for Next Day Shipping ($17) or Next Day Shipping Before Noon ($19), it'll get to you between October 30th and November 3rd.
With shipping times holding today, we aren't expecting any huge delays. So, if you need to save some cash or you want to wait for Apple TV 4 reviews to arrive, you can do so without any penalty. You should get your device pretty soon after you order it.
If you've already put in an order, make sure you keep an eye out for your tracking information. Apple will give you a tracking number sometime this week.

This article may contain affiliate links. Click here for more details.