720p Glasses-Free 3D Sharp Smartphone Comes to Japan December 2
Sharp will one-up HTC's efforts on the qHD glasses-free 3D display on the HTC EVO 3D (through Sprint in the U.S.) with its own Sharp SH-01D smartphone for NTT Docomo in Japan. That device will have a resolution of 1280 X 720, or 720p, on a 4.5-inch display, that combines glasses-free 3D technology via parallax barrier technology.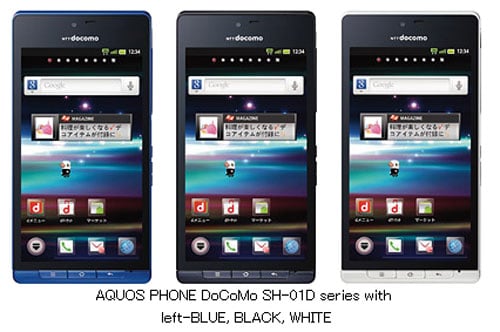 The 720p HD display resolution is the same as that on the HTC Rezound for Verizon Wireless, except the pixels are distributed over a 4.5-inch display rather than the 4.3-inch panel on the HTC handset.
Aside from the glasses-free 720p HD 3D screen, the Sharp SH-01D also has other advanced technologies that will make it stand out. The device will come with a waterproof nano-coating so it should survive spills and rain, along with a 12.1-megapixel rear camera that has some nice optics as well. The phone has a dual-core TI OMAP CPU and the requisite radios and sensors for a high-end smartphone.
Though Sharp has made the phone official through a press release, pricing information and details are not yet available outside of the December 2nd launch date in Japan.
It's unclear if this device will arrive in the U.S. In the past, Sharp had promised that its smartphones would arrive in the U.S., but thus far that has not yet happened. The device was also recently spotted at U.S. regulatory agency the FCC earlier.
Via: SlashGear