8 Best Samsung Galaxy Tab 7.7 Accessories
The Galaxy Tab 7.7 may not be the least expensive 7-inch Android tablet around, but its multiple charms have earned it some loyal fans. If you recently bought the 4G LTE tablet, it's time to accessorize.
Below are eight great accessories and cases for protection, productivity, and fun.
Whether you use the Tab instead of a smartphone, as a laptop replacement when mobile, or as a multimedia hub, there's an accessory for you.
Samsung Book Cover Case — $49
This thin case adds a bit of protection to the Tab's back and screen when it's in your bag or pocket, but doesn't add too much thickness or weight. It's the same as the Book Cover for the 10-inch version. If you're looking for a simple, attractive case, this is a good pick.
MiniSuit Dual View Leather Case and Cover — $16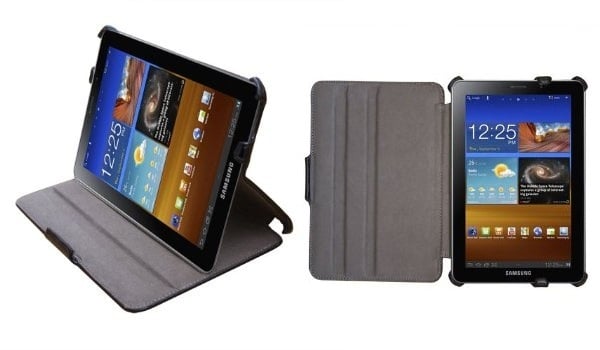 This combo case and stand will allow you to go hands-free for reading or typing with an external keyboard. You get two pre-set angles and can set the Tab 7.7 in both portrait and landscape, depending on what you need.
[amazon_link id="B007A6Y1CA" target="_blank" container="" container_class="" ]Buy It @ Amazon[/amazon_link]
Plantronics Voyager Pro HD — $78

There are plenty of Bluetooth headsets around, but I recommend this for Tab 7.7 owners because it can connect to two devices at once. I understand that many of you are using this tablet instead of a smartphone and opting for a flip or feature phone, instead. You can stay connected to both, answering calls on your phone then switching to the Tab for music or media or even dictation. The active noise cancellation in the mic makes it perfect for indoor or outdoor use. Plus, the headset knows when it's on your ear and when it isn't, so it will only activate when you need it.
[amazon_link id="B005IMB5SG" target="_blank" container="" container_class="" ]Buy It @ Amazon[/amazon_link]
Logitech Keyboard for Android 3.0 — $49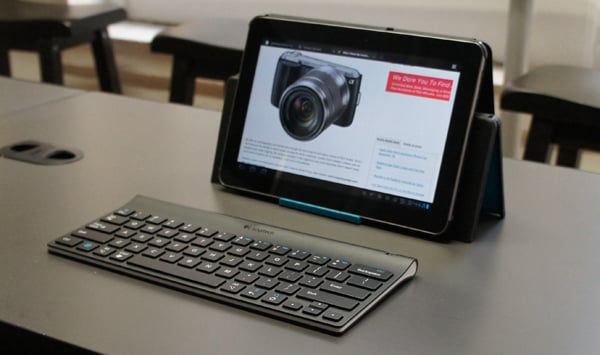 Adding a keyboard can up productivity on a tablet in a big way. I like this Bluetooth model because it had full-sized keys, so I don't have to adjust my typing style. Plus it comes with a case that doubles as a tablet stand and isn't very heavy.
Read Our Logitech Keyboard for Android Review | [amazon_link id="B0054L8N7M" target="_blank" container="" container_class="" ]Buy It @ Amazon[/amazon_link]
USB & SD Connection Kit — $29

Road warriors will appreciate these two connector dongles that allow users to connect a USB flash drive or SD card directly to the Tab 7.7 without needing a computer. Photographers will appreciate the ability to offload and edit photos on the spot, and business users can still trade files in 4G and Wi-Fi dead zones.
Wacom Bamboo Stylus — $29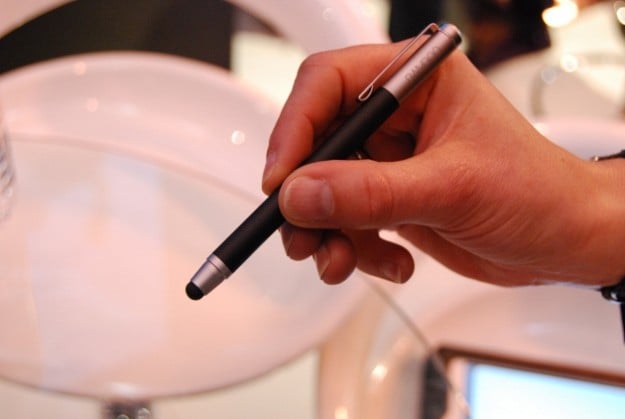 There are a bunch of nice styli on the market for capacitive screens, but this is one of our favorites thanks to the great feel and the fact that the rubber tip is a little firmer than similar pens. It's also recommended for the Tab 7.7 if you want to use Samsung's handwriting keyboard or often find yourself jotting notes in Pen Memo.
Read Our Bamboo Stylus Review | [amazon_link id="B004VM0SE6″ target="_blank" container="" container_class="" ]Buy It @ Amazon[/amazon_link]
HDMI HDTV Adapter — $39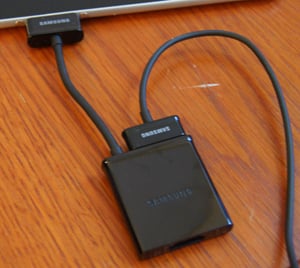 The Galaxy Tab's beautiful 1280 x 800 display is wonderful for watching movies while traveling, but when you get home or to your hotel room you'll want to take advantage of a larger screen. This adapter plugs into the 30-pin port at the bottom and outputs everything from the operating system to games to video to a larger screen. No extra apps or software required. You'll have to supply your own HDMI cable, though.
Logitech Mini Boombox — $74
This speaker promises 10 hours of playback in a small package that can also deliver good quality music. And since it's Bluetooth you won't have to worry about compatibility for the port. We're also fans of the controls on the top to play, pause and fast forward your music as well as control volume.
[amazon_link id="B005PUZOYM" target="_blank" container="" container_class="" ]Buy It @ Amazon[/amazon_link]