8 Best Live TV Apps: No Cable, No Problem
There are a ton of live streaming television apps available for your iPhone or Android device, but many of them require a cable subscription. Here are eight of the best live TV apps that don't require cable.
Before we get too deep into things, it's important to know the difference between apps that provide live television and apps that provide TV content on demand.
You're likely familiar with apps like Netflix, Hulu, HBO Go, and others. These are apps that offer television shows on demand, but they don't offer live TV content. On the other hand, there are apps that do provide live streaming capabilities, allowing you to essentially watch television on your mobile device.
Read: How to Watch Live TV on iPhone
Some apps offer both features, allowing to watch live TV, as well as watch a handful content on demand. However, the downside is that most live TV apps only offer content from one network, so you'll likely have to download multiple apps to get the most out of live TV on your mobile device.
In any case, if you're wanting to watch live television on your iPhone or Android device, here are eight of the best live TV apps that can make it happen.
HBO Now
For those that aren't HBO subscribers and don't have cable, HBO Now is the app to get to watch your favorite HBO shows.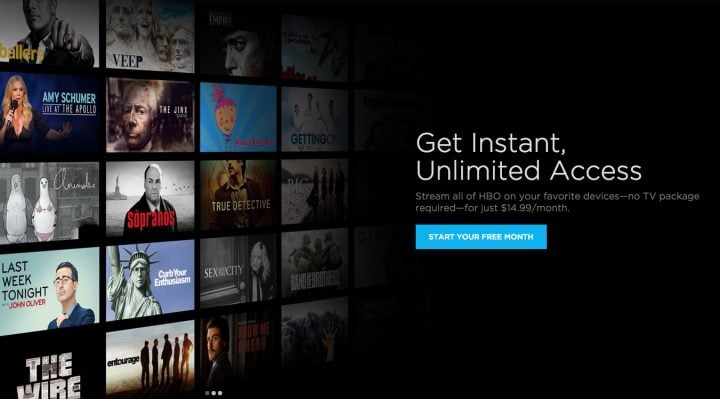 HBO Go is the company's streaming app for users who already have cable and also subscribe to HBO, but for cord cutters, HBO Now is the app to look for.
While HBO Now doesn't quite offer live TV in the way that you might have expected, the app does release new episodes of its shows right as they air, so you can still watch HBO shows live just like you were actually tuning into HBO on your television.
HBO Now costs $14.99 per month.
CBS All Access
The CBS app for the iPhone and Android devices also has a paid component called CBS All Access, which allows you to watch live TV.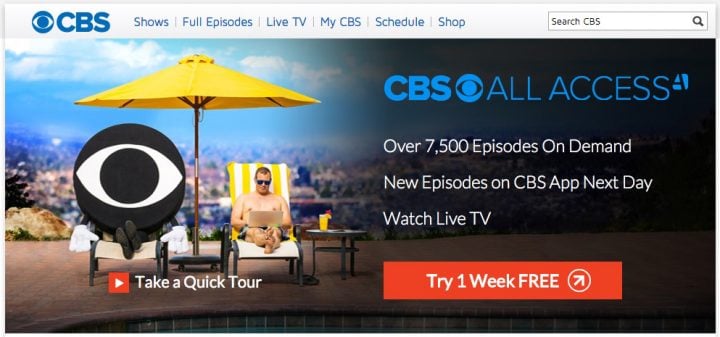 With CBS All Access, you can watch your local CBS broadcast, and this includes live news, sports (except NFL games), special events and all the shows that air on your local broadcast feed.
Unfortunately, this feature is only available in select markets, so be sure to check out this list of where live TV is currently available.
Otherwise, CBS All Access gives you on-demand service for all CBS shows, with new episodes available the very next day to watch right on your device.
CBS All Access costs $5.99 per month.
Sling TV
Perhaps one of the best options for watching live television on your mobile device without needing a cable subscription is Sling TV.
One of the biggest features of Sling TV is the amount of channels you get access to. The base plan comes with 23 channels, including ESPN, AMC, The Food Network, TBS, CNN, Cartoon Network, and more.
Plus, you can add on channels as well for a small added fee.
Sling TV starts at $20 per month, but can cost as much as $90 per month when you add on all the channels available from Sling TV.
Bloomberg TV
If you're a big news junky, then Bloomberg TV might be the app for you, as it offers 24/7 live news coverage for free.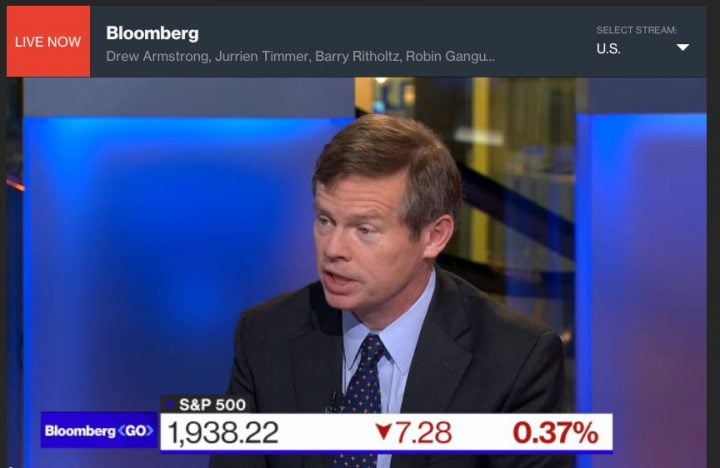 You can watch live Bloomberg coverage on your computer by simply visiting the link above, or you can get the Bloomberg TV+ app for your mobile device and watch live news on the go.
Bloomberg TV is completely free to use with no monthly fee.
MLB.TV
We've talked about how to watch MLB games live on your smartphone before, so if you're a Gotta Be Mobile reader, then you're likely familiar with MLB.TV.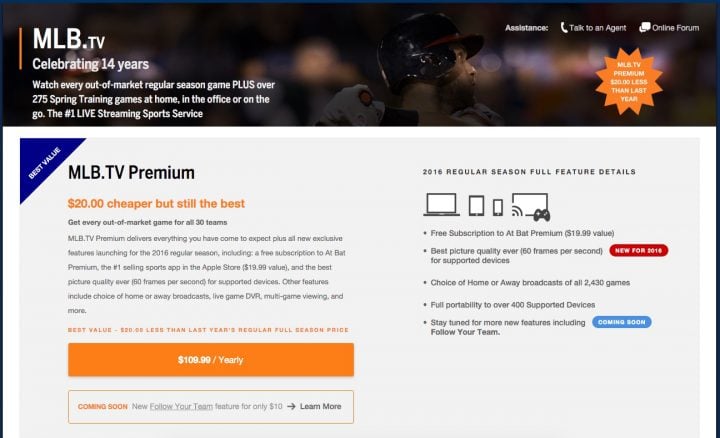 The service lets you watch any and all MLB games live on your mobile device without needing a cable subscription, with the exception of blackout games which prevent you from watching nearby teams. Of course, there are always ways around these restrictions.
MLB.TV costs $110 for the entire season this year, including Spring Training games, as well as the playoffs and World Series.
NHL.TV
If hockey is your thing and you want to watch all the games during the season without needing cable, then NHL.TV is the service for you.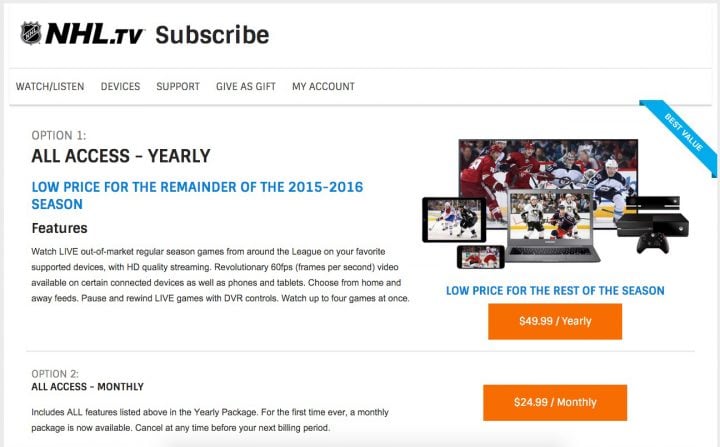 The streaming service allows you to watch any and all games throughout the season, except for local teams, which are blacked out just like with MLB.TV.
NHL.TV is normally $130 per year, but since the season is well underway, you can get it for $49 for the rest of the season.
NFL Mobile
There are a few apps that stream NFL games during the season, but NFL Mobile is perhaps the best one that streams all of the games, including the Super Bowl.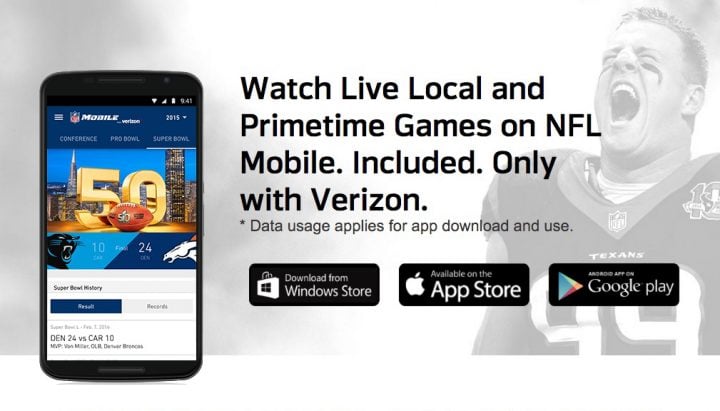 The only downside is that you have to be a Verizon customer in order to stream games on your smartphone. Again, there are other routes that you can go, but NFL Mobile is the best all-around service for watching live NFL games on your phone.
NFL Mobile is free to use for Verizon customers.
NBA League Pass
If you're a fan of basketball and want to watch live NBA games without cable, you can get NBA League Pass, which is the league's own live streaming service.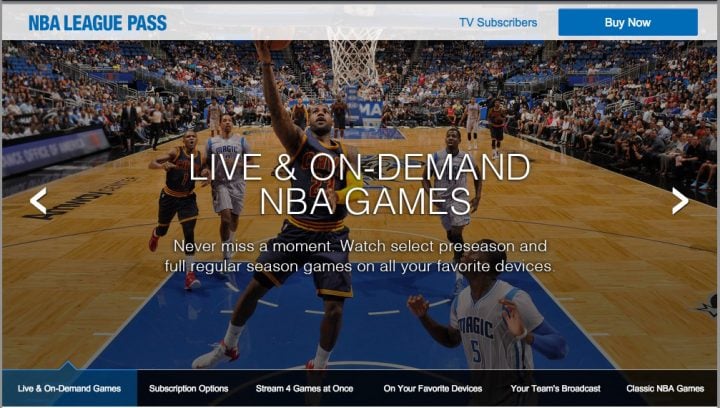 Just with MLB.TV and NHL.TV, local teams are blacked out, but you can catch any other game that you want all season long with no other strings attached.
NBA League Pass is $99, but you can also follow a single team with a Team Pass for $60.

As an Amazon Associate I earn from qualifying purchases.