9 Tips for Nexus 5 Buyers
With the Nexus 5 launch in sight, many consumers are likely thinking about picking up Google's new Nexus smartphone. And while a launch date still isn't set in stone, we want to offer some tips to those that may be thinking about ordering the Nexus 5 just as soon as Google, and or various carriers and retailers, put it on sale.
Last October, Google announced a Nexus 4 from LG, its fourth-generation Nexus smartphone, and one that replaced the Samsung Galaxy Nexus as the company's go-to device. The Nexus 4 and its high-end hardware, vanilla Android software and its low, low price tag convinced thousands to pick up Google's Nexus smartphone. Over the course of 2013, the Nexus 4 was considered one of the top Android smartphones on the market, and remained near the top until Google pulled the plug.
Several weeks ago, Google discontinued the Nexus 4, removing stock of both the 8GB and 16GB from the Google Play Store after a quick fire sale that saw the already cheap unlocked prices drop $100. T-Mobile continues to sell the Nexus 4 to its customers and it's unclear if the carrier has plans to discontinue the Nexus 4 in the near future.
With the Nexus 4 gone from the Google Play Store and rumors swirling, it has become clear that a new Nexus smartphone is on the way, one that will replace the Nexus 4 as the company's go-to device.
Signs point to a Nexus 5, or Nexus 4 2013, from LG. We've seen FCC documents, photo leaks, bug logs, and even Google itself leak the Nexus 5 and now, the device only needs a launch and a release date.
Whispers point to an arrival sometime in October alongside the Android 4.4 KitKat update and an Asus Nexus 10. A date has not been settled on, but October 14th and late October have both been mentioned as possibilities. Whatever the case, Google appears to be gearing up for a launch around the same time as last year's Nexus 4 release and there are likely plenty of people out there that have turned into potential Nexus 5 buyers.
With that in mind, we want to offer up some useful buying advice for those that are thinking about picking up Google's new Nexus smartphone in the coming weeks. Here, are nine tips for Nexus 5 buyers.
Start Preparing Now
Maybe the best word of advice that we can offer to Nexus 5 buyers at the moment is to start preparing for the Nexus 5 launch now. While it's never too early to be thinking about your next smartphone, the Nexus 5 launch in particular is coming up very fast and now is the perfect time to take a look into a few different things.
First, take a look at the storage on your current device. Are you using up a ton of space for things like photos and video? Then you may want to think about the larger Nexus 5 should the company provide two variants. Last year's Nexus 4 came in 8GB and 16GB and at this point, only the 16GB Nexus 5 has leaked. Analyze your habits and decide which is best. We highly recommend larger options, if you can afford them for peace of mind.
Now is the time to take a look at carriers as well. The Nexus 5 is likely coming to AT&T, T-Mobile and Sprint, so it's important to take a look at the pros and cons of each. For instance, AT&T's 4G LTE network dwarfs the networks of Sprint and T-Mobile, however, T-Mobile is the only network among the three to offer a solid HSPA+ 42 as a back up network.
Finally, look into other devices. The Nexus 5 will likely be the last big name smartphone of the year so the options on the table now should be the options moving forward. In particular, look into the Samsung Galaxy Note 3, Galaxy S4, HTC One and the iPhone 5s. Those represent the top four smartphones at the moment, at least in our eyes, and Nexus 5 buyers will want to rule them out as early as possible.
Do a Dry Run
This might sound ridiculous, but we think a dry run is an extremely smart idea. What we mean by a dry run is this. Go to the Google Play Store, add a device like the Nexus 7 to the cart and go through the checkout process without buying the device. This way, you'll be familiar with the process, get all of the login kinks worked out, ensure that your Google Wallet is ready to go, and get credit card info prepared.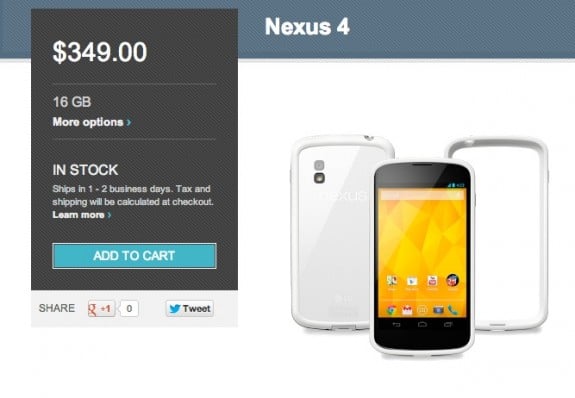 Last year, the Nexus 4 launch was chaotic and while Google showed that it may have gotten a handle on launch issues with a flawless Nexus 7 launch in July, there is still a chance that overwhelming demand could impact the Google Play Store negatively. Those who are prepared will be the early bird getting the worm, or in this case, a Nexus 5 on launch day.
Want It Fast? Order on Day One
If the Nexus 5 has all of the high-end features that rumors suggest that it has, 1080p display, solid camera, mid-range price and 4G LTE data speeds, there should be a lot of demand for the smartphone, something that could negatively impact shipping times.
Last year, we saw the Nexus 4 sell out instantly, come back into stock two weeks later, and then sell out again until mid-February. It was a nightmare for those that ordered and those that wanted to order but couldn't.
We're hoping that Google keeps those issues at bay this time around but who knows. At this point, we highly recommend that Nexus 5 buyers start thinking about buying the Nexus 5 the second it goes on sale. Being prepared and being on time to order will give buyers the best odds of getting a Nexus 5 as soon as humanly possible.
Those who lag risk waiting a few weeks, or months, as Google works to get its supply lines up to speed.
Look at Trade-in Prices
Let's move on to money. While the Nexus 5 is likely going to be an affordable unlocked smartphone like the Nexus 4, it's still not going to be cheap. We expect it to be at least $299, the price of the 8GB Nexus 4. In order to offset some of the cost, current smartphone owners will want to take a look at trading in their current smartphone for cash.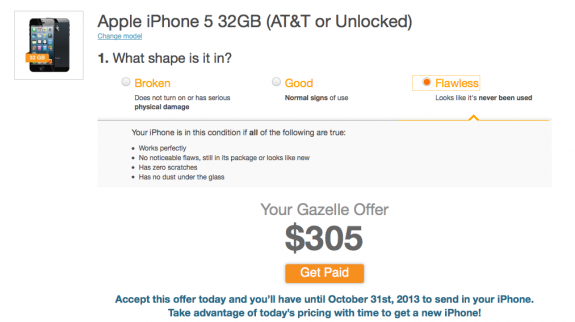 Sites like Gazelle and NextWorth offer hundreds of dollars for devices that are in or are close to mint condition. Gazelle in particular has a special appeal right now to iPhone sellers as it allows them to lock in a price until the end of October. As we've pointed out, a mint condition AT&T iPhone 5 32GB can fetch around $300 through Gazelle, something that would certainly help towards the cost of a new Nexus 5 smartphone.
Set Aside Extra Cash for the Device
Better yet, Nexus 5 buyers should start saving some extra cash for the Nexus 5. Why? Because we expect the device to be more expensive than the $299 Nexus 4. And here's why.
Google upped the price of the Nexus 7 by $20 earlier this year, a sign that it's not settled on keeping pricing the same. Throw in the fact that high-resolution 1080p displays aren't cheap and that buyers will likely not care about a slight increase due to upgraded features and LTE, and we think there are the makings for a $300+ Nexus 5. Rumors suggest that it will cost half of the iPhone 5s unlocked, so $325.
So buyers would be smart to anticipate a steeper price tag now instead of later.
Set Aside Accessory Money
Start putting away some money for a Nexus 5 accessory or two right now. We don't think that the device will necessary require a case like the glass-backed Nexus 4 but we should still see some fantastic cases emerge for the device, cases that will certainly tempt buyers.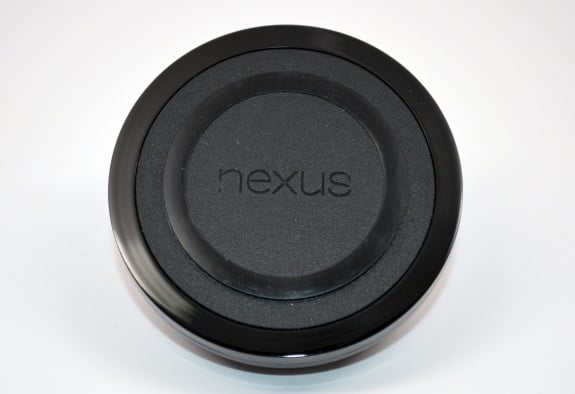 One the Nexus 5's supposed perks is wireless charging. The Nexus 4 wireless charger is still available in the Google Play Store and we may see it offer support for the new Nexus as well. It's not a necessary accessory but it's one that's definitely worth considering.
Point is, we don't know what Google has up its sleeve but it's best to side aside some funds for a few Nexus 5 accessories just in case Google releases something major.
Expect Retail Options
Buyers who aren't able to place an order, don't want to place one on day one, or want to avoid the Google Play Store altogether should be able to. Google showed a commitment to retail with the Nexus 7, which arrived in ten major retailers around the United States. The Nexus 4 arrived on the Google Play Store and through T-Mobile stores and later on, it arrived through places like Best Buy.
We expect the Nexus 5 touch down in places that aren't called the Google Play Store so buyers will want to keep that in mind before panicking about having to order through Google Play. There should be some options, something that could help to offset Google Play Store issues and provide consumers with alternate buying routes.
Don't Expect a Widespread Pre-Order
Google didn't offer a pre-order for the Nexus 7 or the Nexus 4, but retailers like Best Buy did. So buyers will want to start preparing for a limited pre-order as Google very likely could put the Nexus 5 up for sale on the release date rather than making it available early.
If this is the case, it puts greater importance on early preparation and learning the ins and outs of the Google Play Store buying process. Don't expect a pre-order through Google and for that want a device early, it might be best to start thinking about retail stores as serious options rather than alternatives.
Anticipate Day One Issues
Finally, it's best not to go into the Nexus 5 launch thinking things are going to be flawless. They likely won't be. Sites issues and ordering problems are common with big name smartphone launches.
More importantly though, expect there to be chatter about Nexus 5 hardware and software issues. While most Nexus 5 buyers will likely have an issue free device, history points to there being the potential for problems.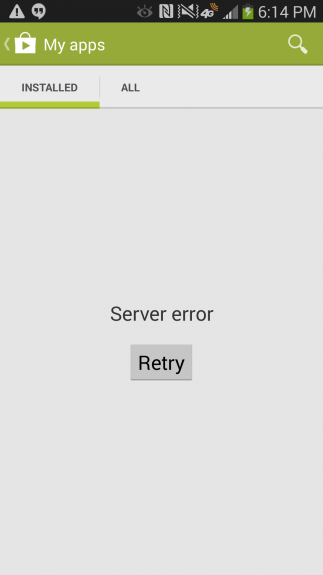 The Nexus 7, Nexus 4 and Nexus 7 2013 all had hardware defects emerge shortly after their arrivals and software bugs on new Android software is almost a given. Android 4.2 issues were widespread after its arrival and Android 4.3 brought bugs with it as well.
Our advice to Nexus 5 buyers is simple. Anticipate that there will be issues, this is a Nexus launch after all. Armed with a lack of surprise, buyers will be able to handle the situation more efficiently.