Acer Announces Its Second Ice Cream Sandwich Smartphone, the Liquid Glow
Mobile World Congress doesn't start until next week, but Acer is already announcing what it will be showing off at the show. We already know that Acer will be showing off its CloudMobile smartphone at Barcelona, but it will also have a smaller Ice Cream Sandwich phone on display at the show. That second phone is the Acer Liquid Glow.
The Acer Liquid Glow is a 3.7-inch Android smartphone, and one of the few new phones that will run Ice Cream Sandwich at launch.
The Liquid Glow is also one of the first budget smartphones to run the latest version of Android. With phone not coming to market until this summer there's no price for the phone, it's just a promise from Acer that the phone will strike a "balance between style, performance, and affordability."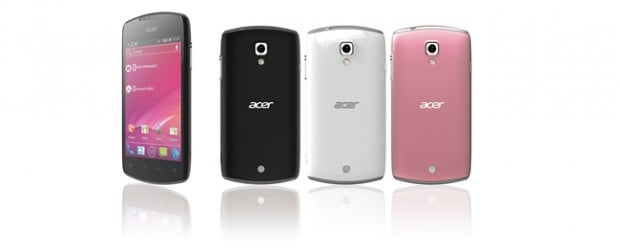 To make the phone stylish Acer has announced three color variants: Cat's-eye Black, Alpine White, and Sakura Pink. Acer also says that the onscreen display varies with each color, which presumably means a variety of Acer-made wallpapers will be available on the phone.
Those along with a few widgets seem to be the only customization Acer decided to put on Ice Cream Sandwich. Finally there's a non-Nexus Android device that runs mostly stock Android.
Surprisingly Acer also decided to put NFC into the Liquid Glow, so the phone can handle Android Beam and possibly even Google Wallet.
We don't know any other specs for the phone, though those should be coming sometime in the near future. For now we just know that it's a budget ICS phone with NFC and a 5MP camera. It certainly sounds promising, but we won't know until we can see actual working units of the phone.
Via: Acer