Acer Iconia B1 First Look Video: Priced Low for a Reason
How much tablet do you get for a device that costs between $130 and $150 in the U.S.? In our first look of the Acer Iconia B1 tablet at the Consumer Electronics Show, you actually get quite a bit of tablet on paper, but the experience may not be worth the cost of entry. The Iconia B1 may be a good tablet for kids, but in daily use, there some slow downs and viewing angles may not be as good as the slightly more expensive Google-branded competing Asus-made Nexus 7 tablet, which has a $200 entry price and slightly better specs.
All in all, you do get a relatively slim device for around $130-$150 US. Acer says that the Iconia B1 so far hasn't been announced for the U.S. market so it's unclear if the tablet will hit the U.S. market.
For more CES 2013 coverage, please visit the GottaBeMobile CES 2013 page.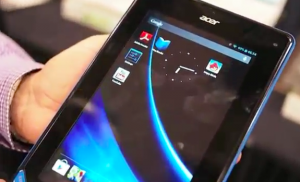 The Iconia B1 runs on a dual-core processor from MediaTek which is slower than the Nexus 7's quad-core Tegra 3 processor. Also, switching between apps and launching apps sometimes stuttered on the Iconia B1.
Though where the Iconia B1 excels is storage. With 8 GB of storage built-in, the device does have a micro SD card slot for expandable storage.
What's good about the budget tablet is the front-facing camera, a relatively light weight that aids in portability, a slim design, and a decent resolution display (1024 X 600 pixels compared to a 1280 X 800 experience on the Nexus 7).
In terms of design, there is a notched out triangle on the lower left hand corner of the Iconia B1, which is a similar design to Barnes & Noble's Nook Tablet's hardware design.
For kids though or for those who are trying out a consumer tablet for the first time, the Iconia B1 delivers a lot in a very inexpensive price tag. It's definitely not a Nexus 7 challenger, but it doesn't have to be if Acer is positioning the device as a family tablet or one for children. It may be a good educational tool as well for those who elect to have a casual tablet for e-book reading with apps for Barnes & Noble's Nook, Amazon's Kindle, or Google's Play Book.

As an Amazon Associate I earn from qualifying purchases.