Acer Iconia Tab A100 7-Inch Honeycomb Tablet Now Available in U.S.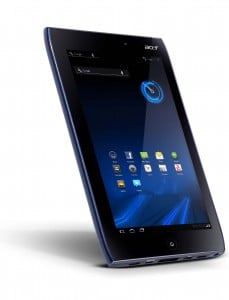 If you've been looking to get your hands on any 'ole 7-inch Honeycomb tablet, today is your lucky day. That's because Acer has announced that its A100 Iconia Tab Android tablet has arrived on the shores of North America as the first of its kind. Yes, the A100 is the first 7-inch Honeycomb tablet to hit the United States but you can bet that it will not be the last.
The A100 is going to be available on shelves today for around $329. That will net you a Wi-Fi only tablet with 8GB of storage space. It's also got a Tegra 2 dual-core processor, an extremely lightweight design, two cameras, as well as Android 3.2 Honeycomb. As for its 7-inch display, it has a resolution of 1024×600.
Unfortunately, it only has around 5 hours of battery life so that's probably going to make more than a few of you wait for something else to come along.
As for those of you in Canada, it will be available there next month.

As an Amazon Associate I earn from qualifying purchases.