Acer Iconia Tab A500 Review: Not Good Enough to Compete with iPad
The quest for a good Android alternative to the iPad led me to the Acer Iconia Tab A500. The comparable size and lower price tag of $449 made this a compelling option. I really wanted to like it, but despite some compelling traits I cannot recommend it because of frustrating weaknesses.
Since Apple is so far ahead of the competition, many of us believe that tablet makers can't compete unless their product is either much cheaper or far better. The A500 is only $50 less, but is it far better? Sadly, no. It is a painful combination of the cool and not so cool.
Acer Iconia Tab A500 Quick Specs
The large 16:9 form-factor 10.1″ display with a resolution of 1280×800 means this tablet has the potential to be a good multimedia tool. The NVIDIA Tegra 2 1GHz dual-core processor means it should have enough power to run whatever you want on a modern tablet.
1GB of system memory and 16GB of flash storage gives the Android system ample space. The micro-SD card slot can handle up to 32GB of additional storage for things like pictures, video and music files. The USB port makes adding a hard drive possible.
You can hook the tablet up to an external display or HDTV via an HDMI mini port. The Dolby Audio means you don't have to compromise sound quality while watching a movie or playing songs.
The tablet is 10.2 inches wide, 7 inches along the short end and only a half an inch thick. At 1.7 lbs it is only slightly heavier than the iPad, although it feels chunkier.
Acer Iconia Tab A500 Build and Design
The Acer Iconia Tab A500 looks different than the other 10-inch Android tablets, which look like clones of the iPad. Acer goes a slightly different direction with a wider bezel along the shorter edges of the tablet. I like this because you are going to be holding it landscape mode most of the time and there is a little more room for your fingers.
At the front two strips of dark gray housing run along the longer sides. They are rounded and go around to the back, which has a brushed aluminum look. The two shorter edges, flat on the sides, feel very smooth and comfortable as you hold it.
The A500 feels like a solid device, but you will notice that when you pinch it at the edges and corners it creaks a little. Build quality is not bad but not as solid as the iPad. Like a lot of Acer products it is mid-level quality.
The door for the micro-SD card feels flimsy. When I open it I am always concerned that I will break it off. Inside the housing there are two slots, one for the card and another would house a wireless broadband card if this were the 3G version of this tablet. The second slot is covered by a thin piece of plastic. This is the same case Acer uses for their 3G version. There is no hardware inside the second slot to accept a 3G card add-on, so don't get excited about hacking it for a cheap upgrade.
The reset button on the side with the USB ports is extremely tiny. A pen or thick paper clip do not fit. I have a very tiny jewelers screwdriver that just barely fits. Fortunately I have never needed it. When Honeycomb freezes, holding down the power button for a few seconds has always turned it off.
The micro-USB port should be able to charge the device, and there are thousands of micro-USB charging cables available that hook up to AC, cigarette lighters or just plug into computers. Unfortunately, with Honeycomb 3.0, it doesn't work. Acer promises the next update will correct this. Unfortunately I could not test out the new July 5th update: it will not install on my device.
Acer Iconia Tab A500 Ports and Buttons
Along the left of two shorter sides there are the following:
Power button
Head phone jack
Mini-HDMI port
The other shorter side has:
AC adapter port
Micro-USB for connecting to a Windows PC (Mac users rae left out due to lack of drivers from Acer) and for charging but only after Honeycomb 3.1 is released
Full-sized USB for connecting accessories which. One of those compelling features when compared to the iPad
Reset hole which shuts down the device – it is way too small and I had a hard time finding anything small enough to fit but strong enough to push the button iside
The bottom has a docking station port. The dock offers a couple of angles for typing, a remote control and speaker jack.
The volume rocker on the other side is next to the orientation lock. The OS is smart enough to flip the up/down controls when you flip the device so that volume up is always on top.

Acer Iconia Tab A500 Display
The display is great under normal light. I enjoyed the pre-installed game Need for Speed: Shift because the graphics look nice and the wide 16:9 aspect ratio makes the driving sim fun since the tablet is wider. It is also great for watching 720p HD video. However, in bright light I could not see no matter how bright I set the screen.
In low light the display doesn't dim enough, making the screen too bright and slightly annoying if you are reading next to a light sleeper.
A glitch causes the display to turn on randomly whenever the device accesses Wi-Fi. This is supposedly going to be fixed in the update to Honeycomb 3.1, which was released July 5th. I could not install it for some reason. More on that later.
When rotating the device the display occasionally won't rotate like it is supposed to do. The only way to switch orientation is to lock and then unlock the orientation switch. When that doesn't work, about half the time you have to power off the tablet.
Acer Iconia Tab A500 Touchscreen and Inking
Most of the time the touchscreen works great. When you tap something the tablet responds immediately. Honeycomb is a little unstable and sometimes freezes up and apps crash. But this is an OS problem more than a hardware issue.
At present there are few apps that handle inking well. On the iPad there are so many it is hard to choose. I found an Android app called TabNotes which does a decent job of inking. Here is a sample of my poor chicken scratch in the app. You will notice that my finger produces much smoother writing samples (above the blue line) than the stylus (below blue line).
Sadly, inking is not as smooth on the A500 as it is on the iPad. I gave up inking entirely while using the A500. From my experience on the iPad I know it could be the apps I tried, but since there are so few it is impossible to judge.
Acer Iconia Tab A500 Processor and Performance
The NVIDIA Tegra 2 dual-core 1GHz processor is plenty fast enough to handle almost anything I threw at the device. I played some video-rich games like Need for Speed, watched some 720p HD video samples, and opened a bunch of apps all at once. The performance didn't suffer most of the time. Honeycomb often randomly freezes and apps crash because the operating system is buggy and unstable. I blame the instability on the OS and not the hardware because it seems to be a problem with other Android 3.0 tablets.
From the various forums and reviews I've read around the Internet, those who have 3.1 already say that it is a little more stable and runs smoother. So it is reasonable to blame Honeycomb instead of the Acer for the occasional performance issue.
Acer Iconia Tab A500 Audio and Speakers
Audio through the headphone jack or on a TV when connected via HDMI sounds great. The Dolby sound shines. However, the speakers on the back also face backwards. A really foolish decision by Acer, as it muffles the sound.
Serious audiophiles are never going to be excited about the sound in a tablet. When hooked up to a good set of external speakers, the A500 sounds better than average. But when you use the built-in speakers: lower than average.
Acer Iconia Tab A500 Battery Life
Acer promises eight hours of battery life. I kept the A500 going as long as I could, and it died after seven hours of video, Internet usage and gaming. It is disappointing compared to the gold standard of the iPad's ten hour battery life.
Acer kept the telephone tasks in Android running instead of finding a way to turn them off. The tablet has no telephony built-in at all, so this is likely eating some of the battery life. One app called Acer Iconia Battery Saver fixes this by turning off those OS tasks, saving a little bit of battery life. The app only works on rooted devices, however. While it is very easy to root, average users will probably not choose to do this.
Acer Iconia Tab A500 Cameras
Like the rest of the A500 I both really like and am really disappointed with the cameras on the tablet. What I like is the camera app built into the software which has a lot of features like the following:
Auto flash
Auto white balancing
Color effects like…

Sepia
Black and White
Posterize

Environment settings like…

Auto
Action
Portrait
Landscape
Night
Night portrait
fireworks
Many more
In my tests of the camera I enjoyed shooting with the tablet. A large screen for composing shots is cool. You see so much more. Taking a shot is easy as the shutter release button is right where your thumb should be on the side of the screen instead of in the middle bottom of the screen like the iPad 2.
The disappointment comes when you see the pictures. The images are soft and often have a strange purple hue. I would not rely on the camera for much more than a simple shot that I didn't care much about. I use my tablet camera more as a scanner than a photography tool anyway. In that role it works great. I shoot images of paper handouts and save them in Evernote.
The front-facing camera is okay for video chatting and little more. The rear camera disappoints, despite being a 5MP camera.
Acer Iconia Tab A500 Software
Besides the great camera software, the A500 comes with some other useful apps. There are four icons labeled eReading, Games, Multimedia, and Social. Each behaves like folders. But they are more than just folders.
Open the app and you see a shelf at the bottom with icons for the apps at the top. Add your own apps by tapping the plus icon in the upper right. The left and right arrows in the lower left and right corners skip to the other categories.
The preinstalled apps you will find:
Google Talk

Facebook

SocialJogger offers Facebook and Twitter feeds

LumiRead – an eBook reader like iBooks, but not as slick
Google Books – front end for Google Books service
PhotoBrowser HD – a photo viewer that looks like a scrapbook with animated page turns
MusicA – a music app
AUPEO – Internet readio app
YouTube
Need for Speed Shift – a fun racing game
Let's Golf – a pretty good golf sim game
Hero of Sparta – a low quality ancient Greece themed role playing game with poor graphics
Of the installed software, the only ones really worth using regularly are the Need for Speed and Let's Golf games. If you are a YouTube fan that app is good, too. The others are crapware with far superior alternatives in the Android Market.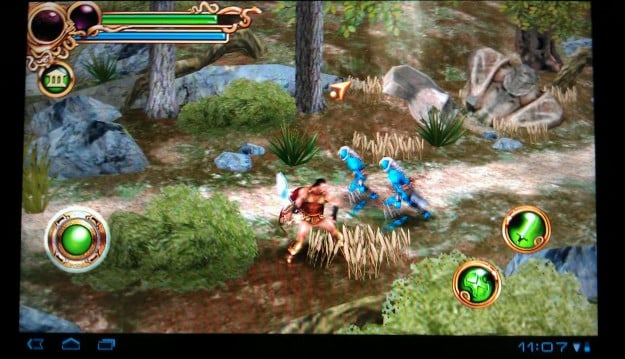 I liked the Acer organizer apps and used them to put all of my various apps in folders quickly. I do wish you could add other categories, like one for Work, or Travel.
Problems with Android Honeycomb OS
The biggest problem with the Acer Iconia Tab A500 is something that Acer has little control over: the Android Honeycomb operating system and ecosystem. I like Android as a mobile platform. My HTC Thunderbolt has me seriously thinking of ditching the iPhone altogether, despite its problems, when one of my three AT&T iPhone contracts is up next month. So I'm not just an Android hater or Apple fanboy.
Despite an update from Acer which is supposed to deliver Honeycomb 3.1 to the Iconia Tab A500, it is still not ready for most users. First, the update is a problem. Many users report that they are only getting a minor update and not 3.1. Others got 3.1 while others, including me, can't tell which update they received because it won't install. I wiped the tablet and restored it to factory spec, but it still fails.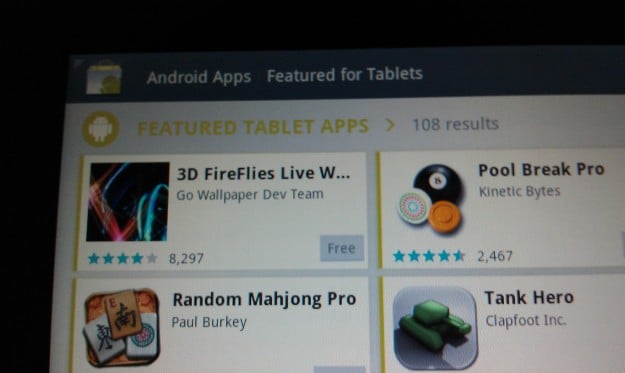 Eight months after the first Android tablet was released we still only have 108 tablet-specific apps in the Android Market. I hope this changes soon, but there are too few really good apps for this thing. It addition to instability, Honeycomb is just not good enough to compete with iOS on the iPad 2.
Acer Iconia Tab A500 Value
At $449 the Acer Iconia Tab A500 is one of the least expensive 10-inch Honeycomb tablets available. There very low-quality tablets for less, but this is the first serious competitor to the iPad 2 on price. The hardware of the A500 is not the main problem.
The A500 was a frustrating combination of disappointment and excitement. I really like the hardware, form factor, the display in normal lighting and the performance. The A500 is more versatile than the iPad with the ability to add USB accessories, a hard drive or an SD card for extra storage.
Unfortunately, the A500 is an Android 3.0 tablet. I wanted to like the A500 and I wanted to recommend it. I just cannot do so at this time because of the issues with Honeycomb mentioned above.
Acer Iconia Tab A500 First Impression Video
Below is the first impressions video that I made after using the A500 for about a week. Keep in mind that some of my opinions are altered after longer use and they are reflected in this written review.
Pros
Display looks good in normal light
Wide screen format and resolution great for watching 720p HD movies
NVIDIA Tegra 2 Dual-core Processor gives good performance
Micro-SD card slot for expanding storage
Has ports for adding USB accessories like a keyboard
Expandable storage through Micro-SD slot
Solid build and somewhat unique design
Wider bezel along shorter edge makes holding in landscape mode more comfortable
Has HDMI output
Need for Speed and Golf game are fun and look great
Camera app is great despite poor quality lens
Cons
Too few Honeycomb tablet apps
Battery life shorter than the iPad
Honeycomb OS is buggy and unstable
Housing for SD card feels flimsy
Power charger bulky and not USB based
Can't use USB port for charging yet
Display not bright enough in direct light
Dimming doesn't go dark enough for very dark settings
Screen turns on randomly when Wi-Fi is accessed
Rotating sometimes freezes screen requiring reboot
Inking not smooth with stylus
Speakers on back sound muffled
Camera has poor color
Camera produces soft images
Category apps won't let me produce my own categories
Included software is mediocre with exception of games and camera app
Reset hole way too small

As an Amazon Associate I earn from qualifying purchases.