Acer Quietly Debuts Quad-Core Android Iconia Tab A210, A110 at Computex
While Acer made a big splash at Computex with its Windows 8 tablet offerings, the company has remained relatively quiet on the Android slate front. Rather than make a big announcement, Acer quietly showed off its two Android slate offerings at the Taiwan show in the form of the Iconia Tab A210 and the Iconia Tab A110, both sporting NVIDIA's Tegra 3 quad-core ARM-based architecture, up from its predecessors' dual-core offerings.
According to Engadget, PR reps for the company at the show mentioned that the tablets will launch in the third quarter, though specific availability and pricing information were not available.
The Acer Iconia Tab A210 is described as a mid-range 10.1-inch slate with more subdued styling. It looks somewhat like a beefier version of the Samsung Galaxy Tab 10.1, though Acer's model sports a USB 2.0 port and a micro SD card slot, which are both absent on Samsung's first-generation Galaxy Tab. The tablet does not feature an IPS display and comes with a resolution of 1280 X 800. There will be two models available, either with 8 GB or 16 GB of on-board storage.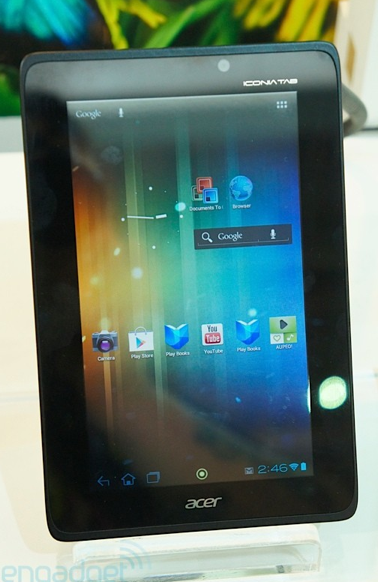 The Iconia Tab A110 will be a 7-inch tablet with a resolution of 1024 X 600 and will pack 8 GB of internal storage, 1 GB RAM, and a micro SD card slot. There are micro USB ports as well as a micro HDMI port on the tablet but not a full USB port.