Acer, Toshiba 10-Inch Android Tablets Coming to U.S. for Under $500?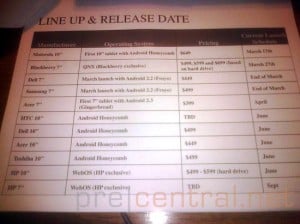 In addition to HTC bringing a 10-inch slate and the HP webOS TouchPad pricing leak, it looks like a slew of tablets will be getting released this summer for under $500 from Acer and Toshiba, according to a leaked document obtained by PreCentral.
In April, Acer will release a 7-inch Android 2.3 Gingerbread tablet with dual-core processor and with the same high resolution 1,280 X 800 pixel screen that's found on the 10-inch Motorola Xoom tablet; having that many pixels crammed onto a smaller display will make the 7-inch Acer Android tablet appear sharper than the Xoom. The tablet was previously announced with Adobe Flash 10.1 support, a front-facing camera, Dolby sound, and 3G support, though it's unknown if this one will be a 3G model or a WiFi-only model at the astounding $400 price point. At that price point, Samsung's only now rumored to be re-releasing its Galaxy Tab in a WiFi-only flavor with lower specs–single-core CPU and lower resolution 1,024 X 600 display.
In June, in addition to a 10-inch HTC Android 3.0 Honeycomb tablet that we had reported earlier, we're going to see Toshiba's Android 3.0 Honeycomb along with Acer's Honeycomb tablet in the same screen size. Acer's 10-inch tablet will be priced at $450 and Toshiba's offering will come in at a penny shy of $500.
The leaked document is part of a retail roadmap from a major, but un-named retailer.

As an Amazon Associate I earn from qualifying purchases.