Acer's 4.8-Inch 100% Smartphone, 100% Tablet Wonder Shows Off Its Own "Retina Display"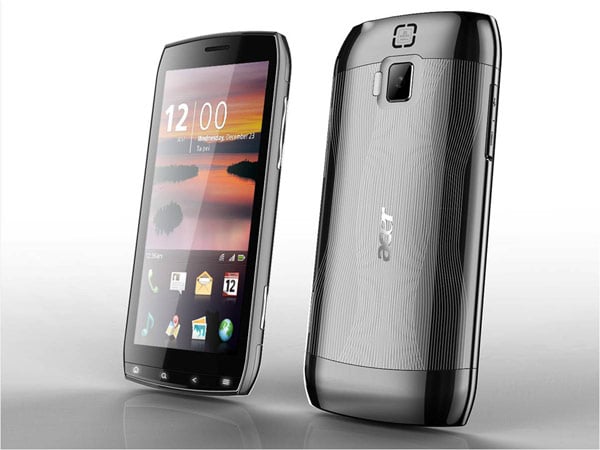 At a press event in New York, it looks like in addition to the recently announced Acer Windows tablet, the company is also announcing an Android smartphone-tablet hybrid, much in the same category as the 5-inch Dell Streak. The Acer version measures in at 4.8-inch for the display, and the company is calling it "100% smartphone, 100% tablet," reemphasizing that the device straddles the mobility and convergence categories of smartphone and tablet. What's interesting is that this 4.8-inch beast packs in a resolution of 1024 X 480–the Dell Streak only has an 800 X 480 WVGA resolution while the Samsung Galaxy Tab has a display resolution of 1024 X 600 spread over a 7-inch screen. The pixel-packed display runs an unknown version of Android along with Acer's proprietary user interface.
Compared to Apple's Retina Display, the display on the Acer Android phone still falls short. The iPhone 4's display is 960 X 640 pixels spread over a 3.5-inch LCD. It seems that Acer's 4.8-inch display is either a narrower version of the SWVGA resolution (1024 X 600), making it more widescreen, or a longer version of the traditional VGA (640 X 480), giving it some extra height beyond what a traditional VGA or WVGA (800 X 480) display can offer.
There's also an 8-megapixel camera with LED flash and the ability to record 720p HD videos, 6-axis gyroscope, 2-megapixel front webcam, accelerometer, LED edge lighting on the high resolution display, HDMI output, and 1 GHz Qualcomm Snapdragon processor. We wish Acer would wait and utilize a more advanced dual-core chip solution to make this device competitive and a bit more future-proof through 2011 as the rest of the specs are drool-worthy enough. There's also a curved full metal back, Bluetooth 3.0, WiFi n support, and HSDPA.
I've been a huge fan of the 5-inch display on the Dell Streak as I think it offers a good real estate for viewing and surfing content, but also is compact enough to be mobile and portable. The Streak's slim profile makes it easy to fit into jeans pockets–even fitted jeans–and really offers the best of a smartphone and a tablet. With Acer's high resolution 1024 X 480 display, we'll hopefully have a widescreen marvel to browse the Internet, watch videos, and read e-books on.
Release date and pricing information were not disclosed.
Here's the press release:
Acer next generation smartphone
100% Smartphone, 100% Tablet:
New York, November 23rd 2010 – The new Acer smartphone with the soul of a tablet perfectly combines the capabilities of a smartphone with a tablet-like format: a huge 4.8″ widescreen with a 21:9 aspect ratio and a super cool chassis.
Its revolutionary design , characterized by a stretched out, thin and slightly curved shape, makes it a fascinating device that will not go unnoticed. Its full metal body, enriched by subtle wavy patterns, conveys a sense of timeless elegance. What's more, it offers a perfect fit in your hand thanks to its smoothly curved back and minimal width (64mm).
The front is entirely dominated by the extraordinary, multi-touch, high resolution 4.8″ screen, with 4 keys: Home, Search, Back, and Menu. While on the back there is an 8MP camera, complete with LED Flash.
This truly innovative device is perfect for fashion addicts or tech savvy people looking for the latest and cutting edge technology available ensuring superior browsing and excellent multimedia entertainment.
This latest Android smartphone is extremely powerful, guaranteeing long-lasting fun. It will also be able to wirelessly control all the multimedia content of your home environment, thanks to the integrated clear.fi media sharing system.
IDEAL FOR BROWSING
• No limit in assessing any web sites with the same user experience as using a traditional PC, so web sites don't need to be resized and adjusted, thanks to its exceptional resolution of 1024×480 and a very large 4.8″ screen (12.2cm diagonal), there is no need to zoom in on web pages, or to scroll left & right. The only thing you need to do is scroll up & down, just like on your PC.
• Fast and fully featured, the Android browser offers: multi-touch, Java script optimization, Adobe Flash Player 10.1 support, and multiple page opening.
• Ultra-fast high-speed connectivity via HSDPA @ 14.4 and WiFi N for data connection.
• Bluetooth 3.0
GREAT FOR MOVIES
On the 21:9 screen you can watch a movie in its original format, for an engrossing cinema-like experience. What's more the LED backlit display uses the same technology as TV showing super bright and vivid images; to top it off, Dolby Mobile technology delivers vibrant, immersive sound. Not enough for you yet? Thanks to DLNA technology or the HDMI cable, you can connect it to your TV to view your content on an even bigger screen!
POWERFUL
Inside the product beats the powerful 1GHz Snapdragon processor, which, in addition to the large screen, turns this smartphone into a perfect game console. Together with 6-axis motion sensing (Gyroscope + accelerometer), this smartphone will exceed any gaming expectation.
Equipped with an 8MP camera and LED flash, and a 2MP front camera for high quality IP video calling.
With a screen resolution of 1024×480, more content can be displayed on screen, in all regular apps, such as, Contacts, Google Maps, Email, Instant Messaging conversations, etc.
100% Smartphone, 100% Tablet: a revolutionary experience for people who want it all!
Via: Engadget