Achievements and Siri: Xbox Live Could Be Coming to the iPhone
Microsoft used the Xbox 360 and original Xbox to define what it means to play multiplayer, earn achievements and stay connected with friends and family no matter wherever they are. Now, Microsoft could be poised to enlist even more new devices as it positions its Xbox Live service as a competitor to other services. The company is working to bring Xbox Live to Apple's iPhone and devices running Google's Android operating system.
At least, that's according to new rumors and a job posting on Microsoft's Careers website. First, the rumors about the service. According to The Verge, it's checked with sources inside the company and can confirm that "Microsoft is building a platform to extend Xbox Live functionality to iOS and Android games."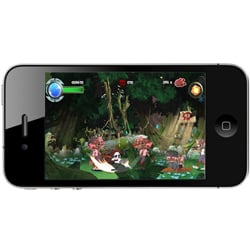 The Career's job page says that the company is looking for a Software Development Engineer to join its New Devices and Gaming team. The applicant who successfully applies for the position "will create a modern framework that is open source, light-eight, extensible and scalable across various platforms including Windows Store, Windows Phone iOS and Android."
The job page even goes so far as to indicate that Microsoft is "renewing the focus on gaming and game development technology" with the next wave of Windows releases.
In effect, it seems Microsoft is well on its way to rewriting the rule book on how users interact with Xbox Live, the service it said it rewrote to be more robust for the launch of its current-generation Xbox One gaming console.
Traditionally, versions of Xbox Live on things other than an Xbox console have been very basic. For example, Microsoft allows Windows Phone, Android and iPhone users to earn achievements on their mobile devices today. Users can also browse those achievements and add friends to their accounts. However, there's no real-time multiplayer to speak of. It's also worth noting that robust Xbox Live-enabled games are few and far between.
By extending Xbox Live to the iPhone and Android in a new way, Microsoft is clearly hedging its bets for Xbox Live functionality on Windows Phone. At its inception, Windows Phone was the only mobile platform that allowed users to earn Xbox Live achievements. Unfortunately, that's an advantage the mobile phone operating system no longer has.
Ironically, there's very little Xbox Live functionality that's exclusively available to Windows Phone users. Only Xbox Video playback remains shackled to Windows Phone for now.
Both iOS and Android now have gaming services of their own.

As an Amazon Associate I earn from qualifying purchases.